Curry tearfully says goodbye to Today while her body language fingers Lauer
06/28/12 08:42 AM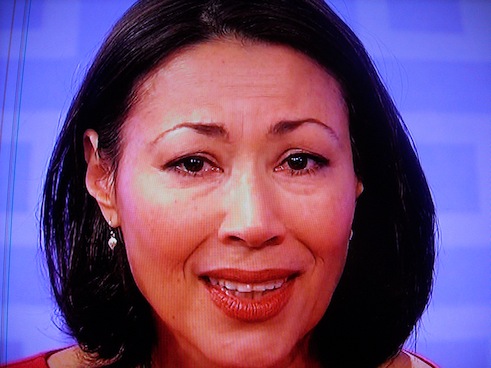 Ann Curry struggles to let go during last Today show. Photos: Ed Bark
By ED BARK
@unclebarkycom
Ann Curry haltingly walked the
Today
show plank Thursday, tearing up near the end as castmates Matt Lauer, Al Roker and Natalie Morales sat beside her.
"For all of you who saw me as a groundbreaker, I'm sorry I couldn't carry the ball to the finish line. But man I did try," she said before apologizing for being a "sob sister" on her final day as co-host.
It's doubtful that anyone views Curry as a groundbreaker. But in her own mind, maybe she is.
The climactic body language was instructive.
Morales reached across Lauer and held Curry's hand while both commiserating and extolling her strengths. Lauer, instrumental in the decision to let her go, then bestowed a quick kiss on Curry's hair while she sat with hands clasped and made no effort to reciprocate.
She then gave both Roker and Morales lengthy hugs while the show's longtime Game of Thrones king continued to affix a sad look. At this point, a thought bubble over Curry's head could have been lifted from
The Godfather, Part II
: "I know it was you," with "Matt" substituted for "Fredo."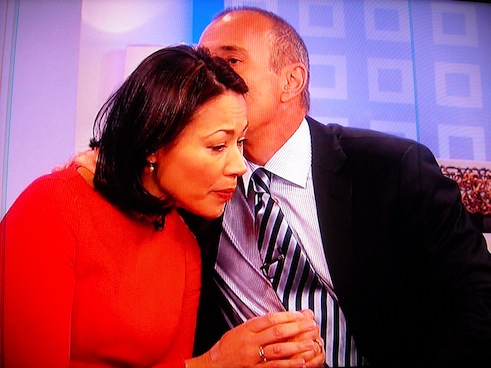 The closing kiss of death, with Curry barely enduring it.
Lauer and Curry, who replaced Meredith Vieira as co-host just a year ago, had "chemistry" issues almost from the start. And in truth, she never seemed like a great fit for a show that increasingly is all about the juicy scandal of the day, show biz celebrity interviews, oft-ridiculous lifestyle segments and cooking. Hard news, which Curry considers her forte, is something that for the most part has to be gotten out of the way during the first half-hour of the program.
Another key to Curry's ouster was the steady rise of ABC's
Good Morning America
, which lately has been trading first-place finishes with the long dominant Peacock cash cow. Something had to be done in the view of NBC Universal management and Lauer, who recently signed a new multi-year deal. So Curry got the hook.
She also got more than a little ridiculous at one point, reciting some of her
Today
show exploits while contending they all were her reciprocal gifts to viewers.
"Matt and I -- and everyone who sits on this couch -- we often call ourselves a family, but
you
are the real
Today
show family," Curry said. "You are why I have ventured into dangerous places and interviewed dictators and jumped out of planes and off of bridges and climbed mountains and landed into the South Pole and convinced the Dalai Lama to come live to our studio. I have loved you and I have wanted to give you the world. And I still do."
OK, enough already.
Curry said she'll remain a
Today
contributor, with "fancy new titles" and the freedom to "go all over the world and all over the country at a time when this country and this world needs clarity."
Lauer later told her with well-practiced sincerity, "You have the biggest heart in the business."
"I'm wearing it on my sleeve this morning," she replied.
Lauer also noted that Curry will be part of NBC's Summer Olympics coverage before saying, "Thank you from the bottom of our hearts."
Her dismissal ends a week's worth of behind-the-scenes negotiating after
The New York Times
broke the story
of NBC's plans to give Lauer a new on-air partner. Up-and-coming
Today
personality Savannah Guthrie is seen as the heir apparent.
In truth,
Today
viewers never developed the sort of love affair with Curry that they had with predecessors Vieira and Katie Couric. Still, Lauer risks coming off as the bad guy who very much helped grease the skids for her.
Meanwhile on
GMA
, co-host Robin Roberts'
renewed health problems
and seniority on the show easily make her the most relatable and recognizable female face on network morning television. While NBC again rebuilds
Today
's fractious "family," ABC can be counted on to pound home the notion that
GMA
has the family that stays together.
Curry, in the way these things work, now officially becomes a
Today
afterthought. She can still jump out of planes if she wants. But there's no guarantee that NBC will provide her with a parachute.