Sin city rises again with Season 3 of TNT's Dallas
02/21/14 01:17 PM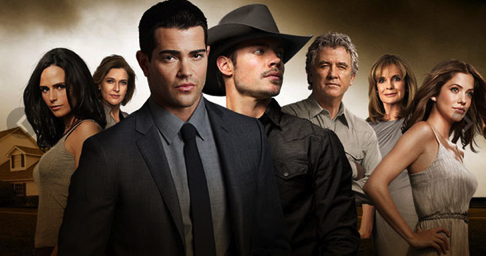 Howdy. And welcome back to more of the same. TNT photo
By ED BARK
@unclebarkycom on Twitter
Bereft of the late Larry Hagman's indelible J.R. Ewing, TNT's
Dallas
reboot otherwise feeds off all of its still digestible food groups as Season 3 comes into play.
Duplicity. Greed. Revenge. Lust. Bribery. Power-Mongering. Two-Timing. Broad Acting. Swelling Music/Close-up Head Shots Leading To Commercial Breaks. And Bobby Ewing Balancing Acts Over And Over Again.
The first of 15 new episodes arrives on
Monday, Feb. 24th at 8 p.m. (central).
Fans likely won't be disappointed. This old sidewinder still packs a kick. And when Judith Light's mommie dearest is holding forth, well, it's nigh impossible to get enough of her.
Her recurring character, also named Judith, won't be seen anew until March 3rd's Episode 2. No need to spill the hows and whys. But the demonic mother of likewise sinister Harris Ryland (Mitch Pileggi) is going to have the time of her twisted life in a season whose slogan is, "Good Things Come To Those Who Take." Let's feast on two of her delicious spews -- aimed directly at a son who betrayed her last season by pushing old Judith down a flight of stairs and then salting her away in rehab.
"Your grandfather had a saying. Money and morality are like two cars on a one-lane road. When they meet, morality's gonna end up in the ditch."
Furthermore, "I made my bones dealin' with psychopaths and criminals while you were still playin' with your Easy Bake oven."
As a special bonus, Judith also gets to snort a line of high-end cocaine, proclaim "Hot damn. Mama like," and then indulge in a second noseful. All with a letter-perfect Light touch from an actress who surely couldn't have had this much fun during all those years on
Who's the Boss?
Monday's season-opening episode is pretty good, too. After a refresher course on who did what to whom last year,
Dallas
begins with Bobby Ewing (Patrick Duffy) talking to the tombstones of fallen family members. J.R., Miss Ellie and Jock are now all in the ground.
"So I'm the caretaker now, huh, momma?" Bobby says. "I'm the only one left." He then mounts his horse, says goodbye -- "Well, I'll try not to disappoint ya" -- and rides off before the scene shifts to the Omni Hotel for additional morning-after philandering by J.R.'s bad seed son, John Ross III (Josh Henderson).
Last season ended with him banging naughty Emma Brown (Emma Bell), daughter of Ryland and his ex-wife, Ann (Brenda Strong), who's now married to Bobby. Never mind that John Ross also is the new husband of Pamela Barnes (Julie Gonzalo) after they eloped last season.
Meanwhile, Cliff Barnes (Ken Kercheval) is festering in prison after being framed by the entire Ewing clan for J.R.'s death. But Cliff has enlisted Christopher's (Jesse Metcalfe) former girlfriend, Elena Ramos (Jordana Brewster), in a plot to torpedo the new Ewing Global. She has considerable motivation after learning last season that J.R. had swindled her deceased dad and drove him to an early grave.
J.R.'s widow, Sue Ellen (Linda Gray), is in John Ross's corner at the moment. But she's also back on the bottle and growingly suspicious of him.
Season 3's principal new regular cast member is Juan Pablo Di Pace as Elena's old childhood friend and new co-conspirator, Nicolas Trevino. He used to go by another name, as Elena's mother, Carmen (Marlene Forte) well knows. In the old CBS
Dallas
, the Ewings' Hispanic servants were fleetingly seen and basically never heard. But Carmen, the family's head housekeeper and cook, has meaty scenes in each of the first two episodes. And that's a welcome change.
Another new character, named Heather (AnnaLynne McCord), obviously will be Christopher's new love interest. For now, she's a coltish, spunky ranch worker whom he invites to a big Ewing barbecue. Where of course she looks smokin' hot while he's sporting a pretty good looking beard.
Duffy is still the level-headed pylon of
Dallas
, striving to put his foot down while recognizing the necessity to make new, bold "bidness" deals. It's always fun hearing John Ross call him "Uncle Bobby" with a measure of derision. Bobby invariably looks vexed in the kid's presence, even balking at John Ross's determination to remodel Southfork in a manner befitting a rich, powerful family.
"I am not gonna let you turn Southfork into a monument to you and your father's self-indulgence," Bobby vows, squinting his eyes and clenching his teeth. "It's about time for you to respect the past, boy."
Bobby's otherwise on the receiving end of a choice line from wife Ann. It must have been filmed before any of the controversy kicked in. But there she is, telling hubby in Episode 2, "Now come to bed. When I watch
Duck Dynasty
without you, I get all the beards confused."
Dallas
suffered a significant ratings drop in Season 2. And after Hagman's death during filming, a pickup was uncertain. But here we go again, with the city of Dallas benefiting economically from all the on-location shooting while the nation's viewers still could do far worse than spending an hour with the ever fractious Ewings.
The series' principal allure, as it always has been, can be boiled down to an Episode 1 text message from Emma to John Ross.
"I'm being bad," she says. "I want you to come be bad with me." No RSVP is necessary.
GRADE:
B
Email comments or questions to:
unclebarky@verizon.net