Mid-season merry-go-round: NBC's The Firm is a compelling continuation
12/29/11 03:29 PM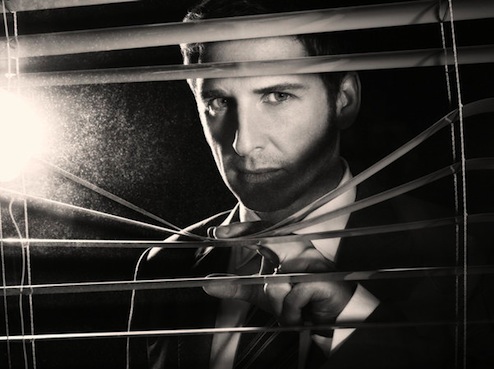 No open and shut cases for The Firm's Mitch McDeere. NBC photo
Premiering:
Sunday, Jan. 8th at 8 p.m. (central) on NBC
Starring:
Josh Lucas, Molly Parker, Juliette Lewis, Callum Keith Rennie, Natasha Calis
Produced by:
John Grisham, Lukas Reiter, John Morayniss, Michael Rosenberg, Noreen Halpern
By ED BARK
The court of public opinion continues to weigh heavily against NBC, whose ratings are pretty much missing in action whenever the prime-time fare is anything except
Sunday Night Football
.
But the NFL season is nearing an end, again leaving the Peacock with a gaping four hours to re-program on what's usually the heaviest viewing night of the week. Two of them will be filled on Jan. 8th with the continuation of a courtroom drama that began as a John Grisham bestseller before becoming a hit 1993 feature film starring Tom Cruise, Gene Hackman, Jeanne Tripplehorn, Holly Hunter and David Strathairn.
NBC's
The Firm
, getting a Sunday showcase before moving on Jan. 12th to its regular Thursday 9 p.m. (central) slot, substitutes Josh Lucas for Cruise while still remaining a handsome production. The two-hour opener has a big-screen filmic look and enough pop to pull you in. But it ends up taking a bit too long to re-calibrate and explain itself after a breakneck opening sequence that finds lawyer Mitch McDeere (Lucas) running amid Washington monuments -- and through the Lincoln Memorial reflecting pool -- while being pursued by a small group of bad guys.
Mitch has just enough time to call his super-loyal wife, Abby (Molly Parker), on -- what's this? -- a pay phone. She's instructed to "follow the emergency plan" because after all these years, "it's happening again." A new tragedy soon ensues before
The Firm
rewinds to "Six Weeks Earlier" on the eve of daughter Claire McDeere's (an instantly appealing Natasha Calis) 10th birthday party.
There's also a 10-year flashback, with the new
Firm
settling on 2002 as the year that Mitch and a pregnant Abby agreed to enter the federal witness protection program. This was triggered by Mitch's incrimination of the Memphis-based Bendini, Lambert & Locke law firm as a sinister front for the Chicago mob.
Confident that they're safe at last, the McDeeres are newly out of hiding. Mitch has opened a small law firm in D.C. with brother Ray (Callum Keith Rennie) as the head investigator and his girlfriend Tammy Hemphill (Juliette Lewis) filling the dual role of receptionist and lippy, provocative dresser.
It's all quite sturdily built and well-acted, with characters one cares about. Those are big plusses, particularly in a serial drama where you'll have to keep coming back to know what the deuce is going on.
The two-hour scene-setter sets up another major betrayal while also giving defense attorney Mitch ample time to work on a twist-filled case in which he represents a 14-year-old accused of stabbing a classmate to death. Two other cases also figure in the mix, which can get a little lumpy towards the end.
The Firm
isn't always riveting in its new guise. But it's a promising start with an engaging cast at its core. NBC sorely needs a new series or two to lift its prime-time fortunes. Here's one with built-in name recognition and heaping helpings of fresh intrigue. Can it imbed enough hooks to keep viewers locked in? A network that's desperately seeking some favorable verdicts has done a good job of making its case.
GRADE:
B+