On the border with FX's The Bridge
07/08/13 10:16 AM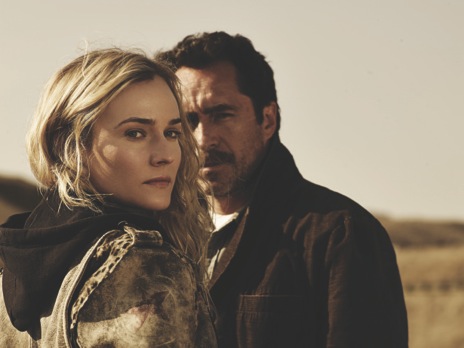 Diane Kruger and Demian Bichir star in The Bridge. FX photo
Premiering:
Wednesday, July 10th at 9 p.m. (central) on FX
Starring:
Diane Kruger, Demian Bichir, Ted Levine, Annabeth Gish, Thomas M. Wright, Matthew Lillard, Catalina Sandino Moreno, Emily Rios
Produced by:
Meredith Stiehm, Elwood Reid, Carolyn G. Bernstein
By ED BARK
@unclebarkycom
It's bracingly distinctive on several fronts but also grindingly familiar with its serial maiming and killing of women.
FX's
The Bridge
, premiering Wednesday, July 10th, otherwise seems sturdily built and destined to become another of the network's season-spanning series. Only a small handful of FX's new prime-time dramas or comedies have ended up being one and done. This is a network that knows what it wants and what its viewers will buy into. And this year already has birthed two standout FX newcomers, with both
The Americans
and
Legit
renewed for second seasons.
The Bridge
divides its time between the two highly unusual TV terrains of El Paso and Juarez. The first three episodes sent for review aren't overtly political. But the series' central murder mystery is the killing of a female judge with an anti-immigration record. Her body is found on a bridge connecting the U.S. and Mexico. After a closer look, the two principal detectives on the case find that initial appearances can be deceiving. Or to put it another way, jurisdiction is a split decision.
El Paso's crime-solver, Det. Sonya Cross (Diane Kruger), can be a bit too laughably robotic at times. Is she a Stepford child with a Mr. Spock hard drive? Young, beautiful and absent any discernible people skills, Sonya is protected and shepherded by wizened Lt. Hank Wade (the ever-terrific Ted Levine).
Her ad hoc new partner is Juarez-based Det. Marco Ruiz (Demian Bichir), who's still striving to be an honest cop within a thoroughly corrupt system. Married for a second time and with three kids in the bargain, Ruiz is still recovering from a vasectomy but hasn't lost his dry wit. Bichir plays this part with both an edge and a nudge, enlivening
The Bridge
whenever it threatens to sag under the weight of his partner's mechanical mindset.
"For the record, officer, your bedside manner sucks dog balls," says a surly small-time newspaper reporter who's no prize himself. The role of hard-drinking, coke-sniffing Daniel Frye is played with energy to burn by Matthew Lillard. In another time and place, he could just as easily be Dennis Hopper's crazed photojournalist in
Apocalypse Now
.
While the corpses start piling up, so do the problems for widow Charlotte Millright (Annabeth Gish). Her prosperous late husband, Karl, abruptly told her he wanted a divorce before dying from a heart attack and avoiding some of that messy paper work. It turns out that Karl had a secret life involving Mexican immigrants. And its after-effects do not bode particularly well for Charlotte, beginning with a visit in Episode 2 from Lyle Lovett (as a lawyer bringing word of a "prior obligation" involving Karl and "my client.")
The Bridge
underscores its border locale with a phone message from the apparent killer. The gist of it: Far more attention is paid to the killings of a few white woman in El Paso than to the many hundreds more young Juarez women who meet the same fate annually. So is getting this message across the killer's primary motive? Let alone that of the series itself? We'll see about that.
A sizable portion of
The Bridge
originates from Juarez, where Spanish is spoken and subtitles used. Some of this time is spent in the Ruiz household, where Marco and his wife, Alma (Catalina Sandino Moreno), appear to have a loving, supportive marriage. But Episode 3 lays the groundwork for a jolt on that front.
It's yet to be seen whether Kruger's Sonya Cross will measure up -- character-wise -- to this series' principal males. Bichir's Marco Ruiz is instantly relatable while Levine's laconic Hank Wade throws off lines with the greatest of ease. Such as, "I just googled 'Search Dialectics.' I still don't know what it means."
Sonya, unlike Claire Danes' Carrie Mathison on
Homeland
, shows no signs of suffering from bipolar disorder or perpetual "cry face." Still, if
The Bridge
catches on, she might someday be just as ripe for an even more barbed
Saturday Night Live
parody.
By the end of Episode 3, yet another terrorized young woman's life hangs in the balance while everyone scurries to find her. It's a bridge that broadcast and cable series keep crossing, whether it's Fox's
The Following
, NBC's
Hannibal
, AMC's ongoing Season 3 of
The Killing
, etc., etc.
The Bridge
so far looks to have more promise than any of the above. It's still early, though. And the now reflexive slaughtering of defenseless woman shows no signs of being brought to a stop.
GRADE:
B+
Email comments or questions to:
unclebarky@verizon.net