If at first he didn't succeed: producer Jerry Bruckheimer serves leftovers with TNT's Marshal Law: Texas
11/25/13 03:46 PM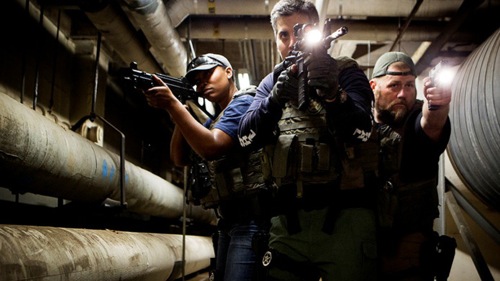 Converging on crooks in drummed-up Marshal Law: Texas. TNT photo
Premiering:
Tuesday, Nov. 26th at 9 p.m. (central) on TNT
Starring:
Real-life members of the Houston-based Gulf Coast Violent Offenders and Fugitive Task Force
Produced by:
Jerry Bruckheimer, Jonathan Littman, Jonathan Nowzaradian, Kristie Anne Reed
By ED BARK
@unclebarkycom on Twitter
Prolific producer Jerry Bruckheimer obviously thinks he still has a workable concept here. So he's sold TNT a bill of goods, er, an unscripted action hour modeled after his failed scripted NBC series, which premiered three falls ago.
The old one, called
Chase
, was primarily set in Houston but filmed in North Texas.
The new one,
Marshal Law: Texas
, talks just as tough and also is about the Houston-based U.S. Marshal Service. But its central characters are real-life enforcers. So there's hardly any gunplay during their pursuits of what one Marshal calls "the worst people on this planet."
Actually, some of them don't seem all that heinous in the opening two episodes sent for review. Not that they're pillars of society. But in Episode 2, wanted fugitive Erica Washington did nothing more than bust up a woman's front windshield with a tire iron after seeing her with her ex-boyfriend. Hey, that stuff more or less happens all the time on
Cheaters
.
Some of the featured lawbreakers in fact are pretty nasty, though.
Marshal Law: Texas
parcels them out at the rate of three per each hour-long episode. And producer Bruckheimer (the
CSI
franchise, the
Pirates of the Caribbean
franchise, CBS' struggling freshman series
Hostages
, etc., etc., etc.) again opts for overkill via constant drum-pounding and redundant replays of something shown just a few minutes earlier.
The nominal star of the show is Spencer Pellegrin, veteran member of the Gulf Coast Violent Offenders and Fugitive Task Force. "Our good day is a bad guy's worst day," he says in Tuesday's premiere episode.
Pellegrin also would like viewers to know that, "I don't give up. I'm persistent." His lighter side occasionally comes up for air, too. "I'm not gonna Philly fart around with this. I'm cold," Pellegrin says in Episode 2 during the rather tepid hot pursuit of Erica Washington.
Some of the arrestees can be a little cranky. Torie Pruitt, wanted for robbery at gunpoint, carps about "the ho' ass law, man" after being hauled in. The aptly named Chance Roach, on the lam in Episode 2 after robbing and shooting at a guy outside a home supply store, is irked about his tight-fitting handcuffs. He's told to shut up.
Fans of Fox's
COPS
and A&E's
Dog the Bounty Hunter
have seen this all before but perhaps can't get enough of it. Even so,
Marshal Law: Texas
(being paired on Tuesday's with Season 2 of TNT's
Boston's Finest
) basically is a half-hour show stretched threadbare into a one-hour time slot. Its thumping, thudding theme music might give you a headache during those times when its constant re-statements of the obvious aren't further dulling senses.
In the end, though, justice is served. Although with Bruckheimer, the serving spoon again tends to be a sledgehammer.
GRADE:
C
Email comments or questions to:
unclebarky@verizon.net