The Walking Dead returns to AMC with twice as much time to amble along
10/14/11 08:13 AM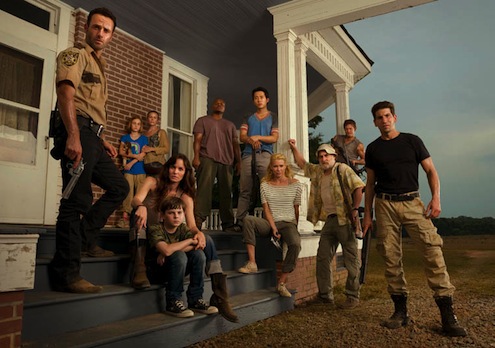 The stars of The Walking Dead, absent zombies. AMC photo
By ED BARK
Those zombies from AMC's
The Walking Dead
seem to be moving a bit quicker this season. Although they're still probably not fast enough to beat even Prince Fielder in a race to first base. Maybe next year.
Season 2, which launches on
Sunday, Oct. 16th at 8 p.m. (central)
, otherwise is slower-paced at the outset. Filling a double order of 13 episodes -- compared to Season 1's six -- likely will mean a more deliberate approach as the series' divisive band of 11 post-apocalyptic survivors make their way from Atlanta to Fort Benning in hopes of finding a reasonably safe haven. That's about 120 miles down I-85 South, but zombie complications may make it seem like an eternity.
Last season ended with the automated, pre-determined destruction of Atlanta's Centers for Disease Control. A lone surviving doctor in residence whispered something to deputy sheriff Rick Grimes (Andrew Lincoln) before he led an in-the-nick-of-time escape.
Season 2 begins with Grimes on a police radio, hoping that Morgan Jones can hear him from afar. The two met at the outset of all these festivities, and have vowed to meet again. "It's all about slim chances now," says Grimes. He then baits one of this season's principal audience hooks, noting that the now dead CDC doc "told me something. He told me . . . It doesn't matter."
That's a pretty cheap standard issue cop out, and doubly so when coming from a cop. So expect to be strung along for a pretty good while.
Sunday's re-launch is an expanded 90-minute episode. AMC also sent the second episode for review with the usual warnings not to spoil anything for viewers by revealing too much. So let's just say that both episodes end with some pretty big cliffhanger jolts. And that two of the 11 principals remain in serious jeopardy. And that another one suffers a serious flesh wound that becomes even more seriously infected.
Zombies abound, too, meaning that ample heads will be blown or chopped off during these first two episodes.
The Walking Dead
retains its very graphic approach and then tops itself with a seriously gruesome scene in which hillbilly bow hunter Daryl Dixon (Norman Reedus) guts a dead zombie to see the contents of its last meal.
The survivors become spread out after an auto graveyard blocks their path to Fort Benning. A big batch of zombies then stagger down the highway, prompting one of the living to flee into the nearby woods and eventually go missing.
Search parties, stalled vehicles and more zombie sightings and killings serve to flesh out the first two episodes. A small batch of new characters also is introduced. The most interesting among them is Hershel Greene (Scott Wilson), an elderly farm owner who also knows how to wield a surgeon's scalpel.
Other survivors become restive or increasingly resentful.
Deputy Shane Walsh (Jon Bernthal) is determined to split off on his own after being spurned by Grimes' wife Lori (Sarah Wayne Callies), with whom he hooked up after it appeared hubby was dead. And Andrea (Laurie Holden) continues to despise her father, Dale (Jeffrey DeMunn) after he ruined her plans to die in peace at the CDC rather than keep running in fear. In the opening episode she's further traumatized by a bloody encounter with a zombie in which a screwdriver is her only defense.
The action remains convincingly frightful amid innumerable zombies with skips in their steps. Some of the dialogue can get a little overly earnest, though. During a labored segment in a church, three pew-residing zombies are re-sent to kingdom come before some of the survivors take time out for prayer and reflection.
"Guess you already know I'm not much of a believer," Grimes tells a Christ on a cross. "I guess I just chose to put my faith elsewhere."
He asks for a sign and thinks he's seen one in the form of a magnificent deer in the woods. But then something bad happens.
The Walking Dead
was AMC's most-watched series ever in its first season, outdrawing the network's two Emmy darlings,
Mad Men
and
Breaking Bad
. Season 2 so far is still a watchable feast of decayed human flesh and frayed nerve endings. Not that there's any big hurry to find a cure or a way out. TV franchises like this tend to come along once in a lifetime -- whether you're a zombie on the prowl or a harried human with better foot speed.
GRADE:
B+