Fall season report card: hits & misses among broadcast network newcomers
11/21/12 10:36 AM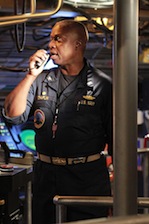 Elementary looms larger; Last Resort is doomed. CBS/ABC photos
By ED BARK
@unclebarkycom
It's been a topsy turvy season so far for the Big Four broadcast networks.
Long-dormant NBC is still No. 1 among advertiser-prized 18-to-49-year-olds. It also won the November "sweeps" in this key demographic.
CBS is in its usual spot atop the total viewer Nielsens but has a higher percentage of official cancellations far than its rivals.
And Fox is fourth across the board, ahead of only the little CW network.
As the November "sweeps" ratings period ends and holiday season repeats kick in, let's look at the fates of the new fall series on ABC, CBS, Fox, NBC and The CW.
ABCLast Resort
-- canceled but will be allowed to play out the string of original 13-episode order. Way too serious for Thursday lead-off slot.
666 Park Avenue
-- also being dropped after 13 episodes air.
Nashville
-- given a full-season order, but ratings remain problematic.
The Neighbors
-- still hanging on despite drubbing from TV critics.
Malibu Country
-- probably the best bet to return next season after late start. Reba McEntire still a gamer with compatible old-timey sitcom lead-in from Tim Allen's
Last Man Standing
.
CBSMade In Jersey -- won coveted trophy awarded to season's first cancellation.
Partners -- newly axed after failing to hold its own as part of network's longstanding Monday sitcom quartet.
Elementary -- received full-season order as well as prime post-Super Bowl slot in February.
Vegas -- also basking in full-season pickup but needs to do a bit better following potent NCIS: Los Angeles on Tuesdays.

Fox

The Mob Doctor -- still on the schedule but will give way to new Kevin Bacon drama, The Following, on Mon., Jan. 21st. No one expects it to return.
Ben and Kate -- muddling along as part of new Tuesday sitcom lineup. Longshot for sophomore season.
The Mindy Project -- pretty much the same outlook as B and K.

NBC

Animal Practice -- canceled after NBC screwed up closing ceremonies of Olympics with special preview episode.
Revolution -- cushy Monday slot following The Voice has made it a hit. But Peacock puzzlingly doing its best to kill momentum by benching until March 25th following last November episode.
Go On -- very likely to be back next fall. Third time's a charm for Friends alum Matt Perry after previous flops with Studio 60 on the Sunset Strip and Mr. Sunshine.
The New Normal -- likewise has gotten a full-season pickup but ratings flagging. Only 50-50 shot for Season 2.
Guys with Kids -- still on the schedule but won't see another September.
Chicago Fire -- doing well enough opposite Nashville to merit full-season order. Sleeper pick to return for sophomore year.

The CW

Arrow -- it's the network's first buzz show since Gossip Girl. Virtual lock for second season.
Beauty and the Beast -- No way it comes back.
Emily Owens, M.D. -- has a better chance to survive than B and B, but still an unlikely returnee.
unclebarky@verizon.net