Pillars of the Earth strives to stand tall, but doesn't live up to its Starz billing
07/22/10 09:13 AM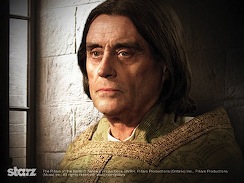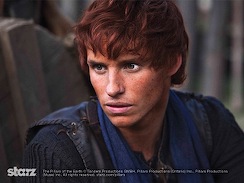 Evil Waleran Bigod (Ian McShane) and goodly Jack Jackson (Eddie Redmayne) clash time and again in Starz's The Pillars of the Earth.
By ED BARK
Perhaps you thought television's "EPIC EVENT OF THE SUMMER" came when Dallas flyboy turned
Bachelor
star Jake Pavelka and his onetime "true love," Vienna Girardi, lobbed verbal grenades at one another during a very special episode of ABC's
The Bachelorette
.
Starz sees it otherwise. Its own "EPIC EVENT OF THE SUMMER" is an 8-hour adaptation of Ken Follette's mammoth 1989 bestseller,
The Pillars of the Earth
. It begins unfolding on
Friday, July 23rd
with a two-hour dose (9 to 11 p.m. central) and continues on July 30, Aug. 6, 13 and 20 before ending on Aug. 27th with another doubleheader.
Still striving to get noticed in a premium cable universe dominated by original series on HBO and Showtime, Starz is very much in its swords 'n' armor period. The network's super-graphic
Spartacus: Blood and Sand
aired earlier this year, with a prequel,
Spartacus: Gods of the Arena
, set to start production next month. And filming on
Camelot
is underway in Ireland, with Starz promising a "telling of the Arthur legends that is relatable to contemporary audiences."
Pillars
begins in 1120 A.D. with the sinking and burning of a ship carrying the rightful heirs to the English throne. Scheming, conniving and confusion ensue, with viewers initially challenged to figure out who's who and what's what among a big gaggle of characters and storylines. There's also a mystery involving the ship's sole survivor, and why he wound up on the receiving end of a burning stake.
It all gets better and more involving in time, so my full immersion in the entire eight hours wasn't entirely for naught. Starz sent a notably frayed "rough cut" review copy, though, with green screens, tarpaulins and various diagrams becoming the norm as the denouement neared. The special effects assumedly will be convincingly in place when
Pillars
officially arrives Friday.
At least one thing's certain amid all the goings-on. Ian McShane is taking another evil turn. The famed despot of
Deadwood
is now the jet black bewigged Waleran Bigod, a self-flagellating, power-mongering clergyman who authorizes torture, murder and anything else it takes to move him farther up the church food chain.
Pillars
' only other readily identifiable actor is the seemingly always available Donald Sutherland, who does a brief turn as Bartholomew, the deposed Earl of Shiring. His daughter, Aliena (Hayley Atwell), and son, Richard (Sam Claflin), have vowed to avenge his honor at the expense of the usurping King Henry (Tony Curran).
McShane's Bigod initially manipulates Prior Philip (Matthew Macfadyen), who yearns to build a sky-high cathedral in his hometown of Kingsbridge. His vision is shared by the rather amusingly named Tom Builder (Rufus Sewell), whose eventual allies include an accused witch named Ellen (Natalia Worner) and her virginal son, Jack Jackson (Eddie Redmayne), an all-around good guy who also happens to be a helluva sculptor and visionary.
Tom Builder also has a son named Alfred (Liam Garrigan), who might as well be named Cain. But his evil-doing can't hold a candle to that of the birthmark-scarred Regan Hamleigh (Sarah Parish) and her co-opted son, William (David Oakes), with whom she has her way in many ways.
Co-produced by Ridley Scott of
Gladiator
fame,
Pillars
weaves its tangled webs within surprisingly chaste surroundings.
Spartacus
, easily the most graphic weekly series in TV history, purveyed maximum-strength amounts of blood, gore, expletives and full frontal nudity (both male and female).
Pillars
comparatively is Candyland, with a few blood squirts/swollen eyes here and there, fleeting glimpses of bared anatomies and a wee pair of expletives. This isn't necessarily a drawback. But it's a quantum change from the full throttle approach that Starz deployed with
Spartacus
.
Pillars
unfortunately also comes up short on truly memorable characters and scenes of lasting impact. It takes a while to feel much of anything for its principal players. But in due time -- perhaps halfway through -- it starts to grab hold. Then again, many prospective viewers may have already forsaken it by then.
All in all then, the "EPIC EVENT OF THE SUMMER" doesn't measure up to its immodest billing.
Pillars
is OK, but not A-OK. But you don't entice an audience by trumpeting, "THE SEMI-INVOLVING COSTUMED DRAMA OF THE SEASON ON A NIGHT WHEN NOT ALL THAT MUCH ELSE IS ON."
GRADE:
C+