NEW SEASON: Selleck puts the iron in CBS' Blue Bloods
09/24/10 02:20 PM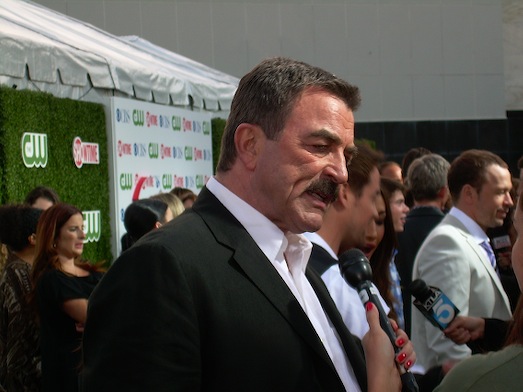 Tom Selleck talks up Blue Bloods, with co-star Donnie Wahlberg (light coat) doing likewise at CBS "press tour" party. Photo: Ed Bark
Premiering:
Friday, Sept. 24th at 9 p.m. (central) on CBS
Starring:
Tom Selleck, Donnie Wahlberg, Bridget Moynahan, Will Estes, Len Cariou
Produced by:
Mitchell Burgess, Robin Green, Leonard Goldberg, Ken Sanzel
By ED BARK
Sturdy as Tom Selleck's mustache, CBS'
Blue Bloods
likely will be yet another potent lead-in to late night local newscasts across the land.
It's another crime drama, but with more family dynamics than the 10 other law 'n' order hours populating the network's prime-time landscape.
Selleck anchors things as New York City police commissioner Frank Reagan, whose surname perhaps is not entirely coincidental. The former
Magnum, P.I.
mega-hunk long has been one of Hollywood's few openly right-of-center stars. So Reagan's a name that suits him.
Through the course of Friday night's well-made premiere episode, Selleck's character also has a rather snippy outdoor news conference tied to the abduction of a nine-year-old girl.
When a questioner cites "blog allegations" that his police force is undermanned, Reagan shoots back, "Miguel, you're a professional journalist. Do you really want to give credence to any amateur blogger with a lap top?"
At least he stops short of adding "sitting in his underwear typing in his parents' basement."
Reagan likewise has a glare affixed when he says, "Just make sure you 'media people' do your job and keep (the kidnap victim's) face before the public."
In short, Selleck doesn't suffer fools gladly, off- or on-screen.
The Reagan brood also includes Frank's rather sour father, Henry (a retired cop), his oldest son, Danny (a plainclothes cop) and youngest boy Jamie (a newly sworn in cop to the tune of Frank Sinatra's "New York, New York" in a scene-setting opening ceremony). The roles respectively are played by Len Cariou, Donnie Wahlberg and Will Estes.
Another son, Joe, was killed in the line of duty. Mom also is deceased. Daughter Erin (Bridget Moynahan) is the lone holdout, instead practicing law as an assistant district attorney.
Selleck fully commands every scene he's in. See him spar with an adversarial mayor, call for order at an argumentative weekly Sunday family dinner or soothe his son, Jamie, in a terrific fishing pier scene that ends Episode 1.
Like many a cop drama,
Blue Bloods
stirs up corruption within the department and raises questions about the brutal interrogation techniques used to break down a suspect. Frank also cops to "seeing someone," although she's barely seen being tucked into a cab while getting a little smooch from him.
Fans of
NYPD Blue
also should be on the lookout for former co-star Nick Turturro in the recurring role of Jamie's veteran partner, Sgt. Anthony Renzulli. CBS press materials say he'll also be in the next two episodes.
All of the performances are solid, but Selleck makes the show. He's still making
Jesse Stone
movies for CBS, too, in each case playing characters who don't mince words and whose words speak volumes. Selleck's minimalist approach greatly becomes him in his autumn years. And
Blue Bloods
certainly would be down several quarts without him.
GRADE:
B+