Mid-season merry-go-round: Fox's The Finder has solid characters, shaky storytelling
12/31/11 09:27 AM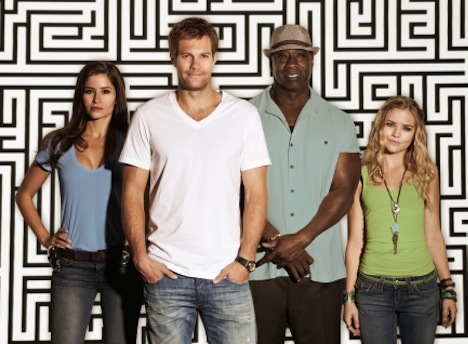 It's one big maze out there in The Finder. Fox photo
Premiering:
Thursday, Jan. 12th at 8 p.m. (central) on Fox
Starring:
Geoff Stults, Michael Clarke Duncan, Maddie Hasson, Mercedes Masohn
Produced by:
Hart Hanson, Barry Josephson, Dan Sackheim, Vahan Moosekian
By ED BARK
The Finder
could be a keeper if you're not a stickler for plausibility.
Its character mix is its strong point, with Geoff Stults and Michael Clarke Duncan clicking together as a brain-damaged war veteran with "Finder Power" and a level-headed Key West bar owner who joins him on his jaunts. But the puzzle-solving is largely incomprehensible and basically far-fetched even when it makes a little sense.
Beginning Jan. 19th, the
Bones
spinoff will be comfortably housed on Thursday nights after
American Idol
. But first comes a Jan. 12th premiere following a repeat of the
Bones
episode that introduced these characters.
Fox since has made some alterations. A ravishing bartender named Ike Latulippe, who had both a mysterious past and "many hidden skills," has been dumped in favor of two new characters. Willa Monday (Maddie Hasson) is a 'tude-copping teen on probation after a life of crime as a gypsy. She now works at Key West's Ends of the Earth bar, with Leo Knox (Duncan) mentoring her and Walter Sherman (Stults) trying to figure her out.
There's also deputy U.S. Marshal Isabel Zambada (Mercedes Masohn), who helps Walter in a pinch and occasionally joins him in the sack. Oh yeah, Walter also has some sort of underground hideaway to which he occasionally retreats. It's otherwise under lock and key.
The premiere episode jumps around a lot and includes a ridiculous side trip to a yacht commandeered by a flirty, scantily clad drug-runner. It's all part of Walter's quest to find a former Air Force officer who's been missing for two years. His son wants dad's name cleared if possible so that he can be buried with honors. So he finds The Finder and enlists his help. The search veers to and fro, never very believably. Cohesion seems to be an afterthought.
We also learn that The Finder greatly admires Cal Ripken Jr. and that he befriended Leo just in time to keep him from killing someone in cold blood. So the two of them have a strong bond, and their interactions easily are the best part of the opening hour.
All in all, this is a light-hearted series that also looks as though it's going to be light-headed in terms of basic story construction. But maybe that will improve. And
The Finder
otherwise has what's essential to any TV enterprise -- engaging central characters who quickly make themselves welcome.
GRADE:
B-minus