Pawn vs. pawn: it's a buyers' market on Monday nights
08/16/10 09:26 AM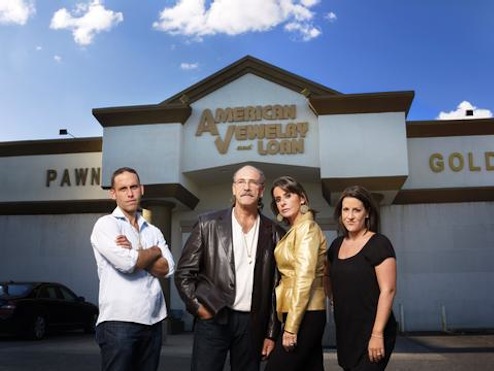 Family that pawns together: Seth, Les, Lili, Ashley Gold. truTV photo
Premiering:
Monday, Aug. 16th at 9 p.m. (central) on truTV
Starring:
Les, Ashley, Seth and Lili Gold
Produced by:
Natalka Znak, Claire O'Donohoe, Richard Dominick
By ED BARK
This is shaping up to be a battle of the titans.
Perhaps it's not quite in the same league as NBC pitting
Miami Vice
against CBS'
Dallas
in days of yore. Or Fox once upon a time shifting
The Simpsons
to a Thursday night slot opposite NBC's
The Cosby Show
.
Those were much talked about mega-showdowns. In today's TV the stakes are down to a pair of dueling pawn shop series. History Channel's
Pawn Stars
squatted down on Mondays at 9 p.m. (central) a year ago and has become one of the network's most popular attractions. Now Turner-owned truTV is countering with
Hardcore Pawn
, premiering Aug. 16th on the same night at the same time with back-to-back episodes.
Pawn Stars
, a thinly disguised, lower rent version of
Antiques Roadshow
, chronicles activities at the Las Vegas-based Gold & Silver Pawn Shop, where founding father Richard teams with his son, Rick, and Rick's son, Corey. For comic relief add Corey's reliably dim-witted childhood friend, Austin "Chumlee" Russell.
This is a basically genteel depiction of the pawn shop trade, with the Harrisons calling in various apparently upstanding appraisers to evaluate a wide array of merchandise. Recent episodes have featured items ranging from a Civil War musket to a framed mini-flag that supposedly was flown on the moon. Both turned out to be legit, although their asking prices were far higher than what the Harrisons were willing to pay.
As its title suggests, truTV is accentuating the coarser, seedier side of the business with
Hardcore Pawn
. Home base is Detroit's American Jewelry and Loan, where the proprietors are Les Gold, his wife, Lili (unseen in the first episode), and their two children, Seth and Ashley. They claim to have 45,000 items in stock.
Monday's opening half-hour begins with an expletive-laced tirade by a woman who wants her earrings back but doesn't have a proper receipt. In the first go-around she's escorted to the parking lot by a head bouncer known as Robo. "With one punch he can take down a 300-pound guy," Les boasts.
The woman initially calms down somewhat during a return visit with her momma. But she again gets no satisfaction, prompting a parting threat -- "You're not makin' it home to your wife tonight" -- that sends Les into a full-blown red alert in which he calls the cops and then loudly and profanely reams out his security staff as the closing credits roll. Lovely.
Ashley, fondly described by her eerily well-tanned dad as "the bitch of American jewelry," branches out a bit in persuading the family to buy a stripper pole whose seller first demonstrates how to use it. She bets the old man $20 that it'll find a customer. Try to resist moving to the edge of your seat.
A young man armed with a "homemade cannon" is later offered $50 bucks by Les after its considerable firing power is demonstrated in the parking lot. This seems to be a far more dangerous threat to the public's safety than the aforementioned hollow threat against Les's life. But the cops aren't called in this case, and Les eventually is talked out of buying it by his outwardly more mature son.
Also up for bid are two horses and a donkey, all of them paraded through the pawn shop before Ashley cracks, "We actually never had two horses and an ass come walk in the store."
The word "pawn" -- and its platonic soundalike relationship with "porn" -- can provide lots of fun for America's unsung corps of TV show titlers.
Pawn Stars. Hardcore Pawn
. Surely there's room for a little series called
Pawn-ography
at some point in the near future.
For now, the Harrisons take the high road, the Golds bottom-feed and viewers are left to debate the entertainment value of historic, century-and-a-half-old muskets vs. miniature homemade cannons.
GRADES:
Pawn Stars
gets a grudging B and
Hardcore Pawn
a C-minus.