A wealth of his songs (but not the big one) in PBS' Perry Como Classics: Till the End of Time
06/06/18 12:58 PM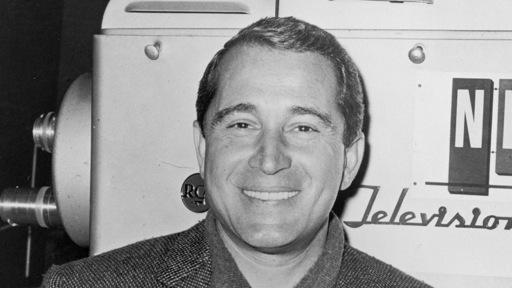 By ED BARK
@unclebarkycom on Twitter
Keep the "Perry Coma" jokes coming if you're so inclined.
But in his day, and in some of ours, this guy had a hit show at the dawn of television, a string of hit singles, killer good looks and a notably relaxed everyman persona that made the ladies melt like butter.
Among the latter were my mom and live-in grandma, whose devotions to Perry Como were almost sacramental within our little Racine, WI home. And after a while,
The Perry Como Show
, which ran from 1955 to '67 after an earlier incarnation on CBS, became all right by me, too. Particularly when "Mr. C" would kick into reverential gear for his Christmas special renditions of "Ave Maria."
KERA-TV (Ch. 13) is saving Como for the closing weekend of its June pledge drive. Under the umbrella title of PBS'
My Music
series, the one-hour
Perry Como Classics: Till the End of Time
, premieres on
Saturday, June 9th at 7 p.m. (central)
. Because of phone bank breaks, it'll take roughly 90 minutes to unfold.
Nineteen Como songs are reprised, starting with the title track and ending with "And I Love You So." Rather shockingly, "Ave Maria" is not among them, which brings me to the lesson learned by Como when he left his signature anthem out of a 1984 Christmas special from London, substituting "O Holy Night" as the closer.
"I caught hell for it," Como told your friendly content provider during the
taping of his last ABC Christmas special
, in 1986 from San Antonio. Never again, he vowed.
Como, who died on May 12, 2001 at age 88, proved to be every bit as unpretentious and approachable off-camera as the image he projected on his hit variety hour. In a telephone interview from his home in Jupiter, FL, Como said he cracked up while watching the
SCTV
parody,
"Perry Como: Still Alive,"
in which he performs disco tunes while in prone positions or being propped up by showgirls. Most of his fans in this sketch had never seen him "so relaxed," although one mildly complained that he seemed just a little upbeat.
Till the End of Time
is co-hosted by Nick Clooney (George's father) and Peter Marshall, original host of
Hollywood Squares
. Mostly full presentations of Como's hits are bridged by fresh interviews with the likes of Carol Burnett, Debby Boone, Jay Leno, Regis Philbin, Richard Carpenter, Leonard Maltin and Kathy Lennon of The Lennon Sisters. (Talk about boyhood crushes.)
"He did it with such ease," Burnett says of Como. "It was as if he were just speaking very softly to you, but he was carrying a tune and sounding beautiful."
Burnett, whose variety show was the last major TV hit in this now all but extinct genre, performed with Como and got a little weak-kneed in his presence, as a clip shows.
"I have to confess," she says. "I might have had a little crush on him. But I don't think I was alone."
Leno, shown wearing a
Jay Leno's Garage
t-shirt amid some of his classic cars, opened for Como during some of his off-screen concerts. He had "old Italian groupies" who brought him their favorite dishes, Leno recalls. One of those groupie's was Leno's mom, whose hand Como kissed and sent her into ecstasy.
He had a semblance of a rock 'n' roll hit with "Hot Diggity (Dog Ziggity Boom"), released in 1956. Como didn't mind a novelty song now and then. But for the most part he was a classic crooner, building slowly to big finishes for songs such as "Prisoner of Love, Some Enchanted Evening" and "No Other Love."
Till the End of Time
easily could be twice as long. It barely touches on Como's winning ways with guests, largely with an appearance by Dean Martin. Como's Christmas shows, so important to his persona, likewise get truncated treatment. But we do get to see Bob Newhart in an Easter bunny costume.
Como's last top 10 hit, "It's Impossible," came out in 1971. He also had decent sales with "And I Love You So," released two years later. This is the song the special ends on, with Como performing it in a Christmas morning setting while wearing a robe emblazoned with a big C. Lyrics include, "The book of life is brief."
Perry Como might as well be Nicodemus in terms of being recognizable to younger generations. But in bygone times when entire families regularly gathered around the lone living room TV set, Como's weekly variety hour had a glow and an impact that still resonates with many Baby Boomer kids who since have outlived him, but not his memory.
At that 1986 taping of the Christmas special from San Antonio, a fan presented Como with a collection of song sheets from the 1940s, including his smash single, "Prisoner of Love."
"The lover boy of the stone age," he laughed before signing it. Como also autographed a blood donor card, a little boy's shirt pocket and a dollar bill handed to him by a middle-aged woman on crutches.
Scribbling notes while standing nearby, I didn't want any of this to end. Nor, most likely, did he.
GRADE:
B
Email comments or questions to:
unclebarky@verizon.net