NBC's Game of Silence has an involving storyline, but will its promised cliffhangers live to see a Season Two?
04/08/16 12:56 PM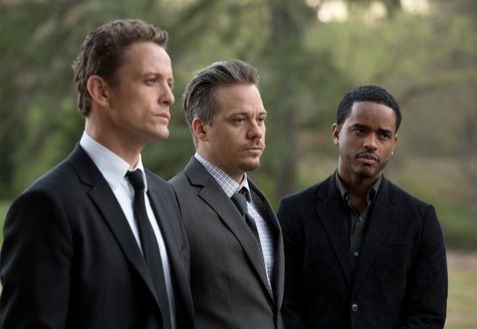 David Lyons, Michael Raymond-James and Larenz Tate play the scarred survivors of a hellish Texas juvenile prison. NBC photo
Premiering:
Tuesday, April 12th at 9 p.m. (central) on NBC before moving to regular Thursday, 9 p.m. slot
Starring:
David Lyons, Michael Raymond-James, Larenz Tate, Bre Blair, Conor O'Farrell, Demetrius Grosse, Claire van der Boom, Deidrie Henry, Derek Phillips
Produced by:
David Hudgins, Carol Mendelsohn, Julie Weitz, Niels Arden Oplev, Timur Savci, Tariq Jalil
By ED BARK
@unclebarkycom on Twitter
NBC's last new series of the season from a slate announced last May has been worth waiting for if it in fact survives beyond Season One. Otherwise you'll be strung along and then left hanging by
Game of Silence
, a sobering, set-in-Texas saga of revenge borne of long-repressed atrocities.
It's adapted from the Turkish series
Suskunlar
, which premiered in 2012 and lasted for two seasons and 28 episodes. Season One of the NBC version runs for 10 episodes, nine of which were sent to TV critics.
"After much hand-wringing and internal discussion, we opted not to include the finale," executive producer David Hudgins says in a cover letter. "Not because we're being precious, but rather just protective. It contains several shocking reveals, and jaw-dropping cliffhangers that we hope you and the viewers will experience together live."
Your friendly content provider became interested enough to experience all nine episodes made available -- and wished the last one had been sent as well. But what if
Game of Silence
flops and gets canceled, leaving those "jaw-dropping cliffhangers" in free fall without enough payoffs on a considerable investment? Networks have run these Ponzi schemes before, so viewers should beware of getting sucked in -- only to be at least halfway suckered in the end.
Hudgins says he's also been told that
Game of Silence
"feels like a binge-able cable show, which I take as a huge compliment." Well, I'll meet him halfway on that. This is by and large a compelling drama, although perhaps not something that many viewers would devour ravenously in one big gulp or two. But the principal bad guy, former juvenile prison warden and present-day congressional candidate Ray Carroll (Conor O' Farrell), certainly is heinous enough to get viewers very interested in seeing him incarcerated for life after perhaps he first endures a hot lead enema and a few tooth extractions via a ball peen hammer.
Carroll's victims include four pre-teen boys who were severely abused while incarcerated for nine months in the charitably named Quitman Youth Detention Facility.
"We were like lambs to the slaughter," narrates a grown-up but still haunted Jackson Brooks (David Lyons), who 25 years later is a successful Houston attorney engaged to law firm colleague Marina Nagle (Claire van der Boom). Jackson long has distanced himself from the three childhood friends who endured that hellhole with him. But Gil Harris (Michael Raymond-James) and Shawn Polk (Larenz Tate) come calling after the youngest member of their foursome, "Boots" (Derek Phillips), is arrested and charged with an assault tied to their long-ago incarceration. Subsequent events conspire to suck Jackson back in.
The fifth wheel in all of this is Jessie West (Bre Blair), who was being abused by her drunken mother as a kid before Jackson, Gil, Shawn and Boots came to her rescue and ended up paying for it after a serious mishap in a stolen getaway car. They all end up reunited -- and it doesn't feel so good. But can the thoroughly crooked Carroll and his henchman somehow be stopped? And what else might they be hiding beyond all that behind-bars abuse they inflicted on young Jackson, his friends and many others?
Game of Silence
does a pretty solid job of stitching together flashbacks and the ongoing efforts to get justice either by the book or by any means necessary. The strongest performance is by Raymond-James as the deeply tormented, trigger-tempered Gil, who regularly balks when the more level-headed Jackson insists, "Brick by brick, we're gonna get it done. I promise."
Tuesday's first hour does a solid job of baiting various hooks. And even when
Game of Silence
meanders, it does so with an energy and a pulse that keep the story from derailing or bogging down.
Episode 5 introduces the series' best-known guest star, Sharon Lawrence, an alumnus of
NYPD Blue
who more recently has been a recurring character on
Drop Dead Diva
and
Rizzoli & Isles
. Lawrence plays powerful CEO Diana Stockman, whose self-satisfied smiles and sneers are over-used in the early going. It's not giving away much to say that she ends up being duplicitous after retaining Jackson's and Marina's law firm to handle her company's predicaments full-time.
By the end of Episode 9,
Game of Silence
has several new corpses in the bag and at least an equal number of core character conflicts that have either been remedied or cauterized. Once again, the bad guys seemingly are on the verge of paying for their sins. Except for the promise of those "jaw-dropping cliffhangers" that are supposed to whet interest in Season Two. That is, if there is one.
GRADE:
B
Email comments or questions to:
unclebarky@verizon.net