Two paws up for ABC's Downward Dog
05/16/17 01:47 PM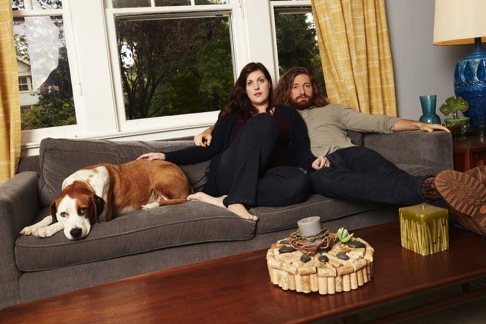 Martin (left), Nan and Jason of Downward Dog. ABC photo
Premiering:
Wednesday, May 17th at 8:30 p.m. (central) on ABC before moving to Tuesdays at 7 p.m.
Starring:
Allison Tolman, Lucas Neff, Samm Hodges, Kirby Howell Baptiste, Barry Rothbart
Produced by:
Michael Killen, Samm Hodges, Jimmy Miller, Sam Hansen, Kathy Dzubiek, Kat Likkel, John Hoberg
By ED BARK
@unclebarkycom on Twitter
The following favorable review of
Downward Dog
is not influenced by my surname, although you still might want to consider the source.
After all, I was among a bare handful of TV critics who didn't actively dislike ABC's earlier talking creature sitcom,
Imaginary Mary
, which since has been canceled. We all have our outliers from time to time. But
Downward Dog
is a genuine gem that also prompts the question, "Why did ABC wait so long to give it a slice of prime-time?"
The key figures are Martin (who gets his hangdog voice from co-executive producer Samm Hodges) and his owner, Nan (breakout star Allison Tolman from
Fargo
, Season One). He's a ruminating mutt who laments his various fates and impulses while she toils for a basically impossible boss at a Pittsburgh-based ad agency.
ABC's series version is adapted from a short form web series, and this time the transition is smooth. The four episodes of
Downward Dog
made available for review are snarky, charming, funny and recurrently philosophical when Martin "talks" to the camera. Here's a dog who drops the the word "reductionistic" in Episode 3 and frets in Episode 4 that "sometimes 'dog culture' feels almost like a breeding ground for anti-intellectualism."
But Martin's gooiest yet resonant observation comes in Wednesday's premiere half-hour after he reflects on the time he spent behind bars in a shelter before Nan chose him.
"It's so vulnerable to love somebody this much," he says of his oft-frazzled owner. "Like to know that no matter what they do or how mad you get at them, you always come running back to them. Like, I literally can't quit her."
Not that Martin doesn't have his meltdowns. Balking at being left alone too much, he acts out by chewing up a pair of Nan's boots and later something far more important to her. He also resents being locked in "the sex room" whenever Nan and her nominally ex-boyfriend, Jason (a heavily bearded Lucas Neff from
Raising Hope
), succumb anew to one another, usually after heavy consumption of wine.
Jason primarily is a layabout, but also a sweet-natured good guy who enjoys taking Martin for walks and other outings while Nan strives to convince her jerky boss Kevin (Barry Rothbart) to accept one of her ideas. By happenstance -- and with an unintended strong assist from Martin -- she comes up with the slogan, "Look At How Beautiful You Are" whatever your body shape or looks. Kevin instantly hates it, but a visiting corporate potentate sees the potential. Subsequent episodes deal in part with the formulation of the campaign, with Nan and her best pal, Jenn (a well-cast Kirby Howell Baptiste), scheming on how to push it past Kevin.
Tolman brings an abundance of natural appeal to the role of Nan while Martin bares his emotions and then wonders about them. An electronically operated dog door (with its battery attached to his collar) convinces Martin that his mind is a dormant super-power. But in a later episode, he discovers that being trained to do tricks just isn't his thing. "I think I've finally let go of that desire to be impressive," Martin concludes.
Downward Dog
obviously could have gone very wrong. Instead it gets almost everything irresistibly right, whether it's Martin's simple yet challenging life ("I'm only human," he reasons) or the accompanying two-legged human endeavors that shift his mind into overdrive and this series into the realm of the near-sublime.
GRADE:
A-minus
Email comments or questions to:
unclebarky@verizon.net