More stealth promoting for Cougar Town from its renegade producer
02/06/12 12:53 PM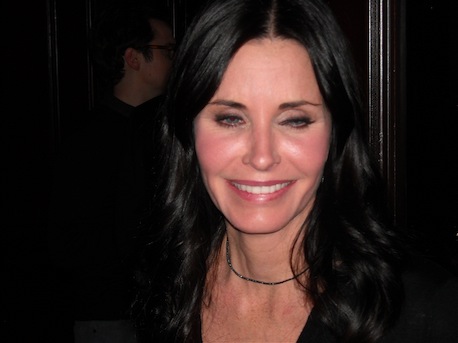 Courteney Cox at Bill Lawrence's Cougar Town party. Photo: Ed Bark
By ED BARK
Guerilla TV producers are always welcome on this independent-minded TV site. And Bill Lawrence lately is the guerilla my dreams. So sorry.
Lawrence used to make
Scrubs
for NBC. It bounced around a lot, constantly disappearing and reappearing. Now he's the creator/producer of ABC's
Cougar Town
, which is slated to return on Valentine's night after a long absence.
He wasn't at all happy about this extended hiatus. So during January's Television Critics Association "press tour" in Pasadena, Lawrence threw his own party on the eve of ABC's formal day of presentations. At the time ABC still hadn't committed to a date for
Cougar Town
's return, but soon capitulated after its men-in-drag
Work It
opened to dreadful reviews and ratings.
Now Lawrence has taken another step on his behalf by emailing writers an embeddable link to "our Season 3 highlight reel, spoilers and all."
"Trying everything. We just all like our job too much," he says. "Getting in trouble with ABC legal left and right. But whatever. See you Feb. 14th (at 7:30 p.m. central following Tim Allen's
Last Man Standing
). Someone thank Fox for taking
Glee
off the air for 7 weeks. Might help us."
I've gradually become a fan of
Cougar Town
, which has gotten much better after a so-so start. And you can get more updates on
Cougar Town
by going to
Bill Lawrence on WhoSay
.
For the record, ABC entertainment president Paul Lee jovially said he liked Lawrence's style on the morning after the producer and his team threw their unauthorized
Cougar Town
party.
"I mean, I love Bill," Lee said whether he completely meant it or not. "I used to be a pirate when I was a show-runner. And now I'm kind of the Navy and he does such a great sort of pirate job of getting his audiences excited. And that helps us, too. So I always say to my show-runners, 'Take a leap out of Bill Lawrence's book because he does such a great job of getting a passionate audience around a show.' "
Here's the highlight reel, which runs just over 10 minutes but can be watched in smaller doses if you'd like:
Bill Lawrence on WhoSay