Christmas comes but once a year, but starts in early November on dueling Hallmark/Lifetime networks
10/18/13 10:32 AM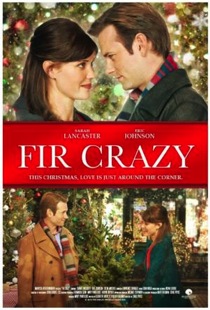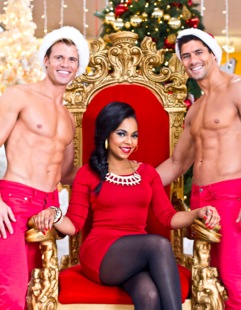 It'll be Hallmark Channel vs. Lifetime in another all-out Christmas assault that begins two days after Halloween. Hallmark/Lifetime photos
By ED BARK
@unclebarkycom on Twitter
It's beginning to look a lot like Christmas -- if you tunnel your vision through department stores and three holi-dazed cable TV networks.
That most wonderful time of the year amounts to Shark Week -- only much longer -- for the Hallmark Channel, Lifetime and ABC Family.
Hallmark and Lifetime are the principal perpetrators, er, spreaders of good cheer, with slews of new 'n' gooey holiday movies. ABC Family's annual "Countdown to 25 Days of Christmas," which precedes its annual "25 Days of Christmas," is somewhat more restrained and less ambitious. It doesn't fire up until November 20th and offers just two original films as part of the package.
Hallmark's "Countdown to Christmas" begins on Nov. 2nd while "It's A Wonderful Lifetime" waits all the way until one week later. Hallmark considers itself the real Santa Claus here, with latter day interloper Lifetime little more than a renegade pack of elves. But this is serious business here, and a very serious business plan. So the viewer shopping seasons keep getting longer and longer on both networks.
Hallmark has a dozen new Yule movies in its gift bag. And that doesn't include its corporate sister, Hallmark Movie Channel. On Nov. 18th, it's offering
Christmas with Tucker
, the network's inaugural original Christmas film. All you need to know is that venerable James Brolin does his level best to get mushy in the company of a dog and a kid.
It can be tough coming up with new titles in this realm. But Hallmark is hanging in there with the likes of
A Very Merry Mix-Up
(Nov. 10th);
Window Wonderland
(Nov. 23rd);
Fir Crazy
(Nov. 24th) and
Hats Off to Christmas
(Dec. 14th).
Lifetime counters with
Kristin's Christmas Past
(Nov. 23rd);
A Snow Globe Christmas
(Dec. 14th) and
Christmas on the Bayou
(also on Dec. 14th as part of a climactic holiday season doubleheader).
Lifetime has a total of seven new Christmas movies, all scheduled on weekends. Hallmark's dozen newbies also have weekend premieres. ABC Family is the contrarian here, dialing up
Christmas Bounty
on Tuesday, Nov. 26th. The cast is headed by wrestling superstar Mike "The Miz" Mizanin, so expect some Emmy caliber emoting.
ABC Family's other first-run Christmas film,
Holidaze
, is coming on Sunday, Dec. 8th. It stars
Dancing with the Stars
alumni Jennie Garth and Cameron Mathison. What, you were expecting Al Pacino and Meryl Streep?
Esteemed thespians and/or major Hollywood names are in somewhat short supply on both Hallmark Channel and Lifetime. But there are exceptions.
Lifetime's lead-off Christmas entry, Nov. 9th's
A Country Christmas
, stars Dolly Parton as herself. She'll be hosting a holiday singing competition at Dollywood.
Lifetime also offers Della Reese and
American Idol
champ Jordin Sparks in
Dear Secret Santa
(Nov. 30th). Ed Asner and Randy Travis both take part in the network's aforementioned
Christmas on the Bayou
.
Over on Hallmark, former Bionic Woman Lindsay Wagner co-stars in Nov. 2nd's
The Thanksgiving House
while Bruce Dern pops in on
Pete's Christmas
(Nov. 8th).
Naomi Judd co-stars in Hallmark's
Window Wonderland
; Alan Thicke appears in
Let It Snow
(Nov. 30th); Olympia Dukakis and Nicolette Sheridan join forces in
The Christmas Spirit
(Dec. 1st) and Haylie Duff fronts
Hats Off to Christmas
.
The story lines for these films boil down to a simple Christmas edict: All involved find joy, happiness and fulfillment.
Hallmark's
Snow Bride
(Nov. 9th) is described thusly in publicity materials: "When a reporter encounters the eldest son of a famous political family at a mountain retreat, she winds up pretending to be his girlfriend over Christmas so he can save face with his family. Should she secretly expose newsworthy scoops about the famous family in order to save her job, or trust that she's falling in love for real?" Do they really need to ask?
In
The Christmas Ornament
(Nov. 16th), "widow Kathy Howard is having a hard time facing her first Christmas alone when she meets Christmas tree lot owner Tim Pierce, who helps her to see that there is still hope and love in the world. Kathy, however, is unsure if she is truly ready to move on. Can Tim and the Christmas season help open her heart to a new life?" Oh please.
Over on Lifetime,
A Snow Globe Christmas
goes down like this: "A cynical television executive looks at the perfect world inside a snow globe and rants about how the Christmas movies she produces fall short of real life. Upset, she tries to smash the globe into pieces, but instead ends up knocking herself in the head. She wakes up in a perfect snow-covered town, married to her ex-, Ted, with two kids. Trying desperately to return to her old life, she slowly realizes the importance of family and begins to find happiness."
Well, good luck with all of this in real life. Still, real life is over-rated while Christmas movies of this sort provide welcome respites for many. Otherwise, Hallmark Channel and Lifetime wouldn't be loading up on alternatives to Uncle Gus throwing a turkey leg at Uncle Jess during a typically fractious family holiday dinner. Or Dad blowing the gift budget on lottery tickets before guiltily getting drunk and falling into the Christmas tree after first urinating on it. Or cantankerous Grandma Maud telling her well-meaning daughter, "Your Christmas presents are always so damned boring."
It'd be nice, though, if Hallmark and Lifetime could stifle themselves until at least the day after Thanksgiving. Christmas comes but once a year, but if these networks had their way, it'd be year-'round.
In that respect, don't discount a July start-up at some point in the fairly near future. After all, they used to have "Christmas In July" at the local Racine, Wisconsin drive-in movie theater during Little Barky's formative years. And, true story, after waiting in line for a long time during intermission, li'l Barky got half of a broken-off bunny eraser. The butt end, by the way, although it did have a cottontail.
Hark, I'm sensing a Christmas movie premise here: "After years of being scarred by an unfortunate "Christmas In July" gift given to him as a kid, a frugal bachelor wonders if the holiday season will ever bring him true joy. But then a giant rabbit appears to him in a vision, with instructions to buy a seashell necklace from a lonely, destitute street peddler named Mary Joseph before inviting her to his humble two-room studio apartment in Mangerville for a Banquet TV dinner feast and a scoop of topping-less ice cream. Can Holly's unrestrained happiness in the face of such generosity erase the man's Christmas demons and perhaps even prompt him to sing "The First Noel" before proposing marriage?"
Starring David Faustino and Lisa Whelchel with Jon Lovitz as the voice of the giant rabbit.
Email comments or questions to:
unclebarky@verizon.net