Justice with a sledgehammer on CBS' Training Day
02/01/17 10:06 AM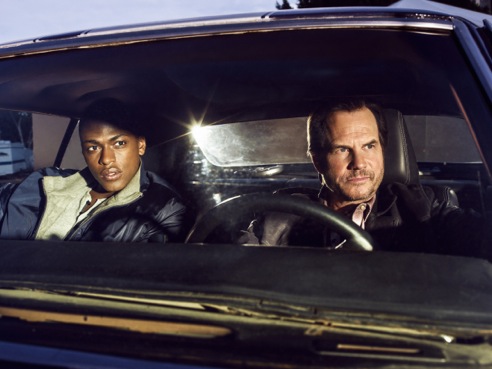 Justin Cornwell and Bill Paxton patrol L.A. in the brutal Training Day.
CBS photo
Premiering:
Thursday, Feb. 2nd at 9 p.m. (central) on CBS
Starring:
Bill Paxton, Justin Cornwell, Katrina Law, Drew Van Acker, Lex Scott Davis, Julie Benz, Marianne Jean-Baptiste, Christina Vidal
Produced by: Jerry Bruckheimer, Kristianne Reed, Antoine Fuqua, Will Beall, Barry Schindel, Jonathan Littman, Danny Cannon
By ED BARK
@unclebarkycom on Twitter
The medical drama didn't work, so CBS is rolling out yet another crime hour -- which probably will.
This in no way is meant as praise for
Training Day
, a violent, virile and often vile extension of the 2001 film that won Denzel Washington a Best Actor Oscar. It replaces the ratings-challenged
Pure Genius
on Thursday nights.
Bill Paxton steps in as a pale facsimile of Washington's corrupt L.A. cop while Justin Cornwell takes on Ethan Hawke's role as a true blue trainee. The characters' names have been changed, as has the overall premise. This time around, Kyle Craig (Jake Hoyt in the movie) also has been ordered to spy on the very roguish Frank Rourke (formerly Alonzo Harris). The overall enforcer is deputy chief Joy Lockhart (Marianne Jean-Baptiste), who periodically drops in during the first three episodes to warn Craig that he'd better stick to that game plan or she'll have his badge and also ruin his life.
Jerry Bruckheimer again is the principal executive producer. His fondness for corpses and mayhem has been well-documented over the years with a quartet of
CSI
series and feature films such as
Con Air, The Rock, Pearl Harbor
and
Black Hawk Down
. The guy doesn't do genteel or sitcoms, although many of the situations and verbiage in his productions are unintentionally hilarious when they're not cringe-worthy.
Paxton, as the battle-scarred, Texas-born Rourke, speaks with a comically over-baked rasp that makes Kiefer Sutherland's old Jack Bauer character sound like Mickey Mouse. His opening narratives are a youtube compilation reel in the making.
"I've been hunting armed men through this city since O. J. was doing Hertz commercials," he says for starters in Thursday's premiere. Next week's episode, subtitled "Code of Honor," begins with Rourke declaring, "Most folks outside of Texas don't give a rat's ass about the Alamo." But the height of ridiculosity comes later, when Rourke and his crew run out of ammo and are pinned down by a small army of drug dealers to the tune of Johnny Cash's "Remember the Alamo."
"I'll tell you this," Rourke says when things start looking real bad. "I'd rather be with you guys than Landry's '77 Cowboys. And they crushed the Broncos in the Super Bowl."
The holdover members of Rourke's crew are tough-as-nails Rebecca Lee (Katrina Law) and former surfer boy Tommy Campbell (Drew Van Acker). She's married but they have a thing going while Rourke maintains an "arrangement" with Hollywood madam Holly Butler (Julie Benz) after burning through four marriages.
Resemblances to FX's far superior
The Shield
can be taken only so far as the basic premise.
Training Day
otherwise has the subtlety of a carnival barker brandishing a giant stuffed panda. So meet a freewheeling villain known as Blowtorch Bob in Thursday's premiere.
No wonder crime is up 300 percent in L.A. while arrests are way down. And no one wants to do anything about it because "they're afraid they'll end up on Anderson Cooper," Rourke snarls. Presumably he doesn't mean the annual New Year's Eve show with Kathy Griffin, because, yeah, that would be really bad.
Craig, the still stable trainee, is happily married (Lex Scott Davis as Alyse Craig) but also still haunted by the unsolved murder of his police officer father, who was Rourke's partner. So there's the paint-by-the-numbers dilemma. Fingering Rourke would end the career of the one guy capable of bringing the killer or killers to trial -- or simply killing them in retribution.
Training Day
also deploys a vicious monkey to get a thug to talk and a primitive "Tucker Telephone" device that gets real results when hooked to a guy's genitals. Rourke thoroughly enjoys using it in Episode 3.
But he's not always stone cold. Episode 2 depicts Rourke's enduring relationship with a plus-sized Mexican kid who became a key paid informant and now wants to make some needed money for his new family by again going undercover. Absolutely no one will be surprised when this doesn't go well.
"You dumb, fat sonofabitch. Why couldn't you ever run faster?" growls a grief-stricken Rourke. "Walking soft was never my specialty," he later says, hammering home the utterly obvious.
Yeah, this'll probably be a hit.
GRADE:
D
Email comments or questions to:
unclebarky@verizon.net