New fall season: CBS' greasy spooned 2 Broke Girls has a potential breakout star but a lousy joke menu
09/15/11 01:31 PM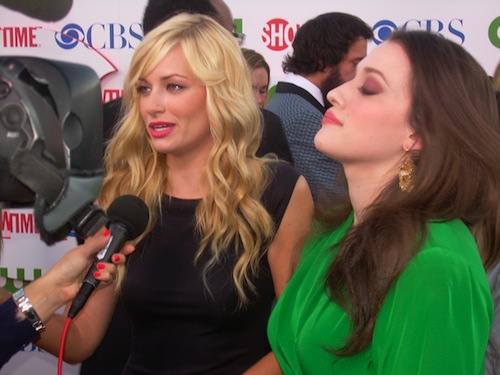 Beth Behrs, Kat Dennings of CBS' 2 Broke Girls. Photo: Ed Bark
Premiering:
Monday, Sept. 19th at 8:30 p.m. (central) on CBS
Starring:
Kat Dennings, Beth Behrs, Matthew Moy, Garrett Morris, Jonathan Kite
Produced by:
Michael Patrick King, Whitney Cummings
By ED BARK
The newly refurbished
Two and a Half Men
plus the brand new
2 Broke Girls
equals two broad and sex-plicit comedies set to run back-to-back on CBS' Monday night schedule.
The network has declined to make Ashton Kutcher's
Two and a Half Men
debut available for review. That leaves critics with the "retro-hip" Williamsburg diner to chew on. It's the base of operations for a prototypically saucy waitress named Max (Kat Dennings), whose work and home lives are shaken up by the arrival of destitute Manhattan socialite Caroline (Beth Behrs). She's homeless and penniless after her family's fortune is left for dead by dad's Ponzi scheme and his subsequent arrest.
Max's lippy, back-of-the-hand treatment of customers is immediately established with boob and vagina one-liners in the opening scene. The humor is not exactly rarefied, but Dennings knows how to sling the hash. She's already in full command of this sitcom by the time Behrs' Caroline pops in to replace a fired Russian waitress who left behind a stained and smelly uniform after being caught having loud sex with a cook.
"I hope that's clam chowder," Caroline says in one of the ickier sitcom lines of recent times. She soon learns it's not.
The waitress uniforms are mustard and ketchup colored while every line is delivered with relish. That includes a truly tasteless crack by the restaurant's geriatric cashier, Earl (played by former
Saturday Night Live
charter cast member Garrett Morris).
"That girl is workin' harder than
Stephen Hawking
trying to put on a pair of cufflinks," he crows.
As previously posted
, co-executive producer Michael Patrick King (
Sex and the City
) has no intention of cutting it because, well, you know, it's "edgy." Wonder how the openly gay King would feel about a similarly sub-moronic "fairy" joke at his expense.
2 Broke Girls
also includes the diner's new Asian owner, Han Lee (Matthew Moy), who speaks broken English and hopes to Americanize himself by changing his name to Bryce Lee. And although she's portrayed as thoroughly street smart, Max nonetheless has fallen for a muscle-headed, live-in boyfriend named Robbie (Noah Mills), who specializes in flaunting both his abs and his butt crack before being further exposed by Caroline.
Meanwhile, Max somehow finds time to bake and sell luscious cupcakes on the side, and has a second job as nanny to a dim bulb diva whose babies are named Brad and Angelina. In the end, Caroline persuades her new friend to dream big and start raising the $250,000 they'll need to open their own bakery. Judging from a printed kicker at the end, their sum total toward that goal will be updated each week.
I liked this first episode better the first time around. Upon further review, its excesses and kitchen sink humor aren't wearing as well. Dennings may well be a TV star in the making, though. And
2 Broke Girls
stands a good chance of surviving in a comfy slot between
Two and a Half Men
and
Hawaii Five-O
.
Really, though, improve the joke menu. At least just a little.
GRADE:
C