Please, please, Mr. Postman: Letterman wins two straight weeks in total viewers for first time since 1998
07/23/09 04:13 PM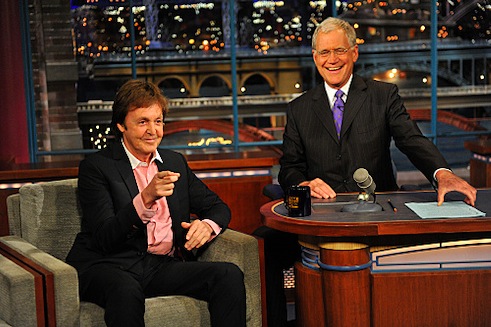 Letterman-McCartney on last week's Late Show. CBS photo
By ED BARK
No matter how NBC tries to spin it, the old man and the CBS Eye are increasingly taking it to Conan O'Brien's
Tonight Show
.
Last week's national Nielsen ratings made it two straight wins in total viewers for CBS'
Late Show
. And that hasn't happened in back-to-back weeks since February 1998 during the Nagano Winter Olympics.
NBC blames this in part on Paul McCartney's "highly publicized" appearance and performance on Letterman's July 15th show. And the Peacock crows that
Tonight
is still beating
Late Show
among advertiser-craved 18-to-49-year-olds, although by just two-tenths of a rating point in the week of July 13-17.
Here's the thing, though.
Late Show
went out and got McCartney as a guest. He didn't just magically materialize on the show. And when Jay Leno's prime-time program premieres on Sept. 14th, guest bookings are going to get even tougher for O'Brien's
Tonight
. So the worst may be yet to come.
Letterman clearly is re-invigorated by the chance to once again be late night king. So is ABC's
Nightline
for that matter. Its ratings are only for a half-hour while
Late Show
and
Tonight
are measured for the full hour. And as the hour grows later, the ratings usually fall off.
Still, in the latest ratings week,
Nightline
beat both Letterman and O'Brien in total viewers. The totals were 3.7 million for
Nightline
, 3.5 million for
Late Show
and just 2.7 million for
Tonight
.