A resurgent NBC heads into fall with six new series and a big time slot switch
05/11/14 12:28 PM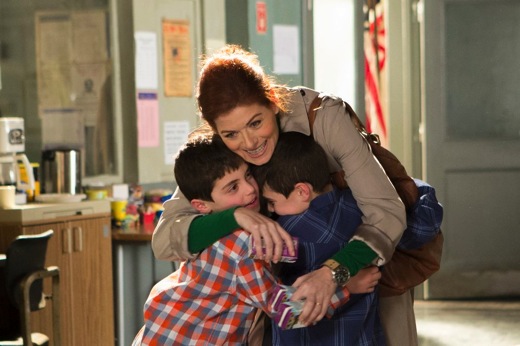 Debra Messing plays a sleuthing mom of twins in The Mysteries of Laura, set to lead off NBC's Wednesday night crime lineup. NBC photo
By ED BARK
@unclebarkycom on Twitter
Fortified with bragging rights, an emboldened NBC is adding six new series to its fall lineup while daring to switch last fall's most popular new series,
The Blacklist
, to a new night and time in midseason.
The Peacock also announced Sunday that both
Parenthood
and
Parks and Recreation
will say goodbye after next season.
Parenthood
remains on Thursdays at 9 p.m. (central) while
Parks and Recreation
must await a midseason berth.
NBC will close out this season with its first win in a decade among advertiser-prized 18-to-49-year-olds. Sports programming helped immensely, with the Winter Olympics added to prime-time-'s No. 1 program,
Sunday Night Football
. But NBC says it also would nip Fox for the top spot with 18-to-49-year-olds even if the Winter Games from Sochi were subtracted from the average. NBC also ranks No. 2 in total viewers, trailing only CBS.
The Blacklist
will stay on Mondays at 9 p.m. through Nov. 10th, with the new CIA drama
State of Affairs
stepping in on the following Monday.
Blacklist
will then be relaunched following Super Bowl XLVIX on Feb. 1st before moving to Thursdays at 8 p.m. on Feb. 5th.
The network's new season, headlined as "Well-Balanced and Dynamic" in publicity materials, comes after last season's "Diverse and Balanced" lineup yielded numerous casualties.
The only returning NBC series to feel the sting of cancellation is
Revolution
. But a large number of freshman entries will not live to see sophomore years. All told, the Peacock launched 13 new series this season.
The Michael J. Fox Show, Sean Saves the World, Welcome to the Family, Ironside, Believe, Crisis, Dracula, Growing Up Fisher, American Dream Builders
and
The Million Second Quiz
have been canceled.
The Blacklist, Chicago P.D.
and
About a Boy
have been renewed.
Another quartet of NBC newcomers originally marked for midseason debuts --
Undateable, The Night Shift, Crossbones
and
Food Fighters
-- instead will get a chance to fight for their lives this summer.
Here are NBC's six new fall series:
The Mysteries of Laura
(drama) -- Debra Messing (
Will & Grace
) returns to prime time as New York homicide detective Laura Diamond, whose sleuthing time-shares with being a mom of pre-teen twin boys and the reluctant wife of a guy she's trying to divorce. The network describes it as "hilariously authentic."
State of Affairs
(drama) -- Katherine Heigl of
Grey's Anatomy
fame stars as CIA analyst Charleston "Charlie" Tucker, whose principal task is assembling daily briefing papers for the nation's first African-American woman president, played by Alfre Woodward. Complicating matters: Charlie was once engaged to the president's son until a terrorist attack ended his life. She's still trying to get to the bottom of why and how he died. NBC promises a "shocking mystery" down the road.
Constantine
(drama) -- Adapted from the DC comics series
Hellblazer
, it stars Matt Ryan (
Criminal Minds
) as "seasoned demon hunter and master of the occult" John Constantine. The supporting cast includes Harold Perrineau from
Lost
.
Marry Me
(comedy) -- Annie (Casey Wilson) and Jake (Ken Marino) once upon a time "bonded over their mutual love of nachos." She's long been waiting for him to pop the question, which he's ready to do. But stuff then happens, so his planned proposal is waylaid and the rest is weekly sitcom material.
Bad Judge
(comedy) -- Kate Walsh (
Private Practice, Grey's Anatomy
and currently a recurring character in FX's
Fargo
) plays "wild child" Rebecca Wright, who's also a tough L.A. judge. She parties hard, pounds the skins in a band with her best friend and is fated to meet a wayward eight-year-old kid ready to tame her at least a little.
A to Z
(comedy) -- Andrew and Zelda (Ben Feldman, Cristin Milioti) improbably meet and begin bonding. NBC asks, "Is it true love forever or just a detour in destiny?" Katey Sagal has signed on as the narrator.
Here is NBC's night-by-night new fall lineup:
Monday
The Voice
The Blacklist (with State of Affairs moving in on Nov. 17th)
Tuesday
The Voice
Marry Me
About a Boy
Chicago Fire
Wednesday
The Mysteries of Laura
Law & Order: SVU
Chicago P.D.
Thursday
The Biggest Loser
Bad Judge
A to Z (The Blacklist will supplant these two sitcoms on Feb. 5th.)
Parenthood
Friday
Dateline NBC
Grimm
Constantine
Saturday
Wall-to-wall repeats -- or as NBC puts it, "Encore programming."
Sunday
Football Night in America
Sunday Night Football
NBC also has announced a wealth of other new series that for now are scheduled to premiere sometime in the midseason. Let's move along quickly with them.
Mission Control
(comedy) -- Krysten Ritter from
Don't Trust the B -- in Apartment 23
stars as a 1960s aerospace engineer working within a NASA boys club.
Mr. Robinson
(comedy) -- Craig (Craig Robinson of
The Office
) is a rock band keyboardist who becomes a substitute teacher to help pay the bills. The always welcome Jean Smart plays the principal.
One Big Happy
(comedy) -- Gay Lizzy and straight Luke (Elisha Cuthbert, Nick Zano) aim to start a family of their own. But then he meets free-spirited Brit Prudence (Kelly Brook), which sends Lizzy into a tizzy that only gets dizzier. Ellen DeGeneres is among the executive producers.
Unbreakable Kimmy Schmidt
(comedy) -- The title character, played by Ellie Kemper (another alum of
The Office
), is rescued from a cult after 15 years. Slumming it, she goes on NBC's
Today
show -- rather than ABC's No. 1-rated
GMA
-- to tell her story. Then she moves in with a gay would-be Broadway actor and misadventures ensue. The co-executive producer is Tina Fey.
A.D.
(drama) -- The 12-hour miniseries followup to History Channel's
The Bible
will premiere on Easter Sunday. Mark Burnett and Roma Downey remains as executive producers.
Allegiance
(drama) -- A young, idealistic CIA analyst (played by Gavin Stenhouse from
Person of Interest
) is shocked to learn that his parents used to be covert Russian spies. Major complications arise when they're reactivated.
Aquarius
(drama) -- The year is 1967, and David Duchovny (
The X Files, Californication
) plays an L.A. police sergeant assigned to track down Charles Manson and his followers through a "rabbit hole of drugs, sex, murder and cultural revolution."
Emerald City
(drama) -- There's no cast yet for this one. Basic premise: a young woman in search of her biological mother breaks into a "sinister underground facility," steals a police dog, finds herself in the path of a tornado and ends up in the Land of Oz (but "in a way you've never seen before").
Heroes Reborn
(drama) -- This will be the attempted resurrection of NBC's
Heroes
franchise, which it previously mishandled. New characters are promised but, again, no cast yet.
Odyssey
(drama) -- An "international conspiracy" detonates when a woman soldier, a corporate lawyer and political activist "unexpectedly collide." The cast includes Anna Friel from
Pushing Daisies
and Peter Facinelli (
Nurse Jackie
).
Email comments or questions to:
unclebarky@verizon.net