March sadness: CBS is the only network on year-to-year upswing, but Fox will have usual finishing kick
02/26/09 04:11 PM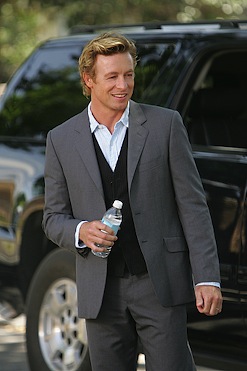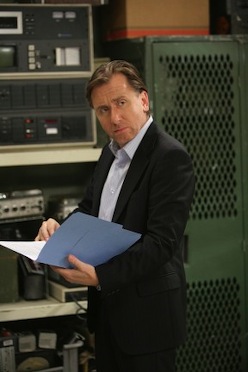 Simon Baker of CBS' The Mentalist; Tim Roth of Fox's Lie to Me
By ED BARK
The Big Four broadcast networks -- and li'l CW -- are heading into the final three months of the 2008-'09 TV season with only CBS having all arrows pointing upward.
In a lousy economy, though, year-to-year gains in total households, viewers and 18-to-49-year-olds aren't paying off the way they should at the slump-shouldered cash register. Most advertisers simply can't afford any higher costs of doing business.
Still, it's much better being CBS than ABC or NBC.
CBS' prime-time schedule is loaded with top 20 hits, including this season's only true breakout freshman series,
The Mentalist
. Through Feb. 22nd of the 2008-'09 season, it ranks eighth among all prime-time series. Equally impressive,
Mentalist
holds roughly 95 percent of its lead-in audience from
NCIS
while bettering that show's reach among advertiser-coveted 18-to-49-year-olds.
All told, CBS has 11 of prime-time's top 20 shows in total viewers, led by No. 4
CSI: Crime Scene Investigation
. It also has an insurmountable lead in that measurement over Fox, which last year won the total viewers crown for the first time ever.
Fox will repeat as the season's No. 1 network among 18-to-49-year-olds, even though its average of 4.2 million per prime-time show is well off last year's 5.4 million at this time of the season. But Fox had the Super Bowl last year, plus a bigger-drawing World Series compared to the past fall's rain-delayed clunker between the Philadelphia Phillies and Tampa Bay Rays.
Even with this year's Super Bowl -- the most-watched ever -- NBC's ratings again are down across the board compared to last season's. And ABC, also in bad shape of late, ran second to Fox during the week of Feb. 16-22 despite having the Oscars.
ABC used its Oscar-cast to heavily promote four new series coming next month --
Castle
(March 9th);
Better Off Ted
(March 18th);
In the Motherhood
(March 26th) and
Cupid
(March 31st).
Dancing with the Stars
is returning as well, which will help.
In contrast, CBS and Fox won't be offering any new series in March. NBC planning a pair --
The Chopping Block
(March 11th) and
Kings
(March 15th).
Fox has used Wednesday editions of
American Idol
as a midseason launch pad for its new
Lie to Me
, although the latter show will reverse positions with
Idol
on March 11th.
Lie to Me
so far is Fox's biggest draw among scripted series, averaging 12.2 million viewers a week to rank just ahead of the network's
House
. Still, that's quite a plunge from the 26.9 million viewers for Wednesday's
Idol
, which ranks one-two in the season-to-date Nielsens with Tuesday's
Idols
(26.4 million viewers).
Another new Fox series,
Fringe
, has been fading of late despite super-heavy promotion and a post-
Idol
Tuesday slot. It's 44th in the total viewer ratings (8.6 million) and 28th among 18-to-49-year-olds (4.6 million).
Fox's
Dollhouse
, which premiered earlier this month, is dying on Fridays with an average of just 4.5 million total viewers for its first two episodes. Its 18-to-49-year-old numbers are only a bit better.
Other than fall's two editions of
Dancing with the Stars
, ABC has just two series in the top 20 among total viewers. But both
Desperate Housewives
and
Grey's Anatomy
have faded this season. The network's
Lost
is still hanging in there, running 25th in total viewers and a still impressive sixth among 18-to-49-year-olds.
Then there's NBC, which had a potent
Sunday Night Football
in the season's first half but now is in free-fall.
In the total viewers measurement, the Peacock has just two shows besides football in the season-to-date top 40 -- No. 30
Biggest Loser 7
and No. 37
Law & Order: SVU
. The picture's a bit brighter among 18-to-49-year-olds, where
The Office, 30 Rock
and a slumping
Heroes
join the aforementioned NBC shows in the top 40.
The CW's most-watched attraction,
America's Next Top Model 5
, ranked 133rd in total viewers during its run and nudged its way up to 90th with 18-to-49-year-olds. It's the only CW series that doesn't rank below one more more telenovelas on the Spanish language Univision network, which overall is averaging 3.9 million viewers to date compared to CW's 1.9 million.
Univision also is outdrawing CW among 18-to-34-year-olds, by a score of 1.1 million to 630,000.
Here are the frontrunning and runnerup networks as the season slogs into March:
Total Viewers
CBS -- 11.2 million (up 800,000 from a year ago)
Fox -- 8.8 million (down 2.2 million)
18-to-49-Year-Olds
Fox -- 4.2 million (down 1.2 million)
CBS -- 3.9 million (up 100,000)
18-to-34-Year-Olds
Fox --- 1.9 million (down 600,000)
NBC -- 1.6 million (down 10,000)