New series review: Thank God You're Here (NBC)
04/09/07 11:14 AM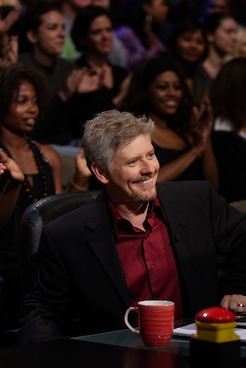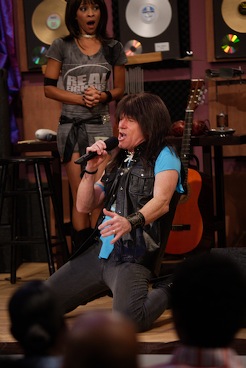 Best of show: Bryan Cranston emotes while judge Dave Foley makes nice to everyone in NBC's latest import of an overseas hit. NBC photos
Premiering:
Monday night (April 9) at 8 central, 9 eastern on NBC. Also airs next Monday at those times before moving to Wednesdays at 7 p.m. central
Starring:
David Alan Grier, Dave Foley and various celebrities
Produced by:
Cecile Frot-Coutaz, Fax Bahr, Adam Small
By ED BARK
God probably could care less. Or maybe he's finally had it with having his name dragged through the title of an NBC series.
The Peacock started the new millennium with spring 2000's
God, The Devil and Bob
, starring James Garner as the voice of a cartoon Supreme Being who looked like a ringer for Jerry Garcia. Many viewers were grateful that it was dead in less than a month.
NBC's second coming is
Thank God You're Here
, adapted from an Australian hit and inevitably brought to these shores by Fremantle Media North America, which produces
American Idol
.
TGYH
smells a lot like ABC's since retired
Whose Line Is It Anyway?
. It also smells on its own at times, particularly when a less than spontaneous celebrity is thrown into "television's most dangerous new comedy challenge!"
On Monday night's premiere, the big stiff is Jennifer Coolidge, rebounding from another NBC stiff called
Joey
. Coolidge is thrown into a Miss Constellation 2007 pageant, where she must fend for herself after a member of the show's repertory player group says, "Thank God you're here." Ergo, the title. Except that Coolidge is pretty much godawful after making her way through the show's "Portal of Possibility."
On the other hand,
Malcolm In the Middle
alum Bryan Cranston gets considerable mileage out of a brunette wig and leather vest. He uses it to impersonate an addled but self-important British rocker. This immediately proves to be funnier than a barrelful of
Joeys
.
The other celebrity guests are Wayne Knight of
Seinfeld
-ian Newman fame and Joel McHale, host of E! Entertainment's
The Soup
. Knight's OK, McHale less so. Later episodes will include the likes of Jason Alexander, Ana Gasteyer, Kevin Nealon, Wendie Malick, Mo'Nique, Paul Rodriguez and Tom Green.
Too long at an hour's length, the show is hosted by a now gray-haired David Alan Grier. He gamely tells viewers and a studio audience that guest celebs could find themselves in "a marriage counselor's office or a Jiffy Lube, or a Jiffy Lube
in
a marriage counselor's office." Instead how about a Jiffy Lube in a Discount Tire in a partridge in a pear tree at an Arena Football League game? C'mon, let's ramp this thing up.
TGYH
's sole judge and jury is the by now very tiresome Dave Foley, a former
Kids in the Hall
stalwart who also brightened
Newsradio
before becoming a self-important lout and poker commentator. On this show he's benign to one and all, which pretty much makes him an unwelcome cyst.
Simply put, the performances should be voted up or down by the studio audience, not this guy. How about a gang-gong, too? That surely would liven things up a bit, providing the celebrities' egos could take it.
Winners, by the way, get an intentionally cheap-looking plastic trophy that makes the
Dancing with the Stars
take-home "mirror ball" look as though it's straight from Tiffany's.
NBC press materials labor to rekindle television's sometimes storied past with this hoary, preposterous come-on: "Recalling a family-friendly, old-school television flavor, one can imagine the likes of golden age television legends and experts at the improvisational ad lib such as Milton Berle, Jack Benny, Imogene Coca, Lucille Ball, Bob Hope and George Burns smiling down on these modern-day stars as they tackle the high wire act known as improv -- without the safety net of a script and a director to guide them."
Oh. My. God.
Grade:
C (but only because of Cranston and Knight)