Netflix's Orange is the New Black: Go directly to jail and don't miss this one
07/10/13 04:47 PM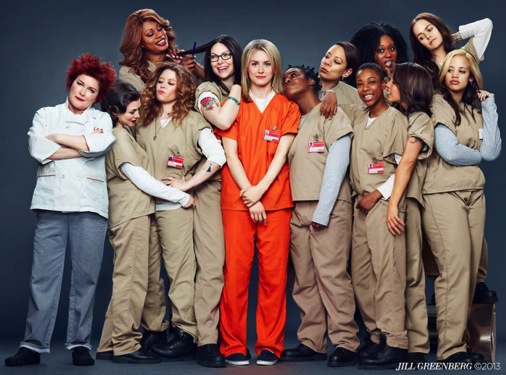 Orange is the New Black stars Taylor Schilling (in orange). Netflix photo
Premiering:
Thursday, July 11th with all 13 episodes streaming on Netflix
Starring:
Taylor Schilling, Laura Prepon, Jason Biggs, Kate Mulgrew, Michelle Hurst, Danielle Brooks, Michael Harney, Natasha Lyonne, Pablo Schreiber, Dascha Polanco, Laverne Cox, Uzo Aduba, Matt McGorry, Maria Dizzia and many more
Produced by:
Jenji Kohan, Liz Friedman
By ED BARK
@unclebarkycom
Women behind bars. They've mostly been confined to pulpy print and the "adult" film industry.
Fox, in its formative years as a broadcast network, had a brief fling with
Women In Prison
, a 1987 sitcom that quickly got time off for bad behavior in the Nielsen ratings. And that's pretty much the long and short of it in terms of prime-time TV exposure.
Netflix has much bigger plans for
Orange is the New Black
, whose 13 Season 1 episodes will all be available for streaming on Thursday, July 11th. A second season already has been ordered and rightly so. Adapted from the same-named memoir by Piper Kerman, this is as good and provocative a TV series as you're likely to see this year. Even if it technically isn't entirely within the TV realm.
Before getting more specific, let's briefly marvel at what Netflix has accomplished with its four original series to date. The first,
House of Cards
, received virtually unanimous acclaim.
Hemlock Grove
got comparatively harsh treatment from TV critics, but was still better than most of the latter day new stuff coming off the Big Four broadcast network assembly lines. Both series will have sophomore seasons.
The return of
Arrested Development
in late May was a bonafide event that for the most part seemed to please the show's ardent fan base. And now comes
Orange is the New Black
, which is nothing short of a triumph from
Weeds
creator Jenji Kohan. This includes a standout opening theme song, "You've Got Time," performed by Regina Spektor.
Set in a fictional federal prison,
Orange is the New Black
is not meant to be as dark, foreboding or violent as a certain long-running HBO series. Episode 1 conveys that message via prison security guard head Sam Healy (Michael Harney), who tells the newly arrived Piper Chapman (series star Taylor Schilling), "This isn't
Oz
. Women fight with gossip and rumors . . . You do not have to have lesbian sex."
Not that they're aren't ample opportunities. And Piper's past includes a prolonged "lesbian at the time" affair with Alex Vause (Laura Prepon in a complete U-turn from
That '70s Show
). Alex is the one who introduced her to a heady, risky world of international drug-running after they chance-met at a bar. It's the reason why Piper, the money mule, is serving a 15-month sentence while her fiance, Larry Bloom (Jason Biggs), tries to wait patiently for her release. Biggs is OK in this role but nothing to write home about, from a prison cell or otherwise.
The series introduces a near battalion of supporting characters, including a notably bulked up Kate Mulgrew (Capt. Kathryn Janeway of
Star Trek: Voyager
) as a domineering Russian head prison cook named Galina "Red" Reznikov. Initially almost unrecognizable, Mulgrew quickly becomes a revelation. Her performance is fearlessly fierce while also occasionally a little comedic. This isn't a flat-out "dramedy" by any means. But Schilling in the lead role is often a mood-lightener, except when she's scared to death of what might befall her.
Netflix made the first six episodes available for review, and all of them run for more than 50 minutes apiece. This is ample time to spotlight the back stories of various inmates, whether it's stern old "Miss Claudette" (Michelle Hurst), the transsexual Sophia Burset (Laverne Cox) or emotionally bruised Dyanara Diaz (Dascha Polanco), whose near-demonic mother also is part of the Litchfield population.
Episode 1 of
Orange is the New Black
begins, somewhat misleadingly, with a veritable montage of female nudity. This includes an amorous shower scene with Piper and Alex. Perhaps producer/creator Kohan had a prototypical big tease in mind, providing viewers with what's come to be expected when women are behind bars. But the series for the most part doesn't follow through in the next five episodes. There's graphic sex talk to be sure, and some very out of the ordinary still shots in Episode 6. But this definitely is not a series on a weekly mission to work in at least one group shower scene.
The prison guards, most of them male, include Pablo Schreiber as a swaggering louse known as "Pornstach." At times he comes close to being a cartoonish character from
Reno 911
. On the other hand, he's never dull. "Two speeds in my yard. Walk and shuffle," he barks with an almost goofy bravado.
His polar opposite is young guard John Bennett (Matt McGorry), a veteran of Afghanistan whose growing attraction to inmate Dyanara is mutual on her part. It threatens to get a bit sappy at times, but so far serves as a palate-cleansing counterbalance to the grunt 'n' grind, loveless couplings of Pornstach.
The multi-ethnic cast of
Orange is the New Black
, with black, white and Latina factions, affords the series all kinds of paths and sensibilities to explore. Racial divides come into play, but so does an overall comradeship. Only Episode 4 so far conveys a palpable sense of menace, with a missing screwdriver in play and at least one character who'd very much like to use it on an inmate who spurned her. It's the strongest hour of the first six -- and it bracingly does not end predictably.
Schilling, Prepon and Mulgrew are uniformly terrific throughout, whether in prison garb or flashback civilian clothes. But other characters are equally compelling, giving this series innumerable stories to tell for hopefully many seasons to come.
Based on the first six of 13 episodes,
Orange is the New Black
has passed virtually every test with flying colors. You might want to incarcerate yourself -- on a living room couch -- as soon as time allows.
GRADE:
A
Email comments or questions to:
unclebarky@verizon.net