PBS' Janis: Little Girl Blue revisits what drove and quickly consumed Port Arthur's most famous outcast
05/03/16 09:26 AM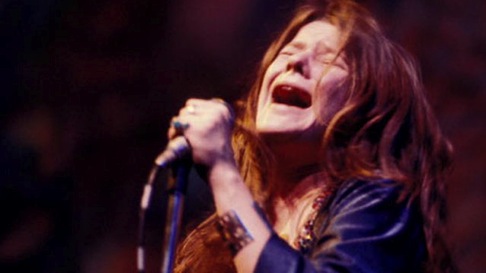 Janis Joplin singing the blues that made her happy. PBS photo
By ED BARK
@unclebarkycom on Twitter
She should have been the pride of Port Arthur, Texas.
Janis Joplin instead got the back of the hand from most of her high school classmates and finally fled Texas all together in 1963 after winning an "Ugliest Man" contest. The city waited until 2008 to place a historical marker in front of her childhood home on what would have been Joplin's 65th birthday. By that time she'd been dead for 38 years from a drug overdose.
PBS' two-hour
Janis: Little Girl Blues
(
Tuesday, May 3rd at 7 p.m. central
), directed by Amy Berg and presented under the
American Masters
banner, is a story of pain, gain, torment, triumph and lifelong insecurity. Janis Joplin wanted you to want her -- and not just as a blues-belter whose very short career took off like a rocket at the 1967 Monterey International Pop Festival. Her periodic "Dear Family" letters, read throughout the film by singer Chan Marshall, bespeak a longing to make them proud or at least accepting of the new beginning she'd made in San Francisco, where the drugs and sounds of the '60s were an inseparable and often lethal mix.
Joplin and her first band, Big Brother and the Holding Company, burned bright and flamed out in a hurry after she became restive. Former BB&THC mates Dave Getz, Peter Albin and Sam Andrew (who died in February 2015) all contribute new interviews for the film. Getz speaks wistfully of the "sense of camaraderie" they had until Joplin quickly transcended them in the eyes of certain music critics.
One of the more searing commentaries came from James Konrad of the Temple City, CA
Free Press
. "It's a shame about Big Brother and the Holding Company, it really is," he wrote in 1968. "Their lead singer, Janis Joplin, is the most important female vocalist to emerge since Aretha Franklin, but the musicians in the band are only slightly better than competent, and can't begin to come up to her level."
Trying to explain the subsequent breakup to an interviewer, Joplin said, "You exhaust the good that you can do for each other."
Her subsequent formations of the Kozmic Blues and Full Tilt Boogie bands had some calling for a reunion with Big Brother. Joplin also fell in and out of love, embraced and renounced heroin, and became a favorite of Dick Cavett, who welcomed her to his nightly ABC talk show show on three occasions. The most memorable, in this view, came on June 25, 1970, when she opened with "Move Over" and basked in a full-throated audience ovation before sitting down to converse with Cavett and later, an eclectic guest lineup of Raquel Welch, Douglas Fairbanks, Jr. and Chet Huntley. The entire show is available for
free online via Shout Factory
and is also streamable on the Roku app. It's quite something, both as a time capsule and of Joplin at the height of her singing powers. She's also awed by Fairbanks' account of how he met one of her idols, F. Scott Fitzgerald, as the then schoolboy son of the very famous
Douglas Fairbanks Sr
. Talk shows actually had conversations back then.
Cavett remains coy on whether he and Joplin were ever more than just friends. "Was she romantically attached to me?" he says in
Little Girl Blues
. "I would hope so. I will level with you. We may or may not have ended up -- intimate. I just, you know, my memory is so bad." He holds that thought and then laughs.
Singer "Country Joe" McDonald is more direct. They lived together for several months, but he was never in love with Joplin, McDonald says. "There was no sizzle going on."
Joplin's two younger siblings, Laura and Michael, are also interviewed for the film. And Kris Kristofferson drops in very briefly to talk about Joplin's recording of his "Me and Bobby McGee," which was released three months after her death and remains the only No. 1 hit she ever had.
Shortly before her passing, Joplin returned to Port Arthur for her high school's 10th reunion. She first told Cavett of her intentions during a final Aug. 3, 1970 appearance on his show. It was in large part to show them all how big she'd become. But the old wounds never healed.
"I didn't go to the high school prom," she told an interviewer in Port Arthur.
"Well, you were asked, weren't you?" he asked.
"No. I wasn't," she said emphatically.
While in the Marines, your friendly content provider saw Joplin and Big Brother perform during a September, 1968 stop at San Diego's Community Concourse. On the afternoon before the show, she announced their impending breakup. But the show went on and their handful of hits rolled out, including "Ball and Chain" and "Piece of My Heart."
It now seems so very long ago, and of course it was.
Janis: Little Girl Blue
vividly and often poignantly revisits her short life -- and hard and fast times. Cavett recalls having dinner with Joplin one night and asking her to reassure him she wasn't doing heroin anymore.
Her answer -- "Who would care?" -- stopped him in his tracks, Cavett says.
All too soon, it would stop her, too.
GRADE:
A-minus
Email comments or questions to:
unclebarky@verizon.net