NEW SEASON: It's a North Texas two-step for Monday premieres of Fox's Lone Star, NBC's Chase
09/17/10 01:14 PM
By ED BARK
Prologue: By now ya'll must know there's been lots of network TV series production in North Texas this summer -- even though Fox's
Lone Star
and NBC's
Chase
in large part are set in no-account Houston.
Now the time is nearing for both new dramas to either deliver audiences or go down for the count.
Lone Star
premieres at 8 p.m. (central) Monday and
Chase
follows at 9 p.m. Neither will have an easy road.
Lone Star
is in a super-tough time slot opposite the second half of ABC's
Dancing with the Stars
, CBS'
Two and a Half Men
and
Mike & Molly
plus NBC's massively promoted
The Event
.
Chase
faces CBS' new version of
Hawaii Five-0
and ABC's growingly popular
Castle
.
Pre-game rhetoric for
Lone Star
and
Chase
flowed plentifully during the recent network TV summer "press tour" in Beverly Hills.
Asked whether
Lone Star
amounts to a very modern-day continuation of
Dallas
, co-executive producer Kyle Killen said, "When I pitched it, I sold it as
Dallas
without the cheese. So I feel like it definitely has things in common with that. It's big. It's Texas. It's got oil. I would like to think we will go at least a couple of seasons before we have hair-pulling and cat-fights, but we may run out of ideas very quickly."
Chase
star Kelli Giddish, who plays U.S. Marshal Annie Frost, says Texas doesn't need special effects because they're already built in.
"If you see me going down a river, it's me, you know, and it's the fugitive . . . And that's why it's great to be in Texas. Man, it's saturated with culture, with color. And you get all of that because we are not in the studio. It's not L.A.. It's not New York. We are out there, running, catching the bad guys."
OK, enough. It's time to put up and shut up. Here are our reviews: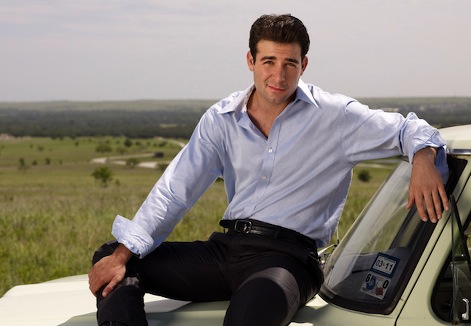 Newcomer James Wolk adds considerable dash to Lone Star. Fox photo
Premiering:
Monday, Sept. 20th at 8 p.m. (central) on Fox
Starring:
James Wolk, Adrianne Palicki, Eloise Mumford, Jon Voight, David Keith, Mark Deklin, Bryce Johnson
Produced by:
Kyle Killen, Amy Lippman, Chris Keyser
By ED BARK
Texas con men are hardly unique to big-screen or small-. But
Lone Star
pulls off its con with a terrific first episode that should make leading man James Wolk a star no matter what the show's fate.
Wolk exudes charm, duplicity and vulnerability in addition to gratuitously cutting a front lawn with a push mower while bare-chested should those traits not be quite enough. Molded by his crooked father, John (David Keith), Wolk's Bob/Robert Allen leads two discordant lives in the company of two disparate women.
As Bob, he's married to Cat Thatcher (Adrienne Palicki from
Friday Night Lights
), the scrappy daughter of Houston oil company potentate Clint Thatcher (Jon Voight). As Robert, he's increasingly enamored of Lindsay Holloway (Eloise Mumford), a Midland nursing student whom he meets during the course of selling fake shares to oil rights that don't exist.
Bob has impressed big wheel Clint with his moxie. So much so that the old man offers him an executive position in the company while his oldest son, Trammell (Mark Deklin), stews and younger son, Drew (Bryce Johnson), mostly mews.
This is the big lottery win that con man John's been plotting. "Son, they're handing you the keys to the kingdom," he exults.
But Bob wonders what might happen if he took the job "for real" and made money on the up and up rather than bilking yokels.
"What do you know about real?" Dad retorts. "You're a con man, son. This is what you do. This is who you are."
And there's the gist of
Lone Star
. Neck-deep in love with two women, Bob/Robert will have to continue deceiving both of them. But he remains headstrong in his determination to wean himself from all those illicit "bidness" scams.
In a particularly effective sequence, Robert does a good turn for a convenience store clerk whose old man walks in and takes what he wants. He knows what that's like, Robert tells the kid after laying a $100 bill on him. Then, outside in his car by the gas pumps, he breaks down in frustration, pounding the steering wheel before steeling himself to take his life in a new direction.
Monday's opening episode ends, however, with Robert/Bob digging himself an even deeper hole on the domestic front. More than ever, life has him by the panhandle.
Lone Star
is very much about Texas without resorting to string ties, 10-gallon hats or standard-issue country music. That is unless they change the sound track on the review DVD from contemporary pop to the equivalent of "On the Road Again."
Wolk, who's been compared to a young George Clooney, is letter-perfect in the lead role, but with strong support all around. Squint and you'll see just a few traces of what the Ewings wrought. But this is very much a series of its own time and mind. And so far it's soaring.
GRADE:
A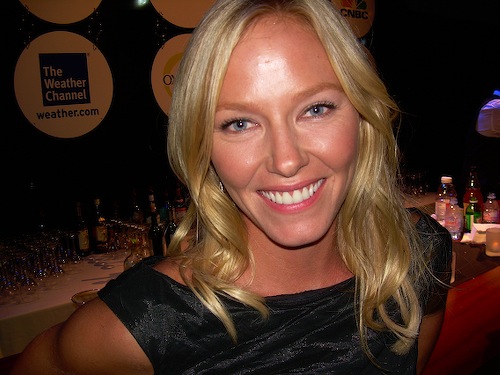 Chase star Kelli Giddish at July's NBC Universal party. Photo: Ed Bark
Premiering:
Monday, Sept. 20th at 9 p.m. (central) on NBC
Starring:
Kelli Giddish, Cole Hauser, Amaury Nolasco, Rose Rollins, Jesse Metcalfe
Produced by:
Jerry Bruckheimer, Jennifer Johnson, Jonathan Littman
By ED BARK
Kingpin producer Jerry Bruckheimer has stubbed a few toes of late with the twin flops of
Miami Medical
on home screens and
The Sorcerer's Apprentice
in theaters.
But he's been mostly aces when it comes to police "procedurals," whether it's the ongoing, three-pronged
CSI
franchise or recent long-distance runners such as
Cold Case
and
Without A Trace
.
Chase
is very much a formulaic procedural, with twangin' Annie "Boots" Frost (Kelli Giddish) heading up a hard-charging posse of U.S. Marshals headquartered in Houston but ranging far and wide.
Frost and her principal partner, Jimmy Godfrey (Cole Hauser) are first seen chasing a fugitive through Fort Worth's stockyards area. They run right through a cattle drive and a rodeo arena before two tunnels present themselves. Frost ends up picking the one the bad guy chose.
"Didn't your mother ever teach you girls shouldn't play with guns?" he asks while they scuffle.
"My mother died when I was eight. So no," she snaps after subduing him.
This is mere foreplay to the main event. A stone cold killer named Mason Boyle (Travis Fimmel from the defunct WB's defunct 2003
Tarzan
series) has broken into a home, terrorized a couple and their young daughter and killed one of them. In case that's not suitably heinous, he commits four more murders while on the lam. Annie get your gun. But first stop by to comfort the surviving little girl.
"He's still out there," she says. "But I'm gonna catch 'im."
The other team members are talkative Marco Martinez (Amaury Nolasco from
Prison Break
), sharp-tongued Daisy Ogbaa (Rose Rollins) and new recruit Luke Watson (Jesse Metcalfe).
Luke's something of a dolt, at least when it comes to country music.
"You better get your head right, kid. You're in Texas now," Marshal Jimmy growls after Luke asks, "Who's Waylon Jennings?"
"Original outlaw cowboy," Annie adds. "Learn some music, Luke. Quickest way to see into a person's soul."
Double groan with a side order of Jimmy Dean sausage. But
Chase
keeps spreading it thick. As when Annie gets vexed before Jimmy tells her, "Hey, don't beat yourself up, Boots."
All concerned should beat themselves up over the premiere episode's fourth murder. Let's just say that even Barney Fife would have been smart enough to keep a close watch on this particular victim. Instead she dies with her boots on -- and her throat slit.
"Let 's find this bastard," says Jimmy.
Chase
indeed has some nicely captured chase scenes. And its elemental, hunt-down-a-despicable-fugitive motif doesn't require any heavy mental exertion. The competing
Hawaii Five-0
looks like a much better bargain, though, for those who want to see justice done and action aplenty. And for all North Texas has to offer, well, it's just no match for the scenic, surfin' beauty of Honolulu.
GRADE:
C