ABC's revised midseason lineup includes spot for Dallas-set GCB
11/21/11 09:17 AM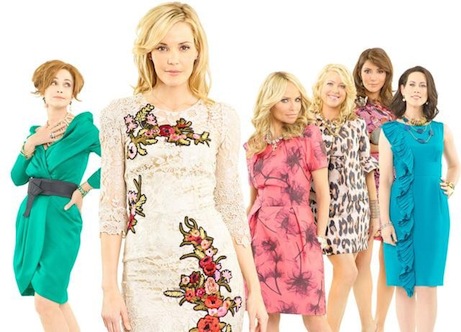 Leslie Bibb, in foreground, fronts the GCB cast. ABC photo
By ED BARK
ABC has announced a batch of its midseason premiere dates, including the unveiling of Dallas-set
GCB
on
Sunday, March 4th
in place of
Pan Am
.
Adapted from the Kim Gatlin book
Good Christian Bitches
and initially re-titled
Good Christian Belles
, the soapy, sin-slaked serial stars Leslie Bibb as a scandalized single mom and former Dallasite who returns home 20 years after her high school graduation.
She immediately encounters a batch of scheming church-goers, headed by Kristin Chenoweth, who still resent her previous evil ways. Annie Potts also stars as the returnee's conniving, creature-comforted mom.
The pilot for
GCB
was filmed in Dallas, but subsequent episodes are being made in L.A.
For other new series also have arrival dates.
***
The sitcom
Work It
, stars Amaury Nolasco and Ben Koldyke as two out-of-work guys who resort to dressing as women to beat the ongoing "mancession." It premieres on
Tuesday, Jan. 3rd
following Tim Allen's incumbent
Last Man Standing
and in place of the failed
Man Up
.
***
Also coming on
Jan. 3rd
is -- no kidding --
Celebrity Wife Swap
. Announced participants so far include Gary Busey, Flavor Flav, Dee Snider and soiled televangelist Ted Haggard. It temporarily will replace the weekly
Dancing with the Stars
results show during a planned six-episode run.
***
The River
, launching on
Tuesday, Feb. 7th
(in place of
Celebrity Wife Swap
) stars Bruce Greenwood as a famed explorer who's mysteriously gone missing in the Amazon. His wife and son try to find him, encountering various perils enroute. Steven Spielberg is the lead executive producer.
***
Missing
also focuses on a frantic search, with Ashley Judd starring as a mom looking desperately for her young son after he disappears while studying abroad. This one premieres on
Thursday, March 15th
in place of the canceled
Charlie's Angels
.
ABC also has announced that the next edition of
Dancing with the Stars
will begin on
Monday, March 19th
. A new season of
Shark Tank
, with Dallas Mavericks and HDNet owner Mark Cuban now a permanent part of the panel, starts on
Friday, Feb. 3rd
. And
Winter Wipeout
will start whipping you on
Thursday, Jan. 5th
, holding a place for
Missing
in the 7 p.m. central hour.
Still awaiting official word on their midseason berths are
Cougar Town
and previously announced newcomers
Scandal
and
Don't Trust the B -- in Apartment 23
.