Sheen officially sacked; fires back with with another statment from Planet Looney Tunes
03/07/11 06:38 PM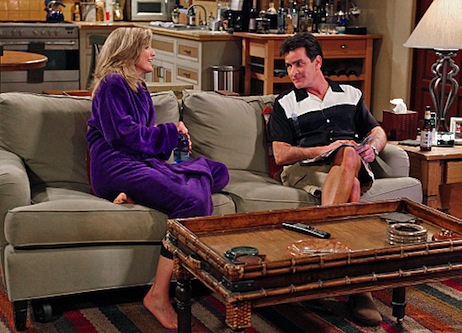 Sheen in scene from recent "Skunk, Dog Crap and Ketchup" episode.
CBS photo
By ED BARK
Warner Bros. Television, producer of network TV's most popular sitcom, officially cut the cord with Charlie Sheen Monday. Not that he's about to cut the crap.
The studio said that "after careful consideration," it has "terminated Charlie Sheen's services on
Two and a Half Men
effectively immediately."
Sheen quickly declared victory
via tmz.com
, hailing his firing as "very good news."
"They continue to be in breach, like so many whales," he added as only he can. "It is a big day of gladness at the Sober Valley Lodge because now I can take all of the bazillions, never have to look at whatshiscock again and I never have to put on those silly shirts for as long as this warlock exists in the terrestrial dimension."
Whatshiscock no doubt is a reference to the show's executive producer, Chuck Lorre, who now has one more reason to take
Two and a Half Men
into another season and try to make it work without Sheen's portrayal of prostitute-loving, constantly drinking Charlie Harper.
The bet here is that Lorre and CBS definitely will give it a shot, with possible replacement parts including the likes of all-purpose plug-ins Rob Lowe or John Stamos. Lorre, a proven sitcom maestro, also created
The Big Bang Theory
and
Mike & Molly
for CBS. He's not always a picnic either, but Sheen's long been the equivalent of fire ants.
Warner Bros. and the network officially dealt Sheen out on the same day CBS announced that its Monday night lead-off hitter,
How I Met Your Mother
, has been picked up for two more years, extending through the 2012-'13 TV season.
Fittingly, one of the last
Two and a Half Men
episodes that Sheen taped had the subtitle "Skunk, Dog Crap and Ketchup."
Maybe that also would be an apt title for any new show that Sheen and HDNet owner Mark Cuban might have in mind. As reported in these spaces Saturday,
Cuban has talked to Sheen
-- as much as that's humanly possible -- about doing a show for the still little-watched cable network.
"We all are curious about Charlie," Cuban said an email to unclebarky.com. "And if he wants to tell us and show us more, HDNet is happy to provide him a platform. I think it would be fascinating."
But would it? In this view, the pathetic, miserable, self-addicted, woman-abusing, desperately-in-need-of-help dung heap known as Charlie Sheen should receive no encouragement or support until he goes away for a long while in a concerted effort to heal himself before he's referred to in the past tense. But too many people are too busy either lionizing him or turning his latest crazed prattle into punch lines or ringtones. It's a damned sorry spectacle, but at least CBS and Warner Bros. have finally wised up.
Yeah, maybe it took the ultimate cardinal sin -- an employee very publicly insulting his boss. Still, Sheen's had this coming for a long time. And if he thinks he'll always be a bulletproof hot commodity, well, take a good, hard look at poor
Jeff Conaway
. Because that's gonna be your future, pal, unless you instead take a good hard look in the mirror and realize that whatshiscock is your own code word for you.