"Press tour" tales: Arsenio rides again (woof-woof)
09/05/13 12:56 PM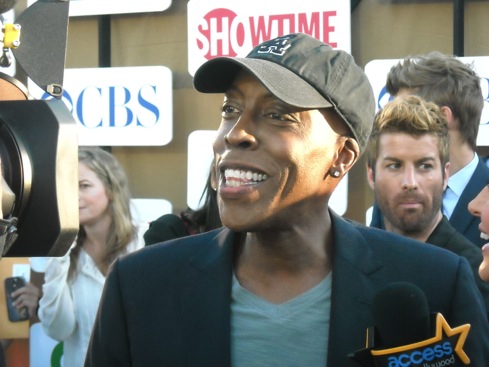 Arsenio talks up his talk show on the red carpet. Photo: Ed Bark
By ED BARK
@unclebarkycom on Twitter
BEVERLY HILLS, CA -- Way back in January 1989, his initial late night talk/comedy competition amounted to boyhood idol Johnny Carson and Pat Sajak, whose CBS desk job lasted for only a few eye-blinks.
The second coming of
The Arsenio Hall Show
, premiering on Monday, Sept. 9th (
10 p.m. in D-FW on CW33
), will be directly against almost too many competitors to mention. But let's recite them anyway: Jay Leno, David Letterman, Jimmy Kimmel, Jon Stewart, Stephen Colbert, Conan O'Brien, Chelsea Handler and W. Kamau Bell. For good measure, throw in Keith Olbermann, whose new ESPN2 late nighter also has nightly guests and comedy segments in addition to what amounts to an opening monologue.
Hall, now 57, is talkative as ever and realistic about the crowded field he's playing on. Holding forth before a hotel ballroom full of TV writers, he recalls that "back in the day I was trying to take anything that was left over on Carson's plate."
Now he's in the midst of a wealth of TV competitors, a lot more networks to choose from and the all-encompassing Internet.
"You have that ability to Google anything and find anything that's been on," Hall says. "It's hard to get people to even watch you and make appointments for television. The challenges are gigantic now . . . Your biggest fan doesn't watch you every night. You hope for three nights. Sometimes you'll get one night. I'm trying to be in the game. I've just got to be better than one guy that's already there."
His opening week guest list, officially announced on Tuesday, doesn't seem imposing enough to lure viewers on its own. Monday night's premiere features comedian Chris Tucker, with a surprise guest or two also promised. Ice Cube, Lisa Kudrow, Magic Johnson, George Lopez, Mark Harmon and Angela Bassett also are set to join Hall during his first week of shows. Musical guests range from Earth, Wind & Fire to rapper Mac Miller.
The new Hall show also will have a reconstituted "Posse" (house band) and likely a nightly dose of "Woof Woofs." Those were his rallying cries against Carson, who in comparison seemed decidedly older and grayer during his waning years as host of
The Tonight Show
.
"Everybody talked about 'You're competing against Johnny' when I was a young man," Hall says. "And that really wasn't what it was about. If you liked what Johnny did, you stayed with Johnny. And I found people that maybe wanted something that didn't exist on the Carson show. That's what I'm going to do this time around, try to find those who don't have a host."
"Social media" amounted to Faxing and phone calls during the first coming of
The Arsenio Hall Show
. But latter day late night talkers, excluding Leno and Letterman for the most part, use their web and Twitter presences to drive viewers toward the TV mothership. Or to simply watch ad-supported clips online, some of them "behind the scenes" peeks at how the sausage is made.
"Yeah, it's very important," says Hall. "I love the digital world." (In fact, he could be seen tweeting away while a clip from his new show set the stage.)
His show's co-executive producer, Neal Kendall, says that a unique Internet persona no longer is "just something that's sort of an ancillary part of a show. It's very much what this show needs to be and has to be. We talk all the time about the speed with which this is moving. Jimmy Kimmel launched before Facebook was around, and that's just 10 or 11 years ago . . . We're just thrilled to launch a show where we can take advantage of everything that's available to us."
The old
Arsenio Hall Show
had at least one indelible moment -- Democratic presidential candidate Bill Clinton playing the saxophone during the course of reviving his beleaguered campaign. Magic Johnson also chose the show to talk at length about his revelation he had the HIV virus.
Hall says he initially advised Johnson not to make that appearance. "If you're looking for a message, you can go to Western Union," he says now. "I'm really not that guy. I'm about sending you to bed with a smile on your face. Something like that with Magic was rough."
This is a guy, after all, who describes winning Donald Trump's
Celebrity Apprentice
as "the greatest time of my life . . . I've been No. 2 at everything I've ever done. And to win something felt really good."
Between his late night talk shows, Hall co-starred in the CBS action series
Martial Law
and also hosted that network's new version of
Star Search
. Surprisingly to some, he also remains close friends with Jay Leno, of whom he once said, "I'm Going to Kick Jay Leno's Ass" on the cover of a notable issue of
Entertainment Weekly
. This came shortly after Leno replaced Carson as the
Tonight Show
host.
"When you're in the heat of battle, it's easy to hate each other," Hall recalls. "We were arguing and battling and calling each other on the phone. He'd take employees away from me and I'd be mad. The bottom line is that lasted a couple of weeks because we truly are friends. But I think at the time I was battling with Jay the competitor, who doesn't want to lose, wants to win every battle, every moment."
But Hall notes that Leno also is the guy who encouraged him to come to Los Angeles after they first met in Chicago. "He helped me find an apartment. He taught me to ride a motorcycle. We hung out and played
Intellivision
every night."
They now hang out anew, with Hall sometimes joining Leno on his Sunday night creature-of-habit jaunts to the Hermosa Comedy and Magic Club, where he tries out jokes for upcoming
Tonight Shows
.
When he won
Celebrity Apprentice
, Leno welcomed him on the show as a conquering hero, Hall says. And in the face of NBC-mandated
Tonight Show
budget cuts, "Jay let me know who the good writers were." Hall says he ended up hiring one of them for his new show.
Leno remains No. 1 in the late night talk ratings, even though his days are numbered. But Hall will have far more asses to kick this time around, including Jimmy Fallon's when he takes over the
Tonight Show
after NBC's presentation of the Winter Olympics.
It's enough to make an old school newcomer hope he can merely keep paddling.
"Basically what I do is just assert my personality," Hall says. "And you hope people will hang out with you a couple nights a week."
Email comments or questions to:
unclebarky@verizon.net