HBO's creme de la Treme (which actually doesn't rhyme)
04/09/10 10:20 AM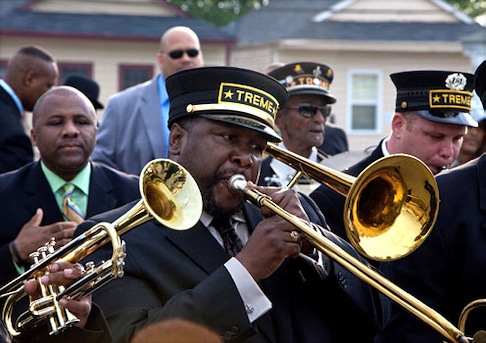 Antoine Batiste (Wendell Pierce) plays his 'bone in HBO's Treme.
Premiering:
Sunday, April 11th at 9 p.m. (central) on HBO
Starring:
Wendell Pierce, Khandi Alexander, Clarke Peters, Rob Brown, Steve Zahn, Kim Dickens, Melissa Leo, John Goodman, Michiel Huisman, Lucia Micarelli
Created by:
David Simon, Eric Overmyer
By ED BARK
First of all, HBO's New Orleans-set
Treme
is pronounced Tre-MAY.
Second, watch as much for the music as the characters. Never more so than when Louis Prima's "Buona Sera" rings out over an alternative radio station as the soundtrack for a montage of scenes from the city.
Premiering Sunday with an extended 80-minute episode,
Treme
may not be one of HBO's bigger hit series. But it moves near the top of the network's very best, succeeding admirably as both a love song to a post-Katrina New Orleans and as an oozing-with-authenticity look at some of the hard-pressed people who make it throb.
Fox's 2007 series
K-ville
(short for Katrinaville) ended up falling far short as a shoot-'em-up cop series that just happened to be set in New Orleans. Nary a shot is fired during the first three episodes of
Treme
, where the principal action scene in Episode 1 is a rousing, cathartic, jazzman parade held three months after Katrina's summer 2005 arrival.
Treme
is from producer/writer David Simon, whose credits include NBC's
Homicide: Life on the Street
and HBO's
The Wire
and
The Corner
. Four actors from one or more of those series have central roles in his latest work of decidedly urban art.
Wendell Pierce plays up-against-it trombonist Antoine Batiste, living hand-to-mouth on small-paying gigs. His ex-wife, LaDonna (Khandi Alexander), is a remarried bar owner whose husband and kids have migrated to Baton Rouge. Clarke Peters is tough-minded Albert Lambreaux, who's returned from Houston to both rebuild his home and his costumed tribe, the Guardians of the Flame. And Melissa Leo is cast as civil rights attorney Toni Bernette, who spends much of her time bailing out denizens for petty offenses and looking for LaDonna's missing younger brother.
The series' most recognizable face is John Goodman, whose Creighton Bernette is an English literature professor prone to profane outbursts about the "man-made catastrophe" that left much of his home city underwater. He's also married to Toni, and they have a suitably opinionated young daughter. When she cautions him on his language during a TV interview, Creighton soothes the kid with, "No worries, sweetheart. Cool as a cucumber up an archbishop's ass." No lightning bolts strike.
Treme
's self-appointed music maestro/freedom fighter is radio deejay/musician Davis McAlary (Steve Zahn), who lives in a cluttered dump and occasionally hooks up with struggling small restaurant owner Janette Desautel (Kim Dickens).
McAlary initially is the hardest character to take, a combustible, short-fused know-it-all who digs the scene and keeps digging graves for himself. But by Episode 3 he's become tolerable if not lovable, a poster boy for New Orleans whose world of hurt hasn't yet broken his spirit. Sometimes he even gets lucky.
Three other characters of import are street musicians Sonny and Annie (Michiel Huisman, Lucia Micarelli), and Albert Lambreaux's son, Delmond (Rob Brown), an up-and-coming man with a horn who's already been making far more money in New York and elsewhere than he ever did in his hometown.
"New Orleans, they hype the music, but they don't love the musicians," he tells a fellow sideman during a recording session for Dr. John, who plays himself. Elvis Costello also can be seen and briefly heard in Episodes 1 and 2.
Treme
is never far away from New Orleans' singular, signature music, which acts as a siren song for viewers who have never visited but keep saying they will. The lives of the series' pivotal characters are increasingly vivid as the series moves along. But it's the jazz, the blues and its variants that make everything hum.
All in all, nothing quite like this has ever made its way to the small screen. That's always the intention with HBO. Add an uncompromising guy like David Simon, and savor the rich gumbo in the pot he's stirred.
GRADE:
A