Led by CBS (and save for ABC), the new fall season is all in with minorities and women as leads
05/17/18 03:19 PM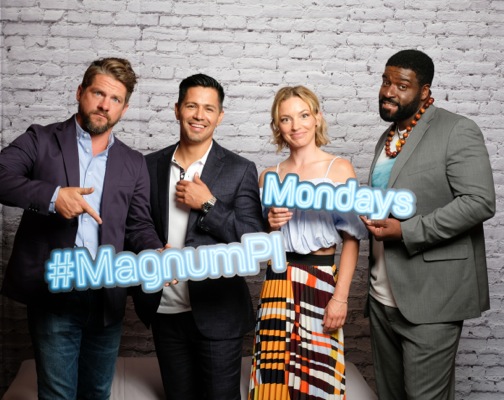 The new look cast of the Magnum P.I. reboot. CBS photo
By ED BARK
@unclebarkycom on Twitter
The face and faces of network prime-time television underwent a major makeover this week with the announcements of next fall's new series on ABC, CBS, Fox, NBC and The CW.
Diversity and, to a somewhat lesser extent, the impact of the #MeToo movement, are abundantly evident while white males in large part have slipped to second banana status after having it their own way for decades. Oddly enough, ABC is the only exception this fall, but already has an established track record in casting women and people of color in lead roles. In that context, the network's fallback to earlier times in some ways can be seen as being diverse in reverse. More on this later.
The most striking sign of these times, CBS'
Magnum P.I.
reboot, will star a Latino in the title role with a female Higgins (first name, Juliet) who not only has a pair of Dobermans but is skilled in the martial arts.
Another reboot, The CW's
Charmed
, has three Latina sisters as its apprentice witches.
CBS' previous fall schedule had males in the lead roles of all six new series. Save for the network's
S.W.A.T.
re-do, all of them were white.
New entertainment president Kelly Kahl, who had barely begun his new job back then, promised to steer a change in new directions the next time around. He's done considerably more than that. CBS' course correction amounts to a full U-turn. The half-dozen newcomers slated for fall 2018 premieres star either people of color, or in the
Murphy Brown
reboot's case, the same woman who made the role famous along with a trio of Candice Bergen's original cast mates.
For its
God Friended Me
drama series, which bears a more than passing resemblance to the long-running
Touched By An Angel
, CBS chose young African-American actor Brandon Micheal Hall after his sitcom
The Mayor
got a quick ax from ABC last fall. The network's two other fall comedies,
The Neighborhood
and
Happy Together
, respectively star Cedric the Entertainer and Damon Wayans Jr. Both are built around African-American households enduring a sudden incursion of white folks.
The other first-year CBS drama,
FBI
, gives top billing to Missy Peregrym and Egyptian actor Zeeko Zaki, with veteran Jeremy Sisto also featured.
Fox has just two new fall series, plus a life raft for Tim Allen's
Last Man Standing
, which spent a year in exile after being canceled by ABC at the close of the 2016-17 season.
The Rel
stars African-American comedian Lil Rel Howery as himself.
The Cool Kids
, with veteran African-American actor David Alan Grier given top billing in Fox publicity materials, is set in a retirement home and also stars Vicki Lawrence, Martin Mull and Leslie Jordan.
NBC's fall lineup likewise has only a small sprinkling of three new fall series. The network's lone freshman sitcom,
I Feel Bad
, is written by Aseem Batra and built around a vexed mom played by Sarayu Blue. A first-year drama series,
Manifest
, is topped by Melissa Roxburgh, who starred this season in The CW's since canceled
Valor
. The other new drama, a medical series titled
New Amsterdam
, goes against the grain by casting a white male, Ryan Eggold, in the lead. He's rebounding from the short-lived spinoff series
The Blacklist: Redemption
.
Besides its new look version of
Charmed
, The CW is offering
All American
, a high school football drama with African-American leads Taye Diggs and Daniel Ezra. There's also a spinoff of
The Vampire Diaries
and
The Originals
. It's called
Legacies
, with Danielle Rose Russell from
The Originals
listed as the lead member of the cast.
That leaves ABC, a practitioner of diversity when diversity wasn't necessarily cool with shows such as
black-ish, Fresh Off the Boat, Scandal
and
How to Get Away with Murder
. The network also has showcased take-charge moms in comedies such as
American Housewife, Speechless
and the
Roseanne
reboot.
For fall 2018, the network has three additions with white males as their clear centerpieces. Nathan Fillion, who previously had success with ABC's
Castle
, returns to the network as a middle-aged newcomer to the LAPD in
The Rookie
. Alec Baldwin gets his own interview hour,
The Alec Baldwin Show
, after a one-episode sneak preview in March. And a new comedy series,
The Kids Are Alright
, is set in the 1970s, with an Irish Catholic brood of eight sons and no daughters vying for laughs along with their vastly outnumbered parents.
Another new sitcom,
Single Parents
, focuses on a 30-something dude named Will (former
Saturday Night Live
regular Taran Killam), who's "lost sight of who he is as a man," according to ABC's description of the show. The ensemble freshman fall drama
A Million Little Things
bills white actors Ron Livingston and David Giuntoli as the leads.
For those keeping score, this makes ABC the CBS of a year ago while CBS rather suddenly will have more shows with African-Americans in the leads this fall than any of its rivals. Plus a Latino Thomas Magnum.
White males, who pretty much had everything going their way for decades, are hardly in a position to cry foul. Not yet anyway. Save for ABC as an outlier, the coming fall can be seen as an act of contrition for the days when white males kept getting another turn at bat whether their previous series failed or succeeded. Now many of them are sliding off the playing field while people of color and women have become priority first-teamers.
This is so much the case that NBC's midseason nod to the past glories of
Cheers
will be called
Abby's
and star Natalie Morales as both the owner and dispenser of unbreakable rules. Neil Flynn, who's winding up nine seasons as the co-star of ABC's
The Middle
, will be playing a supporting role as a barroom fixture named Fred. Had
The Middle
ended just a year or two earlier, he might well have been running the place. In the new climate, it's getting to be a little too late for that.
Email comments or questions to:
unclebarky@verizon.net