Emmy producer is firm and final: his designated five personalized "In Memoriam" tributes will not include Larry Hagman
09/18/13 01:48 PM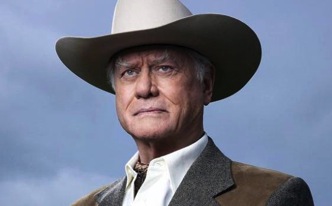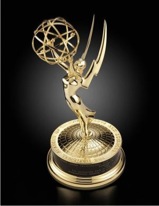 By ED BARK
@unclebarkycom on Twitter
In life he never won an Emmy, although nominated twice.
In death he won't receive one of the five separate special "In Memoriam" tributes during the Sunday, Sept. 22nd awards ceremony on CBS. The program's executive producer made that firmly if imperfectly clear when asked by unclebarky.com during a Wednesday afternoon teleconference.
Such is the lot of Larry Hagman, who came to international stardom on CBS as J.R. Ewing of
Dallas
. He died in the show's namesake city on Nov. 23rd during filming of the TNT reboot's second season.
CBS announced Monday that Emmy's traditional "In Memoriam" clip segment would be enhanced by five tributes interspersed throughout the telecast. Those selected for special treatment are James Gandolfini (to be remembered by
Sopranos
co-star Edie Falco); Jean Stapleton (Rob Reiner); Jonathan Winters (Robin Williams);
Family Ties
producer Gary Goldberg (Michael J. Fox) and Corey Monteith (Jane Lynch).
The criticism quickly took flight, most notably in a
commentary by Variety digital editor-in-chief Andrew Wallenstein
. He questioned whether Monteith, the former
Glee
star who died at age 31 of a drug overdose, merited "being elevated" in this fashion. After all, he's never even been nominated for an Emmy.
"By putting Monteith in this elite group, the Academy is risking having its honorable intentions misconstrued as using the actor's memory to cater to the younger audiences that are in decreasingly short supply for award shows these days," Wallenstein wrote in part.
Wallenstein also mentioned the omission of Hagman, who died at age 81 and co-starred in another enduring if lightweight series,
I Dream of Jeannie
. "Monteith could have gone on to a tremendous career, but Larry Hagman, for instance, already had a tremendous career, and putting Monteith on a pedestal casts a shadow over the memory of this iconic
Dallas
star," Wallenstein wrote.
During Wednesday's teleconference, veteran producer Ken Ehrlich, who's presiding over his sixth Emmy telecast, made it clear that he made the call on the chosen few.
"In all candor, this becomes a producer's option," he said, "knowing that there are certainly others that could have been treated this way."
Asked specifically about Hagman, Ehrlich repeated the "producer's option" talking point. "I don't know that I want to go into that in greater depth . . . No matter what we do, I think there will be people who will say we had other options."
But has he opened a veritable can of worms by going this route in the first place? "There was discussion that this was probably going to become an interesting topic of conversation, which obviously it has," Ehrlich acknowledged.
Including Monteith "was a rather personal choice," he said in response to another questioner. "But Corey's appeal maybe was to a different generation than some of the others we're honoring.
"At 31 he passed away under very tragic circumstances," Ehrlich added, and perhaps "meant as much" to a younger generation as the likes of Stapleton and Winters.
Still, it's all very puzzling if not insulting. Although falling well outside of television's advertiser-coveted 18-to-49-year-old demographic, Hagman was still very much of the here and now. He continued to play J.R. Ewing to the hilt right up until his death. Millions upon millions of teen to thirtysomething viewers know who J.R. Ewing is. Perhaps many more than know the name of Monteith's
Glee
character (Finn Hudson).
This isn't to say that Monteith shouldn't be remembered on Emmy night. But Hagman most definitely should not have been excluded from Ehrlich's final field. The bet here is that he'll offer his version of a "make good" by showing Hagman's grinning J.R. at the very end of Emmy's standard clip collection of the year's deceased. But no, that won't be nearly enough. And CBS, the network that brought Hagman to full-blown household name stardom, should be ashamed of itself for essentially turning the other cheek and letting this final snub go unchecked.
***
In other Emmy news, CBS announced Wednesday that the anniversaries of John F. Kennedy's assassination and The Beatles first appearance on
The Ed Sullivan Show
just 80 days later will be intertwined during a segment presented by actor Don Cheadle. Carrie Underwood will then sing some Beatles tunes, although Ehrlich wouldn't say which ones.
Elton John also will be on hand to sing in honor of Liberace after Michael Douglas and Matt Damon, stars of the HBO movie bio
Behind the Candelabra
, present an Emmy Award. Liberace, by the way, died in 1987. So perhaps Hagman's tribute can be resurrected 26 years from now?
Email comments or questions to:
unclebarky@verizon.net