Fox's Lucifer takes its title character from burning Hell to L.A. hot spot
01/22/16 08:21 AM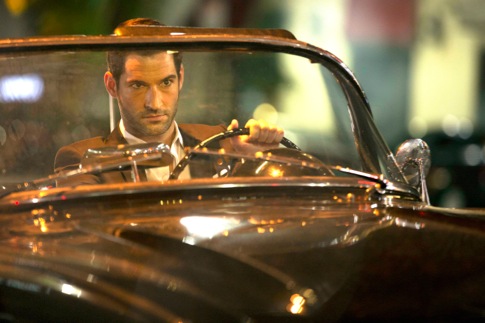 The bloody hell, you say? Not for Lucifer Morningstar. Fox photo
Premiering:
Monday, Jan. 25th at 8 p.m. (central) on Fox
Starring:
Tom Ellis, Lauren German, DB Woodside, Lesley-Ann Brandt, Rachael Harris, Kevin Alejandro, Scarlett Estevez
Produced by:
Jerry Bruckheimer, Jonathan Littman, Ildy Modrovich, Joe Henderson, Len Wiseman
By ED BARK
@unclebarkycom on Twitter
Welshman Tom Ellis plays the hell out of his lead role in Fox's
Lucifer
.
Lippy, quippy, vain and urbane, he saunters through a fairly engaging first episode of yet another whodunit with a twist on a network that last week introduced a modern-day and therefore handsome Frankenstein as a crime fighter in
Second Chance
.
Luther Morningstar's back story is brief and to the point. Cast out of Heaven and condemned to rule Hell, he got tired of the whole business after a few centuries and decided to take a "vacation" in L.A. from which he hasn't returned. Lucifer is now doing quite nicely as the owner of Lux, a ribald, upscale nightclub whose bartender is fellow former Hell resident and top torturer "Maze" (Lesley-Ann Brandt).
The boss has his way with women and a way with them, too. But Luther's daily doses of wine, women and song (a future episode showcases him as a tune-belting pianist) are interrupted by the murder of a wayward pop star of whom he's grown fond. Cue the tough-talking woman detective, in this case Lauren German as Chloe Decker.
"You've got some balls on you, pal," she barks in the face of Lucifer's continued insouciance.
"Oh, thank you very much, but they're really quite average," he replies in a rare display of modesty.
"I bet," she fires back.
Which of course means they'll be working together, with Lucifer becoming the LAPD's official "civilian consultant" whenever a particular murder interests him. Or in some cases, bores him.
Lucifer has an ongoing problem, though. The angel Amenadiel (DB Woodside) regularly drops in to tell the on-the-lam hellhound that their heavenly Father "will not be merciful for much longer" because Lucifer has become a "mockery of everything divine."
"Remind Dad that I quit hell because I was sick as hell of playing a part in his play," Lucifer snipes.
It would seem that God could quickly remedy this situation. But then there wouldn't be a series and viewers couldn't get to know semi-loopy therapist Linda Martin (Rachael Harris), who's very taken with Lucifer while also serving as his Dr. Jennifer (
The Sopranos
) Melfi. The other supporting characters are Chloe's estranged husband and fellow cop Dan (Kevin Alejandro) and their precocious daughter, Trixie (Scarlett Estevez).
Lucifer finds himself increasingly attracted to Chloe, who in an earlier life made a major impression on some as the topless co-star of
Hot Tub High School
. The opening episode makes quite a point of this, with a reference to Phoebe Cates that will still resonate with those who remember her stirring poolside scene in 1982's
Fast Times at Ridgemont High
.
Lucifer retains his mind-manipulating skills through all of this, but can't seem to fully work his charms on Chloe. She also is slowly humanizing him, with Lucifer enjoying the thrill of losing his immortality step by step. Suddenly bullets can wound him, which he kind of likes. But Maze is both disgusted and jealous of all the time he's spending with another woman.
So there are ample interesting ingredients here. But two subsequent episodes -- Fox for some reason hasn't provided the second one -- are comparably hit and miss. "Sweet Kicks," focuses on a shootout at a fashion show before degenerating into an all too typical "procedural" track down. But "Favorite Son," which includes a guest shot as a biker by the much-troubled Tom Sizemore, makes for an interesting hour built around the theft of a very important personal possession of Lucifer's.
The head executive producer of
Lucifer
is Jerry Bruckheimer, who hasn't had a successful series in a while after striking it rich with the
CSI
franchise,
Cold Case, Without A Trace
and
The Amazing Race
. Since then he's tried and failed with the likes of
Close to Home, Miami Medical, The Forgotten, Dark Blue, The Whole Truth, Chase, Marshal Law: Texas
and
Hostages
.
Lucifer
possibly may break that losing streak. It has a very attractive, charismatic star in Ellis, with German (the former
Chicago Fire
co-star) appealingly snippy in the role of foil/partner.
The title character's eyes burn bright red when he dispatches a wrongdoer to Hell. But will
Lucifer
ever take viewers on at least a brief trip to that ultimate hot spot? That would seem to be a long shot -- at least for now. Lucifer instead is more likely to be told "You're getting warm" as he gets closer to helping solve the murder or murders of the week.
GRADE:
B-minus
Email comments or questions to:
unclebarky@verizon.net