HBO's Ethel a loving, evocative tribute without warts and all
10/17/12 03:02 PM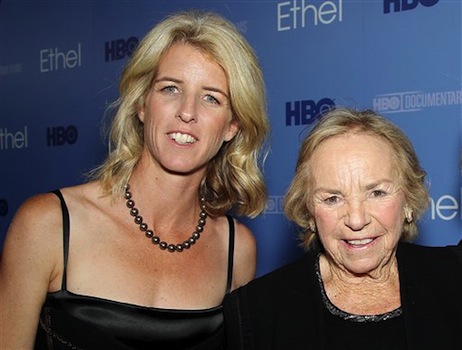 Youngest child Rory with her mom, Ethel Kennedy. HBO photo
By ED BARK
@unclebarkycom
Ethel is an old time-y name these days and HBO's
Ethel
is an old time-y documentary film.
Premiering
Thursday, Oct. 18th at 8 p.m. (central)
, it's a highly varnished look at 84-year-old Ethel Kennedy through the eyes of her youngest of 11 children, Rory Kennedy.
She has been one of the world's most famous widows since her husband, Robert F. Kennedy, Jr., was assassinated on the night of June 6, 1968 after winning the California presidential primary. Rory, who produced, narrated and directed the 1 hour, 40 minute film, arrived six months after her father's death. So her memories of him are solely via film, photos and recollections from her siblings and mother, who remains a reluctant, short-spoken but generally good-natured first-hand witness to it all.
"Why should I have to answer all these questions?" she amiably asks after Rory gets her to sit down in front of a camera.
Depicted as a fun-loving, very athletic and devoted wife/mother by virtually all who know her, Ethel is no magpie in her dotage. She is, however, an iconic figure who comes to life anew -- seemingly against her own wishes -- in a film that's rich in evocative pictures and the history behind them. Robert is still referred to as "daddy" and the kids all call Ethel either "mummy" or "mommy."
Born Ethel Skakel, she was the daughter of conservative Republicans who made themselves wealthy rather than being born to money. Her big batch of wild Irish Catholic brothers "made life really fun and interesting and a challenge. And they were plenty scary, too," Ethel recalls in one of her more expansive moments.
This is a film without any mentions of scandal. Nor is Ethel's relationship with Jacqueline Kennedy ever brought up. There are nine surviving children of Ethel and Robert Kennedy, with David dying in 1984 of a drug overdose and Michael killed in a 1997 skiing accident.
Both David and Michael are mentioned and pictured, with the causes of their deaths included. But 10th child Douglas Kennedy, born on March 4, 1967, might as well be dead for the purposes of this film. He's the only surviving sibling not interviewed. Nor is his existence acknowledged by name.
Perhaps he committed the ultimate Kennedy sin, becoming a Fox News Channel correspondent in 1996 and remaining with the network to this day. Or maybe it's at least in part because he remains charged with misdemeanor physical harassment and child endangerment in connection with a Jan. 7, 2012 altercation with two New York State nurses. Douglas supposedly tried to take his newborn son, Daniel, out of the maternity ward for fresh air when the two nurses tried to stop him. They claim he then physically assaulted them.
Fox News Channel president and founder Roger Ailes has publicly come to Douglas Kennedy's defense.
Ethel
simply leaves him entirely out of the picture. Make of this what you will.
Even with its air-brushing and reticent title subject,
Ethel
is a watchable, oft-affecting film. Its centerpiece is her first "extended interview" in more than two decades, according to HBO publicity materials. Some of Ethel's children, principally Bobby Jr., Kerry and first-born Kathleen, are more talkative and interesting than others.
Bobby affectionately recalls her as a "horrible cook" who once tried to fry something in Vaseline. Kathleen shows a brief letter that her grieving father wrote her just two days after President John F. Kennedy was assassinated.
"It was like Daddy had lost both arms . . . It was six months of just -- blackness," Ethel tells Rory. But she never tried to talk her husband out of his grief. Ethel instead let it play out on his terms. And then, during his 1964 campaign for the U.S. Senate, "Mummy lifted daddy up" and was by his side throughout, Kathleen says.
Robert Kennedy's death, even more than 44 years later, remains a closed door in terms of Ethel sharing anything for public consumption.
"Then we lost Daddy," Rory says.
Ethel pauses before replying, "We'll talk about something else."
It's hard to know whether she actually appreciates these efforts to bring her life, times and accomplishments into the spotlight after so many years in eclipse. Rory makes a game try near film's end after Ethel says of her children (save for Douglas), "It really is a great tribute to Daddy that you've all done so many wonderful things."
"Well, how about to you?" Rory asks.
"Nah. I think it was the other gene."
"You raised us, Mummy."
"I just don't feel I can take the credit. I just don't feel it."
Ethel Skakel Kennedy once crashed a gift motor scooter in Rome after impulsively riding off on it. She regularly got speeding tickets from the local cops and used to playfully baptize Kennedy administration cabinet members by pushing them into the pool during the frequent parties she threw.
The closest that present-day Ethel comes to those days is her fleeting audio imitation of the seal she took in as one of innumerable Kennedy family pets.
Ethel
otherwise is very much a Seal of Approval look at the last adult Kennedy from the full-blown "Camelot" era. It resonates nonetheless, but not in the manner of a great documentary film.
GRADE:
B
unclebarky@verizon.net