An all-Shonda Thursday and more minorities in leads characterize ABC's new fall lineup
05/13/14 11:44 AM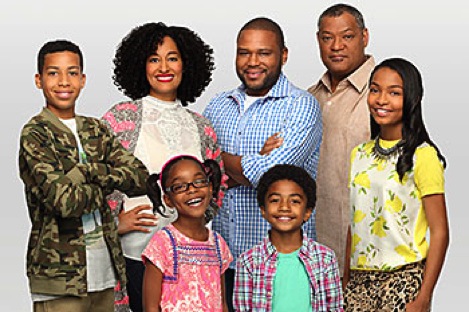 ABC's diversification is evident in new sitcom Black-ish ABC photo
By ED BARK
@unclebarkycom on Twitter
Touting a "judicious mix of boldness and stability," ABC unveiled a fall schedule Tuesday that is heavy on both star executive producer Shonda Rimes and new series with minority leads reflecting the "changed face of America."
Thursday is the biggest eye-catcher, with Rimes'
Grey's Anatomy
and
Scandal
both moved up an hour to accommodate her latest drama,
How to Get Away with Murder
.
Scandal
, relocated to 8 p.m. (central), eventually will take on NBC's hottest drama,
The Blacklist
, which is scheduled to move from Mondays to Thursdays at that hour on Feb. 5th after a post-Super Bowl showcase.
In a Tuesday teleconference with TV writers, ABC Entertainment Group president Paul Lee said Thursdays were set before NBC announced its fall lineup on Sunday.
"The truth is you really can have hits at the same time on different networks," Lee said in reply to a question from unclebarky.com. Time slot clashes are still newsy but also increasingly old news in times when increasing numbers of viewers watch TV on their timetables rather than at appointed hours. "There is some truth to it," but less than there was a decade ago," he said of the idea that face-offs between hot hit shows are still headline material.
ABC is adding six newcomers this fall after running third in total viewers and last among advertiser-prized 18-to-49-year-olds in this season's prime-time Nielsen ratings. The network led the league in cancellations during 2013-14. It has renewed three first-year series --
The Goldbergs, Resurrection, Marvel's Agents of S.H.I.E.L.D.
-- but dropped nearly four times as many. Namely,
Lucky 7, Trophy Wife, Back in the Game, Super Fun Night, Once Upon a Time in Wonderland, Betrayal, Killer Women, Mind Games, The Assets, Mixology
and
The Black Box
.
ABC also swung the ax on three returning series,
Suburgatory, The Neighbors
and
Celebrity Wife Swap
.
The Quest
, a midseason reality series announced last spring, instead has been pushed back to a July 31st premiere.
The latest fall lineup again has its heaviest concentration of new series on Tuesday, when a trio of premieres are scheduled.
S.H.I.E.L.D.
and
The Goldbergs
both were part of last fall's all-new lineup, with the latter series being relocated to Wednesdays following
The Middle
.
Here are ABC's six new fall series:
Selfie
(comedy) -- Well, this title had to happen. It dawns on "instafamous" Eliza Dooley (Karen Gillan) that having actual friends is better than amassing 263,000 followers on Twitter. So she turns to "marketing guru" Henry (John Cho) for help in the "real world." ABC says it's all loosely based on
My Fair Lady
.
Manhattan Love Story
(comedy) -- The network's description of this one is brief enough to be posted in its entirety: "Have you ever wondered what your date was thinking? This romantic comedy exposes the differences between men and women through the unfiltered thoughts, and often contradictory actions, of a new couple who have just begun dating." Analeigh Tipton and Jake McDorman star.
Black-ish
(comedy) -- The Johnsons are happily married, have four kids and are living comfortably in the 'burbs. But have they assimilated to the point of losing their black identities? Anthony Anderson, Laurence Fishburne and Tracee Ellis Ross head the cast.
Cristela
(comedy) -- Cristela Alonzo stars as an ambitious six-year law student on the verge of landing an unpaid internship at a prestigious legal firm. But her parents think her ambitions are at odds with their "traditional" Mexican-American family values. So Cristela is stuck straddling these two worlds.
Forever
(drama) -- Dr. Henry Morgan (Ioan Gruffudd) is a star New York City medical examiner who still hasn't figured out why he's now 200 years old. Only his best pal/confidant Abe (Judd Hirsch) knows for sure while new forensic partner, Jo Martinez (Alana De La Garza), is mightily impressed with his "remarkable observation skills."
How to Get Away with Murder
(drama) -- Oscar nominee Viola Davis (
The Help, Doubt
) plays "brilliant, charismatic and seductive" professor Annalise Keating, who becomes entangled with four of her law students. Together they solve real cases while giving aforementioned producer Rimes complete control of ABC's Thursday night lineup. That hasn't happened since the early- to mid- 1980s, when the late Aaron Spelling reigned over ABC's Saturday night schedule with
T.J. Hooker, The Love Boat
and
Fantasy Island
for two seasons before his short-lived
Finder of Lost Loves
replaced
FI
in fall 1984.
Here is ABC's night-by-night new fall lineup:
Monday
Dancing with the Stars
Castle
Tuesday
Selfie
Manhattan Love Story
Marvel's Agents of S.H.I.E.L.D.
Forever
Wednesday
The Middle
The Goldbergs
Modern Family
Black-ish
Nashville
Thursday
Grey's Anatomy
Scandal
How to Get Away with Murder
Friday
Last Man Standing
Cristela
Shark Tank
20/20
Saturday
Saturday Night Football
Sunday
America's Funniest Home Videos
Once Upon a Time
Resurrection
Revenge
ABC also has announced six midseason series. Here they are:
American Crime
(drama) -- A young couple in Modesto, CA are attacked in their home, with the husband killed and his wife left barely alive. Both sets of parents cling to hope for her while four suspects are about to be arrested. Shock waves and racial tensions reverberate in a "gritty" tale whose stars include Felicity Huffman and Timothy Hutton.
Marvel's Agent Carter
(drama) -- Hayley Carter from the
Captain America
franchise is front and center as Agent Peggy Carter, with no other cast members announced yet.
Secrets and Lies
(drama) -- Ryan Philippe and Juliette Lewis star in a twisty-turny murder mystery in which "no one is above suspicion." Adapted from a same-named Australian series.
The Whispers
(drama) -- Stephen Spielberg lends his name to yet another futuristic drama about an alien invasion. This time they seek world domination via the use of unwitting kids. Lily Rabe and Milo Ventimigilia are among the stars.
Fresh Off the Boat
(comedy) -- An eleven-year-oid hip-hop lover named Eddie (Hudson Yang) has newly relocated with his immigrant family from DC's Chinatown to Disney-fied Orlando. It's all set in the '90s.
Galavant
(musical comedy) -- ABC goes medieval for a "fairytale of epic proportions." Basic premise: The dashing Galavant (Joshua Sasse) has lost the love of his life, Madalena (Mallory Jansen), to the evil King Richard (Timothy Omundson. All have songs in their hearts.
Email comments or questions to:
unclebarky@verizon.net