IFC's The Spoils of Babylon: a grandiose, gut-busting sendup
01/08/14 03:05 PM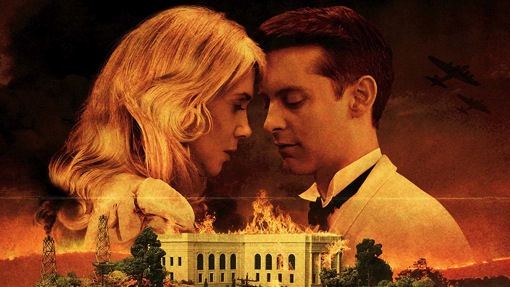 Forbidden love: Kristen Wiig, Tobey Maguire in The Spoils of Babylon.
IFC photo
Premiering:
Thursday, Jan. 9th at 9 p.m. (central) with back-to-back episodes on Independent Film Channel
Starring:
Kristen Wiig, Tobey Maguire, Will Ferrell, Tim Robbins, Haley Joel Osment, Isabella Acres, Phillip Wampler, Jessica Alba
Produced by:
Will Ferrell, Adam McKay, Matt Piedmont, Andrew Steele, Nate Young
By ED BARK
@unclebarkycom on Twitter
Hilariously half-baked -- my compliments to the chefs -- here comes
The Spoils of Babylon
to another smallish cable network with big ambitions to break through.
Independent Film Channel (IFC) currently is best known as the home of
Portlandia
, which returns on Feb. 27th with the promise of "Epic Guest Stars." Until then, feast on this six-part creation of fictional trash novelist Eric Jonrosh (Will Ferrell), whose dream of seeing one of his books on the small screen is finally realized.
IFC has made the first two half-hours available for review. And they're the best genre sendup since ABC ventured forth with six episodes of
Police Squad!
way back in 1982.
Outfitted with a laugh-out-loud beard, Ferrell's Jonrosh begins and ends each episode with pompous declarations from his solitary restaurant table, where goblets of wine are the main course. In the 1970s, he envisioned
Spoils of Babylon
as a 22-hour TV miniseries but couldn't get a network to bite. So he financed it himself, whittled it down to three hours and assembled a cast of master thespians ranging from ex-wife Lauoreighiya Samcake to Sir Richard Driftwood. The ensemble also includes Dirk Snowfield, Joseph Soil, Gumdrop Howard and Dixie Melonworth as Dixie Melonworth.
Watching these opening title credits roll is one of the instant pleasures of
Spoils of Babylon
, where obviously miniature autos and palatial estates are used to keep Jonrosh's budget in line. A suitably overblown theme song is performed by Steve Lawrence, with the first two episodes mostly spotlighting Kristen Wiig, Tobey Maguire and Tim Robbins.
Wiig's Samcake plays the very willful Cynthia Morehouse. She's the daughter of 1930s West Texas wildcattter Jonas Morehouse (Driftwood/Robbins), who hits a last-second gusher to stave off abject poverty. Before this happens, Jonas takes in an aimlessly wandering Devon Morehouse (Snowfield/Maguire). (The younger Cynthia and Devon are played by Isabella Acres and Philip Wampler in these formative scenes after an adult Devon is shot and then staggers away to record his life story on two giant tape reels.)
The Morehouse's rags to riches tale, spiced by Cynthia's growing attraction to her adopted brother, is played to ridiculously perfect extremes. Robbins is a riot in Episode 1 while Wiig has a brilliant breakfast table confrontation with a beautiful British mannequin in Episode 2. Providing more details as to how that comes about would spoil too much of the joke.
Devon has been to war and back by the end of Episode 2. And the pot has only begun to boil. "I'll be here waiting for you," Jonrosh promises. "Probably in the same booth with the same moribund look on my face. How could it be otherwise?"
How could
Spoils of Babylon
be any better? So far It probably couldn't. These first two episodes are gut-busting, non-stop fun. And they're not only "Presented In Color" but "Filmed In Breath Take O Scope." Clearly an embarrassment of riches.
GRADE:
A
Email comments or questions to:
unclebarky@verizon.net