truTV's Breaking Greenville toys around with real-life small town news
01/27/15 10:43 AM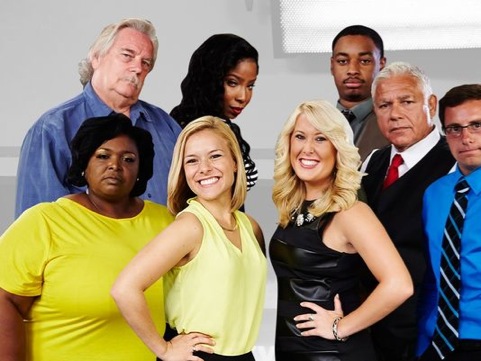 The competing TV news teams of Breaking Greenville. truTV photo
Premiering:
Thursday, Jan. 29th at 9:30 p.m. (central) on truTV
Starring:
The TV news teams of Greenville, Mississippi's WABG and WXTV
Produced by:
Chris Grant, Corie Henson, Jessica Sebastian, Adam Paul
By ED BARK
@unclebarkycom on Twitter
Television news can have a pretty high hee haw factor anyway. But truTV's
Breaking Greenville
is to the manor born.
The eight-episode, half-hour "reality" series originates from one of America's dinkiest TV markets, Greenville, Mississippi. Absent a whole lot to do, the news teams for ABC affiliate WABG-TV and CBS affiliate WXVT-TV have signed on for what truTV publicity materials call a "character-driven, comedic docu-soap."
Principally at stake is ratings supremacy in the morning news hours, where WABG has long been dominant but WXVT is drawing closer.
WABG news director Pam Chatman -- "People call me the Oprah of the South" -- is worried enough to summon her troops and tell them, "I need your help. I'm really scared."
News directors in a big market such as No. 5 Dallas-Fort Worth probably wouldn't put it quite that way. Their rallying cry instead might go something like this: "Listen, you $%&*@ bunch of #$@&*, our ratings are in the dumper and I'm not gonna lose my $%@!* job because you're not doing yours. Now get out there and make some #$@*% news or I'll have all of your asses on a chafing dish before you know what the #$&*@ hit you! Do I make myself clear?"
What
Breaking Greenville
doesn't tell viewers is that the competition may not be all that fierce. WABG, WXVT and the unmentioned NBC station, WNBD-TV, are all operated by the Commonwealth Broadcasting Group. So they're part of one big family, even though families can be combative. Steve Schill, who proclaims himself the "
LEAD
anchor and
LEAD
meteorologist" for WXVT, goes all Hatfields and McCoys after his station supposedly beats WABG to the scene of an elementary school stabbing.
"Now WABG looks like the punk ass bitches that they are," he tells the camera. Stay classy.
But WABG's Chatman phones WXVT news director Woodrow "Woody" Wilkins to inform him that WXVT in fact was not "first on the scene," as advertised. "That's not the way to do it, Woody," she says.
"I'll make sure they know that," he replies before laughing it off while Chatman rages, "They're trying to get the ratings. They lie!"
Your friendly content provider needs to light a candle somewhere in thanks for such a bounteous feast of local TV news dramedy. After all, it's been a while since Fox
tried this with Anchorwoman
, in which former wrestling villain Lauren Jones joined the news staff of Tyler's KYTX-TV without any previous broadcast journalism experience. It had a one-night, two-episode stand in August 2007. Then Fox pulled the plug.
Breaking Greenville
is much more likely to go the distance. On truTV you don't have to break the ratings bank. Only a small deposit is necessary, and this series doubles down with two bubbly blonde anchors.
Perky Lucy Biggers, hired fresh out of a Connecticut college, is the little diva of WABG's morning newscasts. "If I could be Kelly Ripa in 10-20 years, I would, you know, have gone to heaven," she says by way of introduction.
Her arch rival, plus-sized Callie Carroll of WXVT, says that Biggers "just gets on my nerves." In retaliation, Carroll proposes getting on a scale during a newscast before fronting a big "Get Fit" Subway sandwich-sponsored campaign designed to bring WABG to its knees. She weighs in at 177.4 pounds and figures that every pound she loses can be taken out of the rival station's hide.
"I think it's really, really good for ratings," Carroll says, emphasizing that this is all that matters to her.
Biggers fights back with a farm story in which her veteran cameraman is David "I think I'd make a good movie director" Lush. But Biggers and news director Chatman later clash over whether the story should end with her high-fiving the farmer.
Breaking Greenville
is stupid fun for all, even if some of the featured players almost assuredly will bitch about being edited into cartoons of themselves. But they all signed on for this, so deal with it. Biggers in particular seems destined for ostensibly bigger and better things -- such as being a co-host someday on ABC's ridiculously slap-happy
Good Morning America
. Hell, they've probably already got their eyes on her. She'd be perfect.
GRADE:
C+
Email comments or questions to:
unclebarky@verizon.net