Fox makes the last midseason moves
12/02/11 08:59 AM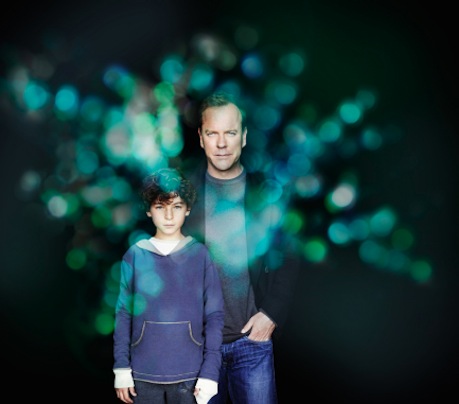 Kiefer Sutherland will be back in touch in Touch. Fox photo
By ED BARK
Fox became the last major broadcast network to announced its midseason revamp Thursday, with three new dramas and a comedy coming while
American Idol
kicks off its 11th season on a different night then previously announced.
A special edition of
Idol
will still air following the Jan. 22nd NFC championship game. But the season premiere of
Idol
is now set for Wednesday, Jan. 18th, with another episode on Thursday of that week.
Kiefer Sutherland, a Fox stalwart for eight seasons as Jack Bauer on
24
, will get an
Idol
-fueled jump start on Wednesday, Jan. 25th, when his new series
Touch
snuggles in behind prime-time's reigning most popular series.
Sutherland plays a widower/single dad who's vexed by an inability to bond with his 11-year-old mute son. But "everything changes," says Fox, "when he discovers that his son possesses the gift of staggering genius -- the ability to see things that no one else can and the patterns that connect seemingly unrelated events."
Created by Tim Kring (
Heroes
),
Touch
will move to Mondays at 8 p.m. (central) after its post-
Idol
preview. But you'll have to wait until March 19th, when it has its official series premiere.
Mondays otherwise will house the new
Alcatraz
, a JJ Abrams (
Lost, Fringe
) creation that has a two-hour premiere on Jan. 16th at 7 p.m. before moving behind
House
on the following Monday. Strange things happen, then and now, at the storied San Francisco lockup, with
Lost
alum Jorge Garcia co-starring with Sam Neill and Sarah Jones.
The third new drama series, a
Bones
spinoff titled
The Finder
, premieres on Thursday, Jan. 12th at 8 p.m. It will be preceded by the
Bones
episode that introduced its characters. Geoff Stultz and Michael Clarke Duncan star in the crime procedural, which focuses on "a remarkable man with an extraordinary ability to help people find the unfindable."
Fox also will add a cartoon version of
Napoleon Dynamite
to its Sunday night "Animation Domination" lineup, beginning on Jan. 15th with two episodes.
Dynamite
, featuring the voices of the original feature film cast, then will move to its regular Sunday 7:30 p.m. slot on Jan. 29th.
Finally, the comedy series
Breaking In
, which had a short run last spring, has been uncanceled and will get a second try on Tuesdays at 7:30 p.m., beginning March 6th.
I Hate My Teenager Daughter
, which premiered on Wednesday of this week, will be pulled at the end of December but supposedly is returning sometime in the spring. The Howie Mandel-hosted
Mobbed
will serve as putty on Wednesdays, with episodes scheduled on Jan. 4th and 11th and Feb. 1st and 8th.