BBC America's White Heat a slow-burner about college roommates then and now
05/09/12 09:41 AM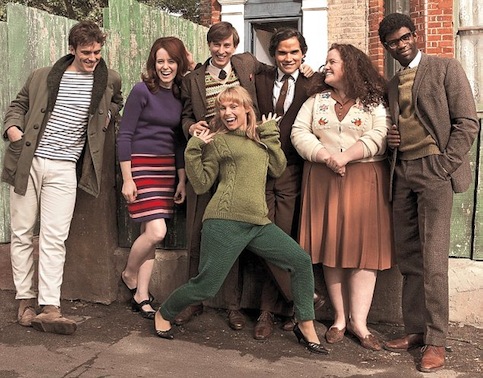 School daze: The seven roommates of White Heat. BBC photo
Premiering:
Wednesday, May 9th at 9 p.m. (central) on BBC America
Starring:
Sam Claflin, Michael Kitchen, Claire Foy, Juliet Stevenson, MyAnna Buring, Lindsay Duncan, Reece Ritchie, Ramon Tikaram, Lee Ingleby, Paul Copley, David Gyassi, Hugh Quarshie, Jessica Gunning, Sorcha Cusack
Produced by:
Paula Milne, Kate Bartlett, Lucy Richer
By ED BARK
@unclebarkycom
Drama series meshing present-day reunions and formative school day years have fared poorly of late on U.S. networks.
ABC's made-in-Austin
My Generation
premiered in fall 2010 and lasted just two episodes. Premise: nine old high school pals re-group 10 years later to commiserate and conspire. Viewers weren't even remotely interested.
Fox's
Reunion
, launched in fall 2005, ran for nine episodes before flunking out. Premise: A once tightly knit group of six high schoolers come together 20 years later after one of them is murdered. The series got canceled before the killer could be identified. But there was no public outcry.
BBC America's oddly titled
White Heat
most closely resembles the latter series, only this time you'll get closure. Premise: Seven disparate college students shared a London flat in 1965. Now one of them is found dead -- but not murdered -- close to five decades later in 2012. One-by-one -- but not all in one episode -- the remaining six re-gather for his or her funeral. By the concluding Episode 6, "the identity of the deceased is finally revealed," publicity materials promise. So viewers won't be strung along for too long. Nor will they be left hanging.
Only the first episode was sent for review. Subtitled "The Past is a Foreign Country," it rather laboriously sets the stage, beginning with a current-day Charlotte (Juliet Stevenson) arriving at the now vacant flat as executor of the deceased's will.
She's soon reflecting on the way they were back in 1965, with an arrogant stud named Jack (Sam Claflin) soliciting roomies for a social experiment in which the emphasis is on group quality of life rather than the needs of individuals. One of his ground rules is no sleeping with the same person for more than three nights. One prospective tenant declares it a "godless setup" and walks out. But young Charlotte (Claire Foy) is both intrigued and eventually accepted into the fold.
White Heat
begins in the year of Winston Churchill's death, with accompanying black-and-white newsreel footage occasionally seeping in. There's no mention of The Beatles, though, with the mood music instead blandly generic.
The five other tenants are Jamaican Victor (David Gyasi), blonde beauty Lily (MyAnna Buring), proper Alan (Lee Ingleby), secretly gay Hindu Jay (Reece Ritchie) and plus-sized, introverted Orla (Jessica Gunning).
It's a bit of a slog getting to know them, although
White Heat
manages to heat up a bit in the closing minutes of the first hour. It ends with three present-day characters having arrived at the abandoned flat. So that winnows down the identity of the deceased to four possibilities by the time Episode 2 arrives next week.
Set in the year before the ongoing Season 5 of AMC's
Mad Men
and airing under BBC America's "Dramaville" banner,
White Heat
hasn't yet established a firm grip by the end of Episode 1. Still, you might want to shake hands with it and agree to meet again next week. With just six episodes in total, staying the course may prove to be time decently spent.
GRADE:
B-minus