Leno returning to saddle, Conan hitting the beach
01/21/10 11:14 AM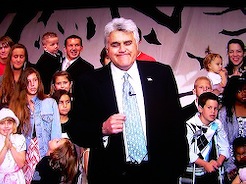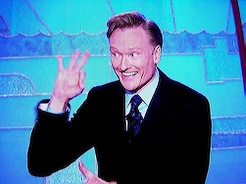 Jay Leno on what he thought was his last Tonight Show and Conan O'Brien hosting his first. Leno will return to Tonight on March 1st after the Olympics. O'Brien will be out and about. Photos: Ed Bark
By ED BARK
It's over, save for the parting shots Conan O'Brien will be taking on his last two
Tonights
.
NBC announced a resolution to its ongoing late night nightmare Thursday, with O'Brien released from his NBC contract and free "to pursue other opportunities" after Sept. 1, 2010, the two parties said in a joint statement. O'Brien's last
Tonight Show
will be on Friday, Jan. 22nd, with scheduled guests Tom Hanks, Will Ferrell and Neil Young.
Jay Leno, pushed into prime-time after O'Brien took over
Tonight
, will return as the show's host on March 1st after NBC's telecasts of the Winter Olympics from Vancouver.
O'Brien had refused to go along with NBC's latest gambit, a proposal to move
The Tonight Show
back a half-hour to accommodate a preceding late night show hosted by Leno. He said it would irreparably damage the
Tonight
franchise.
Thursday's terse, three-paragraph O'Brien statement had no quotes from NBC's brass. A seven-paragraph release on Leno's return -- and Jimmy Fallon keeping his 11:30 p.m. (central) timeslot -- included an enthusiastic booster shot from NBC Universal Television Entertainment President Jeff Gaspin.
"We're pleased that Jay is returning to host the franchise that he helmed brilliantly and successfully for many years," Gaspin said. "He is an enormous talent, a consummate professional and one of the hardest-working performers on television."
NBC's Olympics telecasts begin on Feb. 12th with the opening ceremonies. From Jan. 25 until that date,
Tonight
will be in repeats, although there's no official word on whose repeats they'll be -- O'Brien's or Leno's.
O'Brien presumably will have just one broadcast network suitor in the late night arena -- Fox. Its executives praised his talent during a presentation last week at the Television Critics Association "press tour" in Pasadena.
ABC executives have said they're happy with the ratings performances of
Nightline
and Jimmy Kimmel. So that door seems closed.
Leno's cost-efficient prime-time show increasingly was under threat of preemptions by NBC affiliate stations whose late night local newscasts had suffered sharp ratings drops in many markets. Leno had left
Tonight
after the May 29th show, with O'Brien stepping in on June 1st.
Fearing a repeat of the Jay Leno/David Letterman late night imbroglio in the early 1990s, NBC had promised O'Brien the
Tonight Show
five years earlier rather than risk losing him to a rival network. The Peacock then belatedly decided to try to have it both ways, giving Leno an unprecedented Monday-Friday show that led directly into late night local newscasts and premiered on Sept. 14th.
Both Leno and O'Brien enjoyed big ratings in the very early going, but that quickly dissipated. Leno's prime-time show settled into a valley of puny returns, beaten even by the likes of ABC's
Conveyor Belt of Love
. O'Brien has been running a distant second in total viewers to CBS'
Late Show with David Letterman
, whom Leno dominated for more than a decade.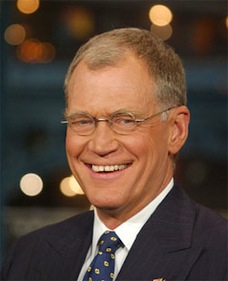 NBC Universal president/CEO Jeff Zucker and David Letterman
This entire late night mess has been orchestrated by NBC Universal president and CEO Jeff Zucker, who has been a virtual Pontius Pilate of late. Instead it fell to Gaspin to address TV critics at the network's Jan. 10th press tour day.
To his credit, Gaspin answered any and all questions with often impressive candor under the circumstances. Zucker was nowhere to be seen in a jam-packed Pasadena hotel ballroom.
Zucker continues to fail upward with what seems to be an amazing ease. His lone genuine achievement at the NBC broadcast network was helming the
Today Show
back to ratings dominance as its boy wonder executive producer.
Some also credit Zucker with greatly enhancing the value of NBC's cable properties, most notably the USA, Syfy and Bravo networks. They've continued to churn out hits while the once prestigious NBC broadcast arm languishes in fourth place with scant hope of burrowing out in the near future.
Zucker has "led" NBC into this prime-time ditch, and also is responsible for the disastrous hiring of former NBC programming head Ben Silverman. Meanwhile, NBC is losing money on its most potent attraction (
Sunday Night Football
), will lose an acknowledged $200 million on the Olympics and has just one current prime-time attraction --
The Biggest Loser
-- that can even be considered a modest hit.
Post-Leno -- at least in terms of his prime-time show -- the Peacock will be puttying its 9 p.m. (central) hour after the Olympics with two
Law & Order
hours, an expanded
Dateline NBC
, the new scripted series
Parenthood
and
The Marriage Ref
, a comedy panel show produced by Jerry Seinfeld.
Otherwise the network's long-term plans are a renewed effort to attract top-shelf producers of scripted dramas and comedies, with J.J. Abrams (
Lost
) and David E. Kelley (
Boston Legal
) already developing news series for next fall. In other words, back to basics -- again.
Leno has been the primary punching bag throughout most of NBC's embarrassing unscripted soap opera, with the lecherous Letterman pounding away at him night after night. But the audience responded tepidly on Wednesday's
Late Show
when Letterman said that Leno is getting back into shape for
The Tonight Show
by "spending an hour a day working on the chinmaster."
Leno has thrown some effective return punches, telling viewers Wednesday night, "You know the best way to get Letterman to ignore you? Marry him."
I much prefer O'Brien's comedy to Leno's. Still, he didn't ask to be evicted from
The Tonight Show
after a long and successful run in the No. 1 spot. That was NBC's and Zucker's doing. So Leno complied and eventually died with a prime-time hour that mostly limped along lamely.
Leno could have manned up and walked the plank rather than force O'Brien's hand. But it's seemingly not in his makeup to refuse a job offer. What if he had said, "Ya know something, Conan deserves a chance to make his own way on
The Tonight Show
. He shouldn't have to be my followup act for a second time. So thanks but no thanks. I've had a helluva run, and it's time to try something else."
Of course there was no chance of that happening. And from Leno's perspective, why should he bow out after the pendulum swung back his way again?
There's no guarantee that Leno can return to his past ratings glory opposite Letterman. Maybe he's badly damaged goods at this point. But restoring him to
Tonight
is a safer bet -- short-term at least -- than taking a continued chance on O'Brien.
Speaking of the conquering hero, O'Brien can do little wrong at the moment. He took a principled stand by saying enough is enough -- even though he'll have enough walkaway money (reportedly in excess of $30 million) to tide him over for a while.
O'Brien can't be blamed for wanting to escape Leno's shadow. He's been a second banana at NBC for the last 17 years. Even
The Tonight Show
reins came with the unexpected price of following Leno in the Peacock pecking order. And that again would have been the case had he agreed to take
Tonight
deeper into the night for the first time in the storied show's history.
I'd like to see Fox re-enter the late night wars with O'Brien at the helm, presumably at 10 p.m. (central). He's a far better fit for the network's younger audience appeal than Leno ever would be. And if Fox's affiliate stations can be persuaded to give up their late night newscasts (which mostly are throwaways anyway), then O'Brien could get a half-hour jump on both Leno and Letterman. That would be a savory turnabout for him.
In the end, O'Brien's reign as
Tonight
host easily will be the briefest in the show's history -- from June 1st to the Jan. 22nd denouement. And NBC's handling of matters seems sure to go down as one of the biggest bungles in TV history.
You never really know, though. A year from now, Leno might again be riding high in the late night wars while NBC restores some badly needed luster to its prime-time lineup with a few quality hits.
Anything can happen in television, as this chapter so clearly shows. Or to put it another way, a Zucker is born every minute. And for now at least, this one has taken incompetence to new heights.