Former CBS11 anchor Suzanne Sena redeploys as Onion News Network's super-vain Brooke Alvarez
02/10/11 04:33 PM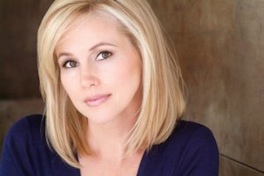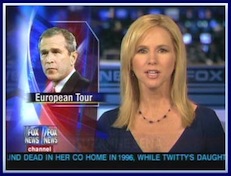 By ED BARK
Suzanne Sena admittedly can be a bit restless. But she at last may have found her true calling as vainglorious news anchor Brooke Alvarez on IFC's new
Onion News Network
(
9 p.m. central on Fridays
).
Or might it be just another waystop? Sena's Chutes and Ladders-like career has taken her on an up-and-down tour of virtually every show business and TV news occupation. This includes a two-year tour from 2004 to '06 at Fort Worth-based KTVT-TV (CBS11), where she co-anchored weekend newscasts and did some entertainment/lifestyles reporting before heading back to Los Angeles and then landing at Fox News Channel for the next two years.
Sena, 47, previously worked as a red carpet reporter for E!, where she also hosted the network's
Celebrity Homes
series. Her recurring co-host stints with Regis Philbin made her a front-runner for the permanent job when Kathie Lee Gifford left a decade ago. She's also toiled for the syndicated entertainment show
Extra
, been a teenage lead singer in a wedding band, was a pitchwoman for Wesson Oil, performed jingles for radio commercials, starred in various regional stage productions and had bit parts in movies ranging from
Death & Texas
to
Revenge on the Highway
.
"I have a lot of ambition," Sena says in a telephone interview with unclebarky.com. "I welcome opportunities. Sometimes I try something on that doesn't fit -- and then I try to improve on that."
She had specialized in entertainment news reporting until the Sept. 11th terrorist attacks spun her head around. "Everything sort of changed career-wise for me," she says. So her agent entertained an offer from CBS11, which had a weekend anchor vacancy.
"At the time they were making a lot of changes and were trying to jazz things up," Sena says. "So they brought me in for an interview. Obviously it was a huge departure, not only going into legitimate news but also going into a local market. And that's something I wasn't prepared for. It was grueling . . . Dallas offered a lot of opportunity, but it wasn't something I saw as a long-term fit."
Her
official website
still includes a CBS11 clip with weekend co-anchor, Clif Caldwell, who's also no longer with the station. Sena says she left CBS11 with an eye toward covering entertainment again. But then Fox News Channel unexpectedly came calling. "So I took the meeting," she says. "I have a mantra. You always take the meeting, right?"
She lasted two years at FNC, most of it on the overnight shift. And advancement to daytime hours wasn't looking good.
"I just knew I wasn't happy working those kinds of hours," Sena says. "When you're married and you've got kids, the life of a newscaster can be a perfect job. There's a good income, there's a regular schedule, there's longevity. But if you're single, it's not easy to work late night hours. I didn't even have any pets. To be honest, it was a little empty. I came from a creative background, and I was looking to explore my creativity again."
Sena, who's been divorced since 2000, still wonders what might have happened had she been married with children at the time that both
Entertainment Weekly
and
The New York Post
anointed her as the frontrunner to replace the departing Gifford. Instead Kelly Ripa stepped in to join Regis Philbin.
"I never thought I was definitely going to get the job," Sena says. "But I did know that Regis and I had a fantastic rapport. The hiccup in all that was that I was single with no kids. I didn't fit the format. They wanted someone with a family. In all honesty, though, Regis and Kelly also had a wonderful rapport. And to her benefit and advantage she was already working with ABC (on the soap opera
All My Children
)."
Sena became Brooke Alvarez -- "the most revered, powerful news anchor in the world" -- after first playing news reader Ana Genry in the online version of Onion News Network. The weekly IFC series, an oft-savagely satirical undressing of 24-hour cable news networks, launched on Jan. 21st with Alvarez's "FactZone" show its marquee attraction.
Sena's acclaimed performance is brimming with letter-perfect affected inflections and pompous references to the fake anchor's own prowess. She's guilty as charged of modeling Alvarez at least in small part on her previous lives as a hard and fluff news anchor/reporter.
"I think there's a bit of parody of how we all do the news," Sena says. "We do it a bit too seriously and sometimes a bit over-dramatically. And now I'm paid to do it exactly like that. I've observed some of the most flamboyant and confident news anchors in the business, having worked at Fox . . . People love
The Onion
and people love Brooke. And it's so funny because she's not lovable. I don't think any of us anticipated it would be this positive a response."
IFC hasn't yet ordered a second season of
Onion News Network
, which has a 10-episode order for its first. But the network would be crazy not to take a second bite of this "24-Hour, Non-Stop News Assault."
"Sometimes I watch what we've done, and I think 'Wow,' " Sena says. "I knew that some of it was going to cause cringes, but you have to be able to look at the humor of it all. It's not for everybody, but people like their Onion. And they like it strong."
Here's a closing clip of Alvarez in action: