Switched at birth: ABC's Super Fun Night gets a hastily substituted opening night episode
10/01/13 04:47 PM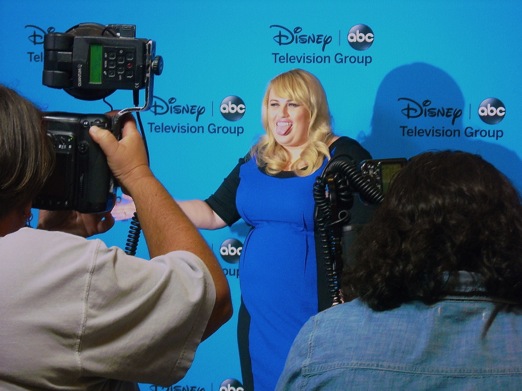 Super Fun Night star Rebel Wilson acts out on red carpet. Photo: Ed Bark
Premiering:
Wednesday, Oct. 2nd at 8:30 p.m. (central) on ABC
Starring:
Rebel Wilson, Lauren Ash, Liza Lapira, Kevin Bishop, Kate Jenkinson
Produced by:
Conan O'Brien, Jeff Ross, Rebel Wilson, David Kissinger, John Riggi
By ED BARK
@unclebarkycom on Twitter
It's never ever a good sign when the first episode of a new TV series belatedly is shelved because, well, it pretty much stinks.
So in that context, beware of ABC's new
Super Fun Night
, sitcom which is still getting the network's plush post-
Modern Family
slot for its Wednesday, 8:30 p.m. (central) premiere.
The show's first impression now will be a second episode subtitled "Anything For Love," in which the manifestly insecure and plus-sized Kimmie Boubier (Rebel Wilson) tries to conquer her stage fright by performing at a piano bar singing competition. Her equally awkward best friends, Marika (Lauren Ash) and Helen-Alice (Liza Lapira), again are accompanying her. For as Kimmie says, "We're never gonna bust out of our cocoons if we don't put our busts out there."
Kimmie otherwise works at a law firm, where for some reason she's been newly promoted. In the pilot episode, which now has no air date scheduled and may well never have one, Kimmie was thoroughly thrilled to work with her idol, "Lady Lawyer of the Year" Felicity Vanderstone (Kelen Coleman). That character apparently has been written out in favor of haughty Kendall Quinn (Kate Jenkinson), a workplace colleague who resents the notion that the firm's nice guy Brit (Kevin Bishop as Richard Lovell) has taken a platonic liking to hapless Kimmie.
The pilot episode seemed thoroughly intent on making cringe-worthy losers of Kimmie and her two pals. It became painful to behold, particularly when they were invited to a trendy nightclub party hosted by Richard.
"We don't need any eye broccoli clogging the line," Kimmie, Marika and Helen-Alice were told. And then the humiliations kept on coming, with Kimmie's ridiculously tight white dress eventually ripped open to further debase her. She then sang forlornly from the
Wicked
soundtrack.
ABC executives in tandem with the show's producers (who include Conan O'Brien) must have deduced that most viewers might well recoil in horror rather than laugh along at the threesome's predicaments. Wednesday's ad hoc premiere therefore has marginally more "heart," with Kimmie facing her fears of singing after Kendall tries to show her up with a surprise appearance and torchy performance of "True Colors."
"I came here to motivate you by showing you how awesome I am," Kendall explains while otherwise trying to cozy up to Richard.
It's enough to make Kimmie order "four consolation pizzas." But she guts it out and eventually sings her song -- "Anything For Love" -- after getting a bathroom pep talk from a drunken Helen-Alice, who then collapses in a heap.
Most of this is still pretty thin stuff, even though weight jokes again work their way in. Viewers will learn that Kimmie's breasts weigh 23 pounds before she tells Kendall, "I'm going to go now before my boob sweat seeps into my Spanxs. When they get wet, they're incredibly difficult to get off."
Indeed, the first episode's final scene depicts Kimmie in a pitched battle with her Spanxs, which also were referenced in the original pilot.
Super Fun Night
isn't entirely super-bad, but so far that's about the only good thing to be said about it. Rebel Wilson and her self-deprecating improvisational bent were supposed to be the stuff of comedy gold. But things just don't pan out in either the false start pilot or its eleventh hour substitute.
GRADE:
C-minus
Email comments or questions to:
unclebarky@verizon.net