This dog will hunt: FX's likably scruffy Terriers scraps, claws and leaves a mark
09/08/10 10:03 AM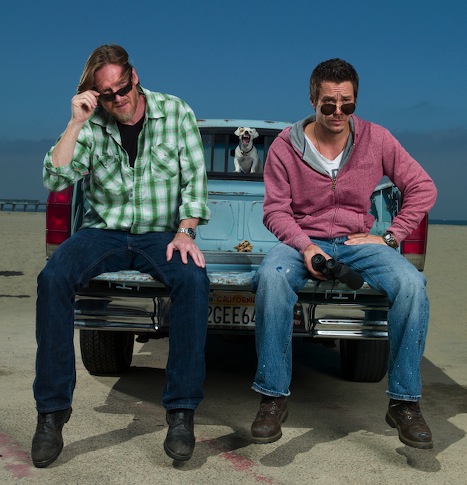 Dogged pursuits: Donal Logue, Michael Raymond-James of Terriers.
FX photo
Premiering:
Wednesday, Sept. 8th at 9 p.m. (central) on FX
Starring:
Donal Logue, Michael Raymond-James, Kimberly Quinn, Laura Allen, Rockmond Dunbar, Jamie Denbo
Created by:
Ted Griffin
By ED BARK
Two slovenly goofball private eyes with thin streaks of competence are the latest additions to male-propelled FX.
Terriers
, premiering Wednesday, makes for a light but hearty meal while also re-pledging allegiance to self-destructive men who live on the edge while walking a ledge between common decency and borderline depravity. If Lifetime is the uplifting network for women, FX is the downshifting destination for testosterone-fueled troublemaking in series such as
Sons of Anarchy
(which returned Tuesday night),
Louie, Rescue Me
and
It's Always Sunny In Philadelphia
.
The likable slugs of
Terriers
are former cop and recovering alcoholic Hank Dolworth (Donal Logue) and his tag-along partner, Britt Pollack (Michael Raymond-James). Operating out of Ocean Beach, CA, they scrape and claw for money by bungling their way through a variety of cases big and small.
Wednesday's opener finds them reclaiming a kidnapped bulldog named Winston and discovering the whereabouts of the wayward daughter of a drunken ex-partner of Dolworth's. This second assignment runs them afoul of a crooked, filthy rich developer who will be a recurring nemesis.
The supporting cast is both solid and typical. Dolworth of course has to rely on the occasional grudging good will of a detective by the name of Mrk Gustafson (Rockmond Dunbar). They go way back, but Gustafson has just about had it with Dolworth's screwups. Emphasis on "just about."
Dolworth also still pines for his ex-wife, Gretchen (Kimberly Quinn), who's both selling their old house and further lowering the boom with her planned re-marriage to an architect.
Pollack, despite his numerous shortcomings, still has the love and understanding of a beautiful blonde named Katie Nichols (Laura Allen). Dogs also figure in the storylines, but not to the point of explaining the title. But terriers by definition are "typically small, wiry, very active and fearless dogs" who initially were bred to control rats, rabbits and foxes. So I guess that's supposed to more or less describe the Dolworth/Pollack partnership.
Creator/producer Ted Griffin both wrote the
Ocean's Eleven
remake and was an executive producer of 2009's excellent
Up In the Air
feature film, which also starred George Clooney. Those are good bloodlines, and Griffin does a nice job in
Terriers
with banter and predicaments.
Occasional serious turns also are taken, not always to great effect. And you'll have to swallow fairly hard to buy some of the way in which the boys talk themselves into the homes and businesses of their prey.
Still, this is a breezy way to spend an hour on a network that keeps delivering interesting takes on messed up hairy apes. FX initially has ordered 13 episodes of
Terriers
, which has enough bite and humor to hopefully extend its lease.
GRADE:
B+