FALL TV PREVIEW: New series -- Viva Laughlin (CBS)
10/12/07 06:06 PM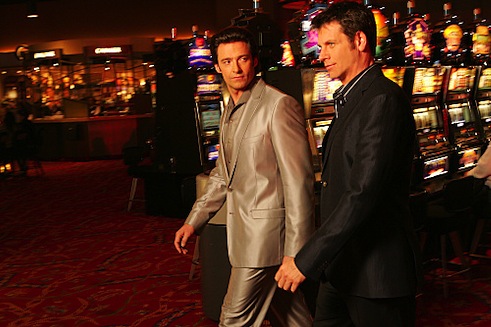 Alas, Hugh Jackman (left) will just be guesting on Viva Laughlin.
Premiering:
Thursday, Oct. 18, at 9 p.m. (central) on CBS. Then moves to Sundays at 7 p.m.
Starring:
Lloyd Owen, Madchen Amick, Eric Winter, DB Woodside, Carter Jenkins, Ellen Woglom, P.J. Byrne
Produced by:
Bob Lowry, Hugh Jackman, John Palermo
By ED BARK
It's an unwritten law, but best abided by. Any review of CBS' new "mystery drama with music" must invoke ABC's long ago, far away
Cop Rock
.
Duly invoked.
Cop Rock
, whose lawmen and thugs periodically broke into song, turned out to be a grand, failed experiment by
Hill Street Blues
creator Steven Bochco. It hit ABC's 1990 fall schedule with a bang, but had its last telecast on Christmas night of that year. Oh come all ye faithful. They didn't.
CBS gingerly tries somewhat the same tack with
Viva Laughlin
, inspired by the acclaimed 2006 BBC miniseries
Viva Blackpool
. It's not a very good copy, except when Hugh Jackman lights things up with a guest shot as ruthless casino owner Nicky Fontana. His energetic performance of the Stones' "Sympathy for the Devil" is the premiere episode's only extended musical production. It's too bad he couldn't have done the whole album.
Jackman also is a co-executive producer of the series, but only a "recurring" character on camera. The central figure otherwise is would-be casino magnate Ripley Holden (Lloyd Owen). He's a swarthy, not very likable guy who's thrown for a loss after one of his biggest backers, Buddy Baxter (Wings Hauser), belatedly welshes on a deal to help him build his palace. It would be conveniently located just 129 miles south of Vegas.
Buddy later is found dead in Ripley's still under-construction showplace. Cops are called, and the lead investigator is handsome Peter Carlyle (Eric Winter), who hopes to get to the bottom of this by making a play for Ripley's frustrated wife, Natalie (Madchen Amick). Their two kids, Cheyenne and Jack (Ellen Woglom, Carter Jenkins), feel a bit neglected by daddio, who can be brutish, too. All in all, Ripley's -- believe it or not -- a louse.
Melanie Griffith, increasingly a sad spectacle, also is in the mix as Buddy's soon-to-be widowed Bunny. Her collagen-stuffed lips are a match for Lisa Rinna's. Otherwise her character's been hitting the sack with Ripley -- among others. They also briefly share a song -- Blondie's "One Way Or Another" -- before Buddy's found bloodied.
The overall drama is weak here, and the musical interludes keep getting shorter as the hour goes on. It's as if CBS already is wondering what the hell it's gotten itself into -- and whether there's still time to throw the songs off a cliff.
Viva Laughlin
moves to Sundays at 7 p.m. (central) after Thursday's showcase premiere following
CSI: Crime Scene Investigation
. This is likely to accomplish little, other than making
Without A Trace
fans really upset. What CBS has here is something a bit different, but nothing to excite the senses. Long-term success for
Viva Laughlin
is more improbable than a new string of Whitney Houston hits.
Grade:
C-minus