Lucky man: New Girl's Jake Johnson does Dallas
05/08/12 09:31 AM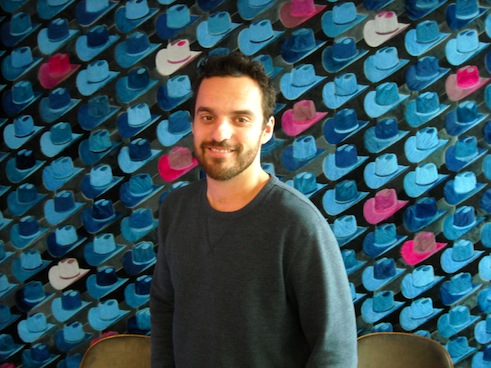 New Girl's Jake Johnson during recent stop in Dallas. Photo: Ed Bark
By ED BARK
@unclebarkycom
George Clooney kicked around for years before striking gold with
ER
. So did Tom Selleck until
Magnum, P.I.
came his way.
Not so
Jake Johnson
, whose very first pilot,
New Girl
, hit Fox running in September and became this season's first and really only instant hit.
"Most actors who are on TV have tested for countless shows," Johnson says during a recent stop in Dallas. "They've done countless pilots. And then they finally get one that's good. So this experience is really surreal. When I talk to actors about this, they say 'No, this never happens!' "
Clooney slogged through a total of 15 unsold TV pilots before eventually emerging as one of the most bankable stars on the planet.
"I heard he bought a house off the money he made from pilots. That's crazy," Johnson says. "That's a lot of work that nobody saw."
New Girl
, which has its Season 1 finale on Tuesday, May 8th (
8 p.m. central
), is being seen by a modest-sized 8.2 million viewers per episode. That puts it in 60th place among all prime-time series this season. But among advertiser-prized 18-to-49-year-olds,
New Girl
zooms up to the No. 14 spot with 5.3 million viewers in this age range. That's a huge percentage of "desirable" fans, and Fox wasted little if any time in picking up the series for a second season.
Johnson plays Nick, one of three male roommates of series star Zooey Dechanel's loopy Jess. In last Tuesday's episode, he announced his intention to leave this foursome and move back in with ex-girlfriend Caroline (Mary Elizabeth Ellis), with whom he had broken up way back on the show's first episode.
The season finale, subtitled "See Ya," implies that he actually might follow through. But could the show work without Nick in constant up-close contact with Jess and fellow roommates Schmidt (Max Greenfield) and Winston (Lamorne Morris)?
"I don't know," says Johnson, who's not allowed to say too much about where
New Girl
is going. Not that he really knows all that much.
"The beauty of a TV show is the ending hasn't been determined," Johnson says. "It's like a weird version of 'Choose Your Own Adventure.' We have to follow suit. Because if the writers write it, we're doin' it."
Nick is "like an onion" being peeled, in Johnson's view. "He's not a character who's defined by his actions just yet. He's still being formed."
But the re-fling with Caroline ("his kryptonite") is at best a prelude to the only relationship Nick really wants, Johnson feels. "He's not unlucky in love, but I think it takes a certain person. And Nick is deep down in love with Jess. He's not ready to date her yet, but I think it's gonna be very hard for another woman to come in and really take his heart. Because it belongs to her."
Hmm. Let's keep that on file.
New Girl's
gender dynamic is similar to that of
Seinfeld
, in which the featured foursome also were constantly in and out of relationships. Co-star Greenfield, whose clueless comments regularly require him to make "Douche Jar" deposits, also makes this comparison, Johnson says.
"He said that Zooey's Seinfeld, he's Kramer and I'm George Costanza. I'd never thought of it like that. But look, that's one of my favorite shows of all time. So even to be compared one percent to it is a huge honor. If we are going to copy one, copy
that
one."
Johnson, who turns 33 on May 20th, is a native of Evanston, Ill. who grew up as a passionate fan of Chicago's Bulls, Bears and Cubs. The Bulls' chances of winning the NBA title are all but dead following the season-ending injury of star guard Derrick Rose. But Johnson says he'll be rooting hard against the Miami Heat if they again emerge from the Eastern Conference to likely play either the San Antonio Spurs, Oklahoma City Thunder or Los Angeles Lakers.
Too many pro athletes are "ring-obsessed" he says of LeBron James and Chris Bosh joining the Heat last season to team with resident superstar Dwyane Wade. "It
is
how you get there. It's not just getting there. So if LeBron and Miami win a title, well, so what?"
Last year's champs, the recently eliminated Dallas Mavericks, did it the "right way" with Dirk Nowitzki staying the course, Johnson says. "I was screamin' when Jason Terry was hitting those threes" against Miami. It was a lot of fun."
He has some basic advice for this season's biggest Mavericks washout -- Lamar "Lam Lam" Odom. "If you're a pro athlete, stay out of reality shows. Just be an athlete. It's a pretty great gig."
Johnson also makes a bold and perhaps foolish prediction regarding his beloved Cubs, who haven't been in a World Series since 1945. Under former Boston Red Sox general manager Theo Epstein, the team wisely is weeding out older players and malcontents, he says. "He's building the kind of model he had in Boston. The Cubs not only need talent, but they need guys who don't care about things like curses and a stadium full of whining fans. Don't listen to us! You guys are the athletes. Tune us out."
Although this season already is looking like another big loser, Johnson predicts that the Cubs will make it to the World Series in 2016. "I'll put it in stone," he says. "By 2016 the Cubs will be in the World Series. But I'm not guaranteeing they're gonna win."
By that time,
New Girl
will have reached the magic 100-episode syndication mark, providing it's still a gainful Fox series. And that seems like a far surer bet than the Cubs getting to baseball's biggest stage.
After about a month on summer hiatus, Johnson says he's already eager to get back to waking up at 3:30 or 4 a.m. for a 5:30 a.m. call and often a 14-hour workday during filming of
New Girl
.
"This break has reaffirmed how much I like this job," he says. "And how I don't want it to end."