Flightmares achieves liftoff as latest network entry from Dallas-based AMS Pictures
08/25/11 03:22 PM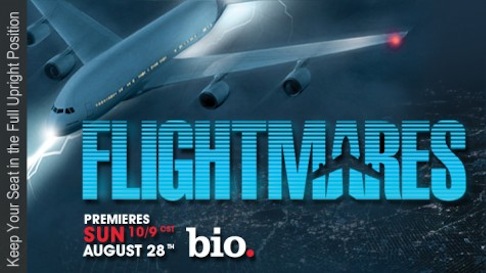 By ED BARK
"REAL PEOPLE. REAL STORIES. REAL DANGER."
Dallas-based
AMS Pictures
also keeps it REAL SIMPLE with
Flightmares
, a one-hour special premiering
Sunday, Aug. 28th at 9 p.m. (central)
on the
Bio cable network
.
This pilot for a possible series re-tells four tales of pilot and passenger distress, beginning with the Aug. 2, 1985 Delta 191 crash at DFW Airport that took 135 lives. It's an efficient, straight ahead approach, with a quartet of real-life survivors bearing witness while workmanlike reenactments put their words into pictures.
The overall production values are sturdy if not spectacular, with nothing looking cheesy. That even includes the shortest of the four stories, in which pilot Monty Coles literally had a snake on his private plane during a one-man 2006 joy ride out of Charleston, W. Va. It coiled around his arm while he gripped the back of its head and sought to make a safe landing. Samuel L. Jackson is nowhere to be found.
Real-life passenger Johnny Meier calmly recalls his death-defying experiences aboard Delta 191. He still has the yellow knit shirt he wore and a copy of
The Dallas Times Herald
's front page account of the tragedy. Meier holds up both artifacts during his recollections.
WFAA-TV's live coverage of the crash's aftermath is not mentioned. But the station made a long-lasting reputation on that day as D-FW's go-to destination for live breaking news while its TV rivals stayed with regularly scheduled entertainment programming in the early going.
Flightmares
also details a 2009 charter plane trip from Florida to Louisiana that turned into a harrowing experience for a family of four when the pilot suddenly died of a heart attack. The climactic tale is by survivor Julia Ferganchick, who was aboard a June 1, 1999 American Airlines flight from DFW Airport to Little Rock.
A severe storm sent the plane skidding along a runway at Little Rock National Airport before it hit a light tower and burst into flames. Ferganchick emotionally recalls being pulled from a hole in the side of the aircraft before she and other passengers came to the aid of some of the injured.
Flightmares
ends up being gripping enough to hold interest. And there obviously are many more stories of this ilk if Sunday's one-hour special draws enough viewers for Bio to make a further investment.
GRADE:
B-minus