CBS' Made In Jersey is pasta without fazool
09/26/12 12:29 PM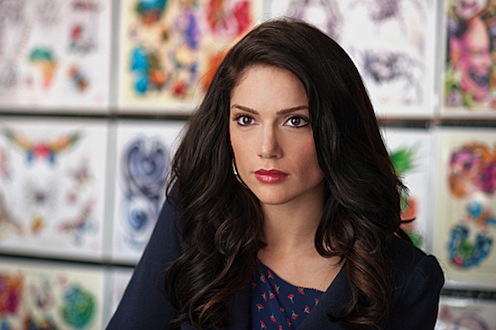 Janet Mongomery is a New Yawk lawyer in Made In Jersey. CBS photo
Premiering:
Friday, Sept. 28th at 8 p.m. (central) on CBS
Starring:
Janet Montgomery, Kristoffer Polaha, Kyle MacLachlan, Toni Trucks, Erin Cummings, Felix Solis, Megalyn Echikunwoke
Produced by:
Kevin Falls, Jamie Tarses, Julia Franz, Jan Nash
By ED BARK
@unclebarkycom
Hiring a Britisher to play a Jersey girl may be the best evidence yet that our former colonizers have an ongoing plot to at least rule Hollywood.
Sunday night's latest Emmy awards brought acting awards to Brits Damian Lewis, Julianne Moore and Maggie Smith. Another winner, Julia Louis-Dreyfus, sounds like a British name, even though she's not.
Janet Montgomery, who hails from Bournemouth, Dorset, England, likely won't be an Emmy threat for her work in CBS' hardly droll
Made in Jersey
.
Her Eastern-fried accent falls well short of Fran Drescher's or "Snooki" Polizzi's in Friday's premiere episode. Montgomery's character, Jersey-ite Martina Garretti, gamely says "doctuh," but leaves murder as "murder." She does come from a big, boisterous Italian family, though, with "Ma" Darlene Garretti (Donna Murphy) at one point instructing her daughter that "You're never gonna get a mink standin' at the sink."
Garretti, who comes off as a distaff Sherlock Holmes with her uncanny (and oft-preposterous) deductive abilities, initially turns the head of New York law firm founder Donovan Stark (Kyle MacLachlan continuing to age well). But she first strips down to her bra after splashing some liquid soap on herself while doing a little restroom prep for the daily all-hands-on deck gathering of Stark & Rowan staffers.
To say the scene is gratuitous is stating the obvious. But broadcast networks weren't built on business attire alone. And Montgomery proves to be no slouch in the capital assets department.
Jane Garretti moves up to "Third Chair" in a pending murder trial after boldly stating that another accused Stark & Rowan client couldn't have used a pair of pliers to bludgeon a victim. Why? Because a mug shot shows that her nails are all still unbroken. Whatevuh.
Her investigation into the death of a college professor -- a female student has been charged with his murder -- is aided by a kindly but unkempt looking law firm investigator named River Brody (Felix Solis). He wears a pork pie hat for sleuthing purposes while good-naturedly grousing, "Remember the good ol' days when you could smoke indoors like a normal person?"
"Yeah, I only drank when I smoked," Garretti says, prompting a chuckle from him. Their exchanges have about as much edge as a Donny Osmond power ballad.
Chippier is fellow attorney Natalie Minka (Stephanie March), who condescends whenever possible but is being written out of future episodes.
"I saw you downstairs, but I didn't want to interrupt the
Real Housewives of New Jersey
," she tells star of the show.
After summoning a snicker, Garretti snorts, "That's only funny because my sister would love to be a housewife but she's a single mom who works all the time."
Ma is much more well-meaning, but would still like for her daughter to meet a man. A little trim of her flowing mane would help matters, but, gawd, who has the time?
"You make the time, baby," Ma counsels. "You never hear Cher making excuses and she is a very busy lady."
The badda and the bing are mostly missing, though.
Made in Jersey
at best comes off as a one-hour prime-time rest stop between returning CBS series
CSI: NY
and
Blue Bloods
. It's a thoroughly ordinary series on what's increasingly an inconsequential night in the not-so-grand broadcast network scheme of things.
Better to watch Friday night episodes of
Boss
on Starz. At least Kelsey Grammer is contorting himself into weekly rages as the terminally ill and corrupt mayor of Chicago. He exerts himself on a weekly basis while
Made in Jersey
for the most part barely surpasses the excitement derived from folding laundry.
In that respect, it epitomizes another down-the-stretch putdown of Martina Garretti's abilities. "Don't worry," she's told. "You lower expectations just by walking in a room."
Sustained.
GRADE:
C-minus