Oscars come, go with a Crystal chandelier again in place
02/27/12 11:35 AM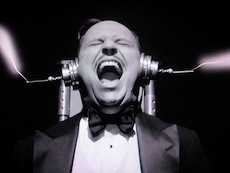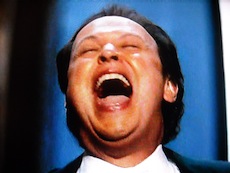 Billy Crystal at first sight and in full throat at end of opening song.
Photos: Ed Bark
By ED BARK
Billy this, Billy that -- Billy flat?
Not terrible, mind you. Just pretty much same-old, same-old in a reversal of last year's rather disastrous "Young Hollywood" Oscar-cast hosted by Anne Hathaway and James Franco.
Billy Crystal, who eagerly stepped up for the ninth time after Eddie Murphy dropped out, brought a sense of entitlement and his standard opening bits to Sunday night's 84th Academy Awards shebang on ABC.
In the Crystal-centric opening film montage, he positioned himself as a man in great demand, even though he no doubt was begging to be asked again.
He was first seen in an electrified chair, mouthing the words "I won't host! I won't do it, I tell ya!" in an homage to the night's silent but golden eventual big winner,
The Artist
.
George Clooney then woke him with a kiss on the lips. "You have to do it, Billy," he implored.
It proved to be another clever package, even if Crystal's ego shone all the way through it. Then he grandly took the stage, telling the gathered swells, "This is my ninth time hosting the Oscars" before getting the applause he obviously expected.
After a little more banter -- "We're here at the beautiful Chapter 11 Theater" -- Crystal began the familiar refrains of his awards show anthem. "It's a wonderful night for Oscar. Oscar, Oscar."
Pause, one-two. "You didn't think I wasn't going to do this, did ya?"
And so he did -- and it was OK. The ceremony then got seriously bogged down with clip montages and awards in some of those dreaded technical categories. It took until 8:12 p.m. -- 42 minutes into the telecast -- before they finally bestowed the night's first major Oscar to Octavia Spencer for "Best Supporting Actress" in
The Help
.
Her acceptance speech was winningly emotional, but what took so long? In previous years, one of the supporting performance Oscars was awarded right up top after the obligatory host shtick.
Your friendly content provider
live-tweeted
during the entire three-hour, 13 minute ceremony and for much of the reliably excruciating red carpet pre-show coverage as well. So all that blow-by-blow stuff won't be replicated here.
Overall, though, Crystal had a few amusing moments after his elongated opener, including a prepared bit on what nominees were really thinking while being held captive in their theater seats. He also again resorted to a familiar fall back line -- "The band loved that" -- when a joke didn't quite fly.
As these things go, though, Sunday's Oscars likely will be more remembered for Jennifer Lopez's display of cleavage and Angelina Jolie's showcasing of her right leg. Both events occurred while they were presenting, but who can recall what winners they announced?
The Feb. 12th Grammy Awards, which had their biggest audience in a generation, actually ran longer than the Oscars before getting off exactly as planned after an allotted three-and-a-half-hour slot. But they again minimized the award-giving and maximized the performance spectacles on a night that also was marked by memorials to the just-deceased Whitney Houston.
The Grammys tend to reward artists who actually hit resonant notes with the public via estimable CD or download sales. The Oscars shouldn't be expected to only acknowledge box office blockbusters, because that would further cheapen the proceedings and lead to big hauls for movies like
The Hangover
. But they really need to minimize the clip segments while somehow finding a way to maximize the performance value.
Still, how do you accomplish that? Grammy nominees can perform their hits in showy circumstances while the show's producers also can stage reunions, tributes and uncommon duets such as Rihanna and Coldplay. But what are the Oscars to do -- stage an eclectic reenactment of a scene from
The Descendants
with George Clooney in a period costume opposite Dame Judi Dench?
Brevity may be the only answer. Or perhaps restore the honorary Oscar tributes while cutting out a lot of the other filler. There's a certain majesty to bringing back old-timers for curtain calls. But now that's gone, too.
Whatever direction the Oscars go, they seem to be slowly fighting a losing battle against the music awards shows in terms of showmanship and the ability to draw younger audiences.
The Academy Awards will remain an important yearly milestone. And there's always the preceding "Super Bowl of Fashion," as one of ABC's -- or was it E!'s -- sycophants kept putting it. Sunday night's 84th edition didn't exactly raise the roof, though. Nor did Billy Crystal, who seemed thrilled with himself to be there once he had pretended playing hard to get.