Athletes' feats: Apolo succeeds Emmitt as Dancing's sole survivor
05/22/07 10:48 PM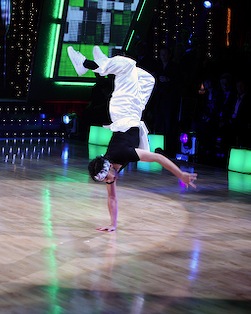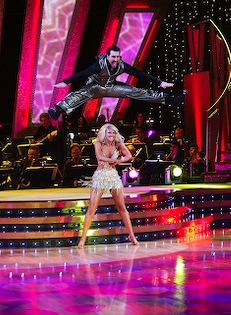 Winning hand: Apolo's plotted palm stand tops Joey's flying leap.
By ED BARK
The show with more momentum, energy and electricity crowned its new champ Tuesday while the night's earlier singing competition fell kinda flat.
ABC's
Dancing with the Stars
, choked with commercials sold at premium prices, made Olympic short-track champ Apolo Anton Ohno its fourth king of the hardwoods. His predecessor, Emmitt Smith, likewise was a world class athlete who's now cast in a different light.
"Being on this show has turned my life inside out," Emmitt said from a front row peanut gallery that also accommodated previous winners Drew Lachey and Kelly Monaco. People forget he played football, he contended. "I have become a ballroom dancer -- to America."
Perhaps that's a bit overstated, but this glitzy, full-tilt ballroom brawl does have a way of recasting images. Runnerup Joey Fatone, the former 'NSync boy band member, is now newly perceived as a lovable, witty dancing machine who gave Apolo all he could handle.
Third-place finisher Laila Ali, boxing daughter of the Greatest of all Times, took the bronze and wanted much more.
"Of course I'm pissed I didn't win," she said, laughing on the outside, boiling from within. Seriously, most of these people take this really seriously. Except for Clyde Drexler.
Ohno won in partnership with Julianne Hough, who was making her maiden appearance as a pro partner. The two of them were cuter and quicker than one-year-old kitty cats. Their closing
paso doble
got a perfect 30 from the judges Tuesday night. But so did the mambo by Laila and Maksim Chmerkovskiy and the tango by Joey and Kym Johnson.
"I feel amazing," Apolo said before hosting the show's tacky, but now trademark mirror ball trophy.
Emmitt earlier had stated the obvious about
Dancing's
symbol of victory: "If there's room for improvement on
Dancing with the Stars
, you must improve on that trophy."
It's probably too late for that now, and irrelevant anyway. All of the celebrity competitors are handsomely compensated with appearance fees. And the longer they last, the more they get. The trophy's value is in the sweat and genuinely hard work it takes to get within its grasp. It's become a Holy Grail of sorts, even if it looks like a beer company bar bauble.
Earlier Tuesday on Fox's lately downtrending
American Idol
, final twosome Jordin Sparks and Blake Edwards performed three songs apiece in a Melinda Doolittle-less void.
The thrill wasn't entirely gone, but it seemed to have lost its fastball. Instead the show changed speeds without seeming to blow away anybody.
Host Ryan Seacrest had the most memorable line of the night -- and also a very odd one -- after judge Paula Abdul recapped earlier reports that she had hurt her face tripping on her little dog, Tulip, who emerged unscathed.
"So the bitch is all right," he said. "OK, we got it."
Judge Randy Jackson changed up his wardrobe a bit, wearing a light gray military jacket that made him look like a Confederate soldier in Sgt. Pepper's court. Otherwise he spouted the same old Randy-speak.
Paula of course was no help, at one point telling Jordin, "You are in great, great vocal voice tonight."
Simon Cowell again cut to various chases while also chastizing the audience. "What a surprise I'm being booed," he cracked after judging Jordin's rendition of Christina Aguilera's "Fighter" to be "a bit shrieky in the middle."
The show ended with both contestants having to sing another syrupy ballad, this one courtesy of a songwriting competition won by two guys named Scott Krippayne and Jeff Peabody.
Their tune, titled "This Is My Now," couldn't have been a worse fit for "Beat Box" Blake, who might as well have been singing "Three Blind Mice." But it was right in torchy Jordin's wheelhouse, and she likely took it to the bank.
"You just wiped the floor with Blake on that song," said Simon.
That probably makes her a winner Wednesday night, although Simon also had tabbed Melinda as a cinch finalist.
Whatever happens, here's a prediction.
Dancing with the Stars
is starting to wear better than
American Idol
, and at some point next season will be bringing in more viewers.
Then again I could be wrong, and have been with both shows this season. Early on, I picked Melinda to win
Idol
in a final twosome with LaKisha Jones. Instead she finished third while LaKisha came in fourth.
And on
Dancing
, I had Laila besting Joey in the show's final two, with Apolo finishing third. Close, but no silver slipper. And don't worry. I wouldn't even try to guess what might happen on Wednesday's season finale of
Lost
.