Bad Teacher doesn't fail CBS (but will the ratings provide a passing grade?)
04/23/14 03:40 PM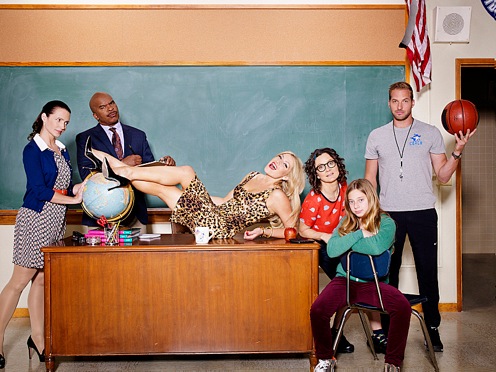 Ari Graynor (prone) heads the cast of Bad Teacher. CBS photo
Premiering:
Thursday, April 24th at 8:30 p.m. (central) on CBS
Starring:
Ari Graynor, Kristin Davis, David Alan Grier, Sara Gilbert, Ryan Hansen, Sara Rodier
Produced by:
Hilary Winston, Gene Stupnitsky, Lee Eisenberg, Jimmy Miller, Sam Hansen, Michael Lasker
By ED BARK
@unclebarkycom on Twitter
It's tempting to grade
Bad Teacher
on the curve. Specifically her curves.
But this CBS sitcom spinoff of the 2011 Cameron Diaz movie gets more than a passing grade on its own merits. It's bright, sharp, without a laugh track and with a very well assembled ensemble cast headed by Ari Graynor in the Diaz role of a gold-digging, dumped divorcee looking to land another big fish.
The name of the lead character is now Meredith Davis instead of Elizabeth Halsey. Just about everything else has been altered, too. Diaz's character already was a lazy, lousy teacher who planned to quit after marrying her wealthy fiancé. He backed out after discovering she was a money-grubber. She dropped back in -- at Chicago's John Adams Middle School -- and began pursuing a rich substitute teacher played by Justin Timberlake. His ex-girlfriend had large breasts, prompting Elizabeth to raise endowment funds for her own cosmetic picker-upper. And so on.
Graynor's Meredith decidedly doesn't have that problem. She fills out outfits with the greatest of ease after first filling out a phony resume that persuades gullible Nixon Middle School principal Carl Gaines (David Alan Grier) to hire her on the spot. The upscale school has a rich lode of eligible single dads. And as Meredith notes when a potential new husband pulls up in an expensive car, "I need one of them to hit me -- and then hit on me."
Grier is consistently amusing in the three episodes available for review. He's by no means the only familiar TV face, though. Sara Gilbert (
Roseanne, The Talk
) plays against type as a bespectacled, naive teacher named Irene. And Kristin Davis (
Sex and the City
) is prim faculty president Ginny, who's rubbed the wrong way every which way by the sexpot suddenly in their midst.
Ryan Hansen rounds out the cast as gym teacher Joel, a former high school classmate of Meredith's who knows all of her moves. The only kid getting series regular billing is Sara Rodier as Lily, part of a picked-on, nerdy crossing guard contingent. Meredith tries to empathize with them: "Yes, I was blessed with a great rack and a perfect face. But that doesn't mean I don't know how you guys are feeling."
Two of the first three episodes predictably end with Meredith doing the right thing by her students rather than heading off with a hand-picked, cash-laden stud.
Bad Teacher
wouldn't work otherwise. Well, maybe on FX it would, but that network much prefers highly flawed males as leads after flings several seasons ago with the Glenn Close-starring
Damages
and the Courteney Cox-starring
Dirt
.
Graynor, fronting her first TV series, seems perfectly equipped to do so. The eye candy attributes are obvious, but she also knows how to land a punchline and parry with the veteran pros surrounding her. Gilbert is particularly appealing after taking all of her usual edge off. Good for her.
Bad Teacher
gives CBS a late-blooming spring comedy that also comes as a pleasant surprise. Its takeoff point is a box office success that got less than ecstatic reviews. The TV successor in comparison goes to the head of the class. Getting the ratings needed to graduate can be a tougher assignment this time of year.
GRADE:
B+
Email comments or questions to:
unclebarky@verizon.net