Still makin' copies: CBS' NCIS: New Orleans
09/22/14 12:46 PM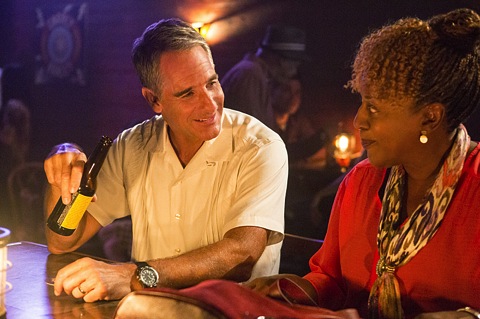 Bar time on NCIS: New Orleans with Scott Bakula and CCH Pounder.
CBS photo
Premiering:
Tuesday, Sept. 23rd at 8 p.m. (central) on CBS
Starring:
Scott Bakula, Lucas Black, CCH Pounder, Zoe McLellan, Rob Kerkovich
Produced by:
Gary Glasberg, Mark Harmon, Jeffrey Lieber, James Hayman
By ED BARK
@unclebarkycom on Twitter
The address is CBS for
NCIS
. But the latest offshoot,
NCIS: New Orleans
, should be returned to sender.
Premiering Tuesday after the mothership, this thing is likely to stick to the wall only because of its lead-in and thoroughly beatable competition from ABC (
Marvel's Agents of S.H.I.E.L.D.
), Fox (
New Girl, The Mindy Project
) and NBC (the new
Marry Me
and the returning
About A Boy
).
Be advised, though, that your arteries might harden while watching a bland, thuddingly formulaic knockoff. Gumbo it's not. Cream of boiled water soup it is. And of course, the omnipresent Steven Weber's a guest star, ploughing through another prime-time hour as a noxious jerk.
Scott Bakula stars as Special Agent Dwayne Pride, who's also a Cajun-style cook and a jazz pianist when he's not giving orders or trying to stay awake while reciting lines such as "All I'm sayin' is where you lay your head in this city defines you."
He says this to newbie agent Meredith Brody (Zoe McLellan), who's arrived from the Midwest to primarily team with incumbent drawler Christopher LaSalle (Lucas Black). He asks her at one point, "What in the sam hill does that mean?" I thought that expression was buried along with "Tarnation!" and "Jumpin' Jehosaphat!"
The other principal member of the team is body dissector Loretta Wade (CCH Pounder), who raises an eyebrow regularly.
Bakula and Pounder have some solid work on their resumes, and Black was highly appealing as a crew cut kid actor in
Sling Blade
and CBS' short-lived, memorably offbeat
American Gothic
.
NCIS: New Orleans
may end up supplying all of them with fail-safe, long-term employment at handsome rates of pay. But as acting challenges go, this is bacon, lettuce and tomato short of a BLT.
We begin with a severed limb in a big bin full of shrimp. It turns out the appendage belongs to Navy petty officer Calvin Parks, whose pop, known as "Pop," is a jazz trumpeter. Bakula's Pride took the kid under his wing. As for Pop (guest star James McDaniel), there's "only two things I ever loved in this life -- Calvin and jazz."
Determining what happened to Calvin -- and whether he may have gotten mixed up with the wrong crowd -- are what drive Pride and his team through the rest of the hour. Weber drops in as an onerous city councilman who sees political mileage in coming down hard on New Orleans' gang bangers.
"You know how I feel about this community, and no one has less love for the gangs," Pride tells him. But something smells fishy here, and it's neither the stink on ice script or a seafood Po Boy.
NCIS: New Orleans
also squeezes in a little room for David McCallum's Donald "Ducky" Mallard, who's Loretta's medical examiner counterpart on
NCIS
. He drops in via a close-circuit feed to further reinforce the brand.
It all ends in thoroughly predictable fashion -- and without any zip or pop.
NCIS: New Orleans
is the equivalent of a hand-me-down jacket that's already been worn by two older brothers. By that point, it's stretched out, faded and threadbare. Oh well. Might as well get more use out of it
GRADE:
D
Email comments or questions to:
unclebarky@verizon.net